Following the trends into 2016
In this collection of mosaic charts FinGraphs reviews current market trends into the first quarters of 2016. Focus is on Weekly charts or a 3 to 9 months investment horizon. Comments are kept to a minimum as to let market trends do the talking.
All mosaic charts created on FinGraphs.com.
Register for a 7 days free trial at http://www.fingraphs.com/#register
Main Currency Pairs: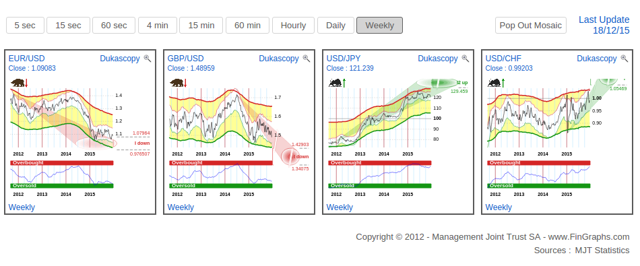 USD still strong vs other main currencies. GBP shows more potential down than EUR.
Major FX Crosses: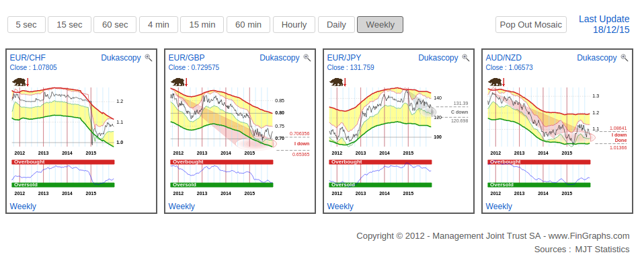 Negative carry trades on EUR/GBP and AUD/NZD are a bit exhausted, EUR/CHF shows no targets (currently neutral, although still in a long term downtrend), EUR/JPY could resume up in 2016 following its consolidation in 2015.
Other Currencies vs US Dollar: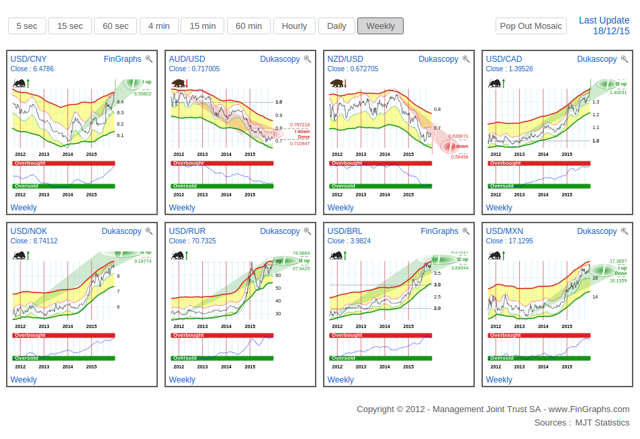 Further easing and CNY weakening expected in China. USD still in uptrend vs commodity and oil driven currencies. Yet, most of the price potential may be behind us.
Benchmark Government Bond yields (10Y):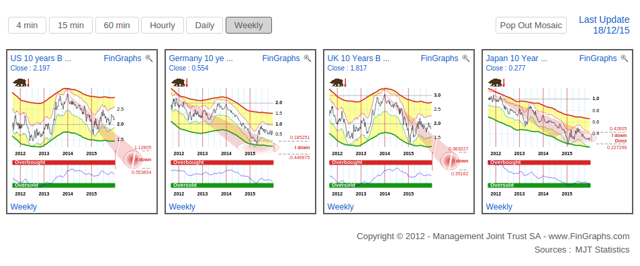 Downtrends still in place "for now" on longer term rates, despite rate hike schedule on the shorter end of the curve in the US. Worldwide growth concerns still seem to weigh.
US Bond ETFs: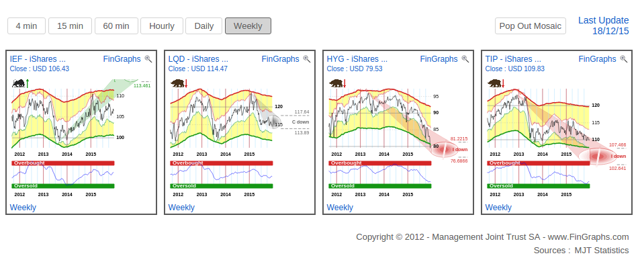 Indeed, the IEF (iShares 7-10 Year Treasury Bond ETF) is holding up much better than the LQD (iShares iBoxx $ Investment Grade Corporate Bond ETF) and HYG (iShares iBoxx $ High Yield Corporate Bond ETF). Risk averseness still seems to dominate as the level of growth remains of concern and inflation expectations in the US are still low (little demand for TIP, the Inflation protected government bond ETF, i.e. iShares TIPS Bond ETF).
Commodities: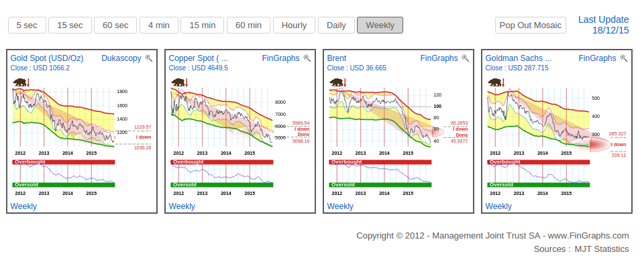 Gold still in a downtrend, although nearing impulsive targets down. Copper and Oil have played catch up since mid 2014 and are still accelerating down despite having reached their targets. For both, the supply side does explain much of the fall, yet there is little relief to be seen on the demand side for now. The Goldman Sachs Agriculture Index is falling to rebound despite the anticipated disruptions that a strong El Niño should cause.
US Equity Markets: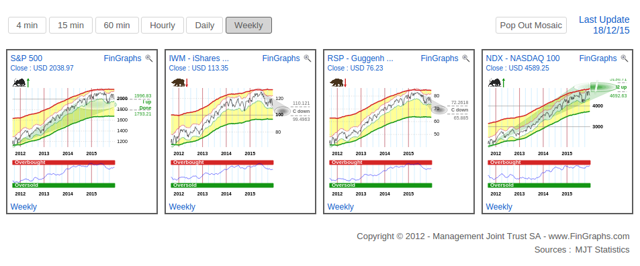 Market breadth continues to deteriorate with the IWM (iShares Russell 2000 ETF) and RSP (Guggenheim S&P 500 Equal Weight ETF) correcting down. The S&P500 Index, however, is still holding on to its uptrend in the New Year, with market leaders in the NASDAQ100 still showing a bit more potential.
European Indexes: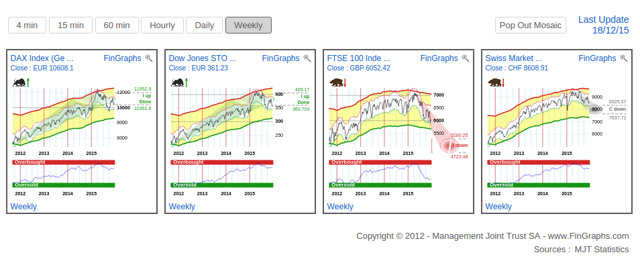 DAX and European 600 STOXX indexes still in an uptrend, despite the 2015 correction. The FTSE100 with heavyweights in the Commodity and Energy sectors shows more risk down. Pharma, Banks and exporters are leading the Swiss SMI to correct.
AsiaPacific and Emerging Markets:
Japan's Nikkei holds on Abenomics. The Shanghai composite is trying to resume its uptrend helped by monetary easing. Other Emerging markets are still very much under pressure (weakness in commodities and energy). The Australian Index is nearing crucial support (grey target zone).
Interest sensitive and early cycle movers (US):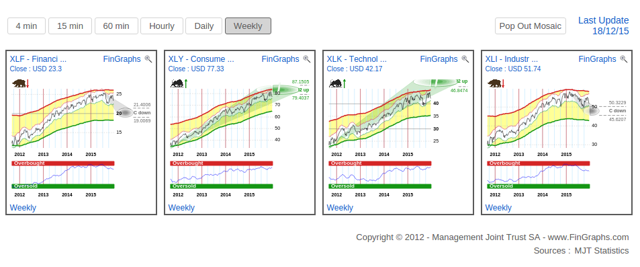 Financials (XLF - Financial Select Sector SPDR ETF) still correcting down despite rising rates perspectives. 2015 winners, XLY (Consumer Discretionary Select Sector SPDR ETF) and XLK (Technology Select Sector SPDR ETF) still showing some potential in the New Year. XLI (Industrial Select Sector SPDR ETF) has yet to confirm that growth is spreading to industrial activity (still correcting down for now).
Commodity & Energy sectors (US):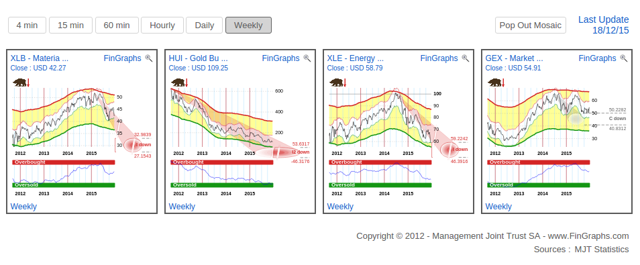 Main commodity ETFs, Materials (XLB - Materials Select Sector SPDR ETF) and Energy (XLE - Energy Select Sector SPDR ETF), in impulsive moves down (red price projections) with more downside potential. Gold mines have corrected almost 90% (HUI - NYSE ARCA Gold Bugs Index), yet the downtrend is still in place and it still seems too early to bottom fish. Alternative Energy (GEX - Market Vectors Global Alt Energy ETF) is showing more resiliency than the rest of the energy space.
Defensive sectors: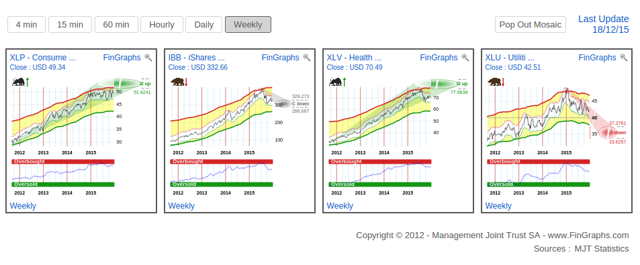 XLP - Consumer Staples Select Sector SPDR ETF and XLV - Health Care Select Sector SPDR ETF sill positive. Within XLV, some profit taking on biotechnology since mid 2015 (IBB - iShares Nasdaq Biotechnology) may provide an opportunity as it enters corrective support (grey price projection). XLU - Utilities Select Sector SPDR ETF has now turned impulsive down, possibly on the perspective of the upcoming rate hikes.
Summary:
During the first months of 2016, US equity markets should continue to hold on thin leadership from Consumer Discretionary and large Technology stocks. Meanwhile, market breadth further deteriorates as small and mid caps continue to consolidate. Easing in Japan, Europe and China should help these equity markets resume their uptrend for at least a few months into 2016, while the commodity space, including related sectors and geographical markets will remain under pressure. The Dollar continues up, helped by the perspective of upcoming rate hikes and further accommodative central bank policies abroad.
At some point, possibly during 2016, the rates hikes in the US and the related Dollar strength may become a problem. Corporate and High Yields bonds could suffer substantially, as could the thousands of corporates indebted in USD around the world. A widespread and global credit crisis could materialize. Our fragile and extended uptrends on equity markets would probably not resist.
Your FinGraphs team,
All mosaic charts created on FinGraphs.com.
Register for a 7 days free trial at http://www.fingraphs.com/#register
Supporting Documents