Whats-Hot-or-Not
Periodically we publish our stock picks. Stocks that we like are "Hot" and listed below. OUr portfolio has returned 35.76% this year.
Apple Computer ($AAPL) is Not a Hold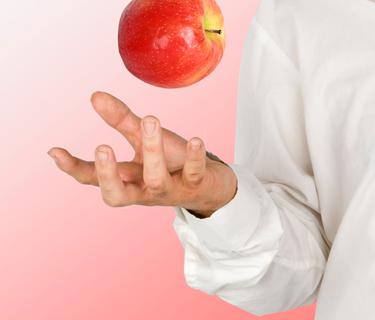 When Apple was rising and reached $676.00, we suggested a short or buying Puts. Market exuberance was pushing Apple higher, and as it always does, the market trends until it far over reaches value. Apple eventually peaked over $700, but then started its inevitable return to earth. That call made us a lot of money.
Sell Apple Inc (AAPL Nasdaq) (Recommended sell at $439.70)
Apple defied gravity and hit a high of $705. Since it has trended on down-slope with the $400 level broken, sliding to a new low of $385. Yesterday a rebound on news of a proposed dividend to shareholders, a share buyback, and a massive debt financing.
APPLE Will Falter
Steve Jobs, the genius who rescued Apple, is no longer there. When a determined and visionary genius is no longer at the helm, a replacement is hard to find. Who would be willing to work in the shadow of a great man, except a lesser man? Can you imagine Steve Jobs living under the direction of another leader? He could not which is why he left his previous employment to do his own thing. He could not be replaced by someone already working at Apple, because no-one with that level of intellect and drive would follow someone else's orders. His replacement is not the quality of the man he replaced.
Revolutions Fade
Apple created a computer that was revolutionary. Others followed. Apple created the iPad, and others followed, then the iPhone. Each drove the company to dizzying new heights.
But it's hard to keep revolutionizing the world. The mantle of innovation has passed and as the pipeline of products Jobs created reaches the market, the number of new revolutionary products following is thinning out.
A Bigger Problem - Apple Has Money Offshore
US tax law (see my blog of October 14, 2012) is written in a way to reduce the incentive for US companies to bring their profits home.. American companies span the globe and make large profits in many companies. But these profits stay offshore and are not repatriated, because to bring the money back to the USA involves paying a repatriation tax. So the money stays offshore. Apple has over $102 billion of cash offshore. So Apple decided on another route. They intend to give over $55 billion to shareholders thru 2015, and they intend to buy back shares. They hope to attract investors who are looking for yield and a share price.
The problem is that Apple doesn't have sufficient money in the USA to fund these goals of share buybacks and dividends to shareholders. So rather than repatriate the money, pay the taxes, and then pay dividends, Apple is embarking on one of the largest bond issuances in history with staggered repayment dates. This avoids any massive debt repayment call at one time in the future, and locks in the low interest rates. On the other hand, it is pure folly. In 2 or 3 years or whenever, Apple will continue to have the repatriation tax issue hanging over its head, and in addition will have this enormous new debt to repay.Does anyone remember what happens when a company has less cash than it needs to repay its creditors? It is a foolish short term thinking solution. Steve Jobs is likely turning in his grave.
Perhaps Apple hopes to bring out a new and revolutionary product that will carry on the glory years. Maybe a TV revolution, or eyeglasses that automatically connect to the internet, or a Dick Tracy watch? Unfortunately Google, Samsung and others are already competitors in researching these products. So in a competitive marketplace, Apple must make enough money from new products to fund these enormous dividends and buybacks, or else it finds itself needing to repatriate these offshore dollars. Likely it is postponing the inevitable, except worsening the situation.
More Issues - Competition is Growing
Google is after Apple territory, by bringing a core part of its Android operating system in direct competition with Apple with a feature called Google Now which is a downloadable app for Apple devices. Apple's advantage of controlling its users is about to be challenged. So invaders are on all sides, and Apple's defense is to take a company that has no debt, and bring on massive debt for the sole purpose of supporting its share price.
A company succeeds because it has the best management, not because it has the best product, or the best anything else. Excellent management steers a course that brings success. That is what Jobs did. If you judge Apple's management today, you must judge it on the folly of its current decisions.
Sell Apple or buy Option Puts. Use today's jump in market price which occurred as a result of the current bond announcement to take advantage of this temporary rise in stock value.
Whats-Hot-or-Not - Historical Picks
Feb 2/13 E Mini (ES - CME) June 2013 (Picked@13,947, sold @ 15,460, profit of 1,513)
Feb 6/13 Tethy's Petroleum (TPL-TSX) (Picked@$0.74)
Feb 10/13 Scorpio Mining (SPM-TSX) (Picked@$0.95)
Feb 21/13 Medicago (MDG-TSX) (Picked@$0.54)
Mar 15/13 EMED Mining (EMD-TSX) (Picked@$0.175)
Apr 5/13 Detour Gold (DGC-TC, DRGDF on OTC) (Picked@16.60)
Apr 11/13 Dynacert (DYA-TSXV) (Picked@$0.14)
May 1/13 Apple Inc (NASDAQ:AAPL) (Sell@$452.70)
Please sign up for our newsletter at cymorfund.com
We may or may not have positions in the securities we name under 'Whats-Hot-or-Not'. Whether an investment is made in a particular security depends on many factors, including portfolio balancing, timing, cash and capital reserves, asset allocation and numerous other factors. Readers are advised to do their own research and decide in light of their own circumstances. Matters discussed contain forward-looking statements that are subject to risks and uncertainties that could cause actual results to differ materially from any future results, performance or achievements expressed or implied.