More companies are getting engaged in the cryptocurrency and blockchain space spurring huge amounts of interest from market participants. Companies that just add "Blockchain" to their names, such as Riot Blockchain (RIOT), or announce their own cryptocurrency launch, Eastman Kodak Company (KODK), might grow in value by 100-200% in a single day. However, companies with a real exposure to blockchain space like Qiwi Plc. stay without attention. We want to highlight top reasons that make us think Qiwi is a good investment choice for investors who want to have exposure to the blockchain technologies developers. Operational part of Qiwi's business is directly linked to the cryptocurrency boom as well as Qiwi closely cooperates with the government in blockchain technologies legislation. It is believed its service may become a legal common provider for the national cryptocurrency flows. In addition, company has a subsidiary, Qiwi Blockchain Technologies, focused on blockchain technologies development and consulting in this field for companies in financial and transportation industries.
Part 1. Qiwi works together with Russian Central Bank
In 2015, Qiwi planned to launch its own cryptocurrency in Russia. The company has patented cryptocurrency name BitRuble and bought dozens of domains. Qiwi's CEO Sergey Solonin was trying to get an authorisation for BitRuble ICO from Central Bank of the Russian Federation (CBR), but eventually did not get the permission to launch its cryptocurrency in 2015. However, the collaboration between the government and Qiwi on creation a legitimate Russian cryptocurrency market has become feasible, and there is few facts pointing at this:
On 10th October 2017 Vladimir Putin had a meeting with Finance Minister Anton Siluanov, Central Bank Chairman Elvira Nabiullina, Deputy Chairman of Central Bank Olga Skorobogatova and Qiwi CEO Sergey Solonin. The key issue for the meeting was the legalization of the cryptocurrency and creation of regulatory frameworks. It is quite clear why all government officials attended the meeting, however, the presence of QIWI CEO is rather controversial and raise a question. We assume that, there is an answer to this- Qiwi is playing a key role in developing blockchain technologies in Russia and it is apparent why the CEO of this company was invited to attend the session where government discussed relevant regulations.           
Qiwi is a member of Russian Fintech Association that was founded in 2016 by CBR, Sberbank (1st by assets in Russia), VTB Bank (2nd by assets in Russia), Alfa Bank (1st by assets among non-state owned), Gazprombank, Otkritie Bank, National System of Debit Cards and Qiwi. Fintech Association was created to discover practical application of the blockchain technologies in Russian banking sector. The key point here is that Chairman of this association is Qiwi's CEO Sergey Solonin. Why him? Probably because Qiwi Plc is considered as a leading blockchain technologies developer in Fintech Association and hence in the Russian banking industry. As we mentioned earlier Qiwi already tried to launch its own cryptocurrency in 2015, and therefore it had already developed blockchain platform for its own use that could be applied to Fintech Association technologies. Besides, almost none of the association member banks have departments that work on blockchain tech applications. On 11th January 2018, Sberbank announced that it had set up a department for developing its blockchain-based products. Other banks such as VTB Bank, Otkritie bank, Alpha Bank, Gazprombank and CBR do not have such divisions just yet. We can conclude that only Qiwi has a deep expertise in blockchain technologies and it leads Fintech Association R&D.                                                               
Otkritie Holding was also interested in QIWI. Otkritie Holding was a parent company of Otkritie Bank. From the beginning of the 2017, Otkritie Holding was actively buying Qiwi's stocks through its subsidiaries Otkritie Investment Cyprus Limited and Otkritie Bank. 21.05% of class B shares that where accumulated on Otkritie Bank balance sheet were passed to CRB with Otkritie Bank bailing out. The bank had essential problems with liquidity and a hole in the bank's balance sheet approximately 400 billion rubles ($6.9 bn.). The point is that the new management that was appointed by CBR continued buying Qiwi shares. Hence, my question is - why would the new management spend CBR's money on Qiwi's shares when the bank has problems with bad assets? Before CRB stepped in (end of August), Otkritie Bank had accumulated 21.05% of class B shares. After bailing out, new management had more than doubled bank's stake and at the end of 2017 bank had 47.53% of Qiwi class B shares.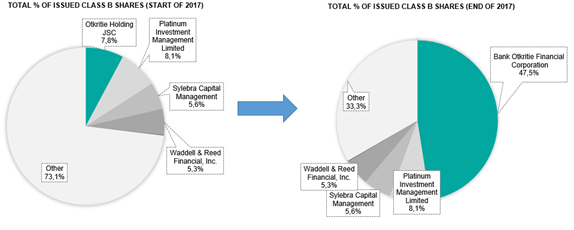 (Source: SEC filings)
Nevertheless, this stake does not give Russian Central Bank blocking rights. Qiwi Plc. has two types of shares: Class A (15,516,573) and Class B (45,080,461). First type of shares represents 10 votes and second one represents 1 vote. Sergey Solonin owns majority of Class A. Majority of Class B shares was in free-float at the start of 2017.

(Source: SEC filings, own calculation)
However, capital structure has changed.  At the end of 2017 Bank Otkritie had 47.53% of Class B shares and 10.7% votes at general meeting. Otkritie already has their representatives on the board of directors (Elena Budnik and Evgeny Dankevich were appointed in June 2017). Elena Budnik was discharged from Bank Otkritie by CBR after bail out and Evgeny Dankevich is still on the Bank's board. Probably at the next meeting of shareholders, new representative of Otkritie Bank will replace Elena Budnik.  Increasing the share and number of votes at a general meeting (>10%) may be connected with the proposal of new candidates for Qiwi's board from Bank Otkritie. Another possible reason for acquiring 10% of votes is a goal of CRB to accumulate 25% + 1 share blocking stake in future through acquiring other stakes. We think that it is a reasonable condition for CRB to let Qiwi become an official cryptocurrency operator in Russia.

(Source: SEC filings, own calculation)
As a result, we have:
State owned Otkritie bank that continuously acquires shares of private company that develops technologies for Russian banking industry based on blockchain (Fintech);
CEO of Qiwi who closely works with regulators on cryptocurrency legislation and attends meeting with president, finance minister and CRB's chairwoman;
Russian government that wants to make cryptocurrency trackable and as a result taxable environment in Russia;
Qiwi already planned to launch its own cryptocurrency and developed blockchain platform that can be implemented in financial sector;
Absence of alternatives to Qiwi for CRB. Creating cryptocurrency operator based on bank or payment service that is unfamiliar with blockchain technologies is too costly and inefficient.  
Russian government cannot leave cryptocurrency without regulation and of course, it will not ban it (because it could have already done it). At the meeting where cryptocurrency regulations were discussed, Putin said, "We should not build excess barriers and create all necessary conditions for further development of Russian financial system". There is a possibility that Qiwi is standing in the middle of this. We do not think that CRB wants to control Qiwi through Otkritie Bank. Probably, Russian Central Bank just wants to have representatives in Qiwi's board of directors or blocking rights if it becomes an official cryptocurrency operating platform. We do not see other motivations for Russian Central Bank to buy Qiwi's shares through bailed out bank. This is how Mosaic Theory works in practice.
Part 2. QBT has already clients and develops blockchain-based technologies
In March 2017, Qiwi spun off its blockchain tech R&D department into subsidiary namely Qiwi Blockchain Technologies. This company not only develops and implements technologies based on blockchain but also consults and creates products for companies in utility, logistic and financial industries. Apart from developing blockchain-based products for Russian banking system (Fintech Association) that we have already mentioned, QBT also develops contract system for "Morsvassputnik" that is Russian government-owned operator of the mobile satellite communications system in the marine territory of the Russian Federation. Qiwi Blockchain Technologies will create an integrated logistic blockchain-based platform that will control transportation of cargos. According to "Morsvassputnik" management, the platform will help to decrease number of intermediaries, reduce number of system errors and protect all operating data.
In the framework of Fintech Association Qiwi Blockchain Technologies develops:
Recognition and management of digital identity;
Products based on distributed registry technology;
Platform for payments of individuals and legal entities;
Open API certification.
All these technologies are most likely going to be implemented in the Russian banking system. It should be mentioned that Qiwi could develop these technologies for global banks or other financial companies that may be interested in such products after its successful launch within Fintech Association.
Part 3. Financial results and Qiwi's transaction business exposure to growing cryptocurrency market
Qiwi`s financial results have been under pressure for the last two financial years. According to company`s filings, the main reason for a weak performance was a falling percent of cash usage and kiosk segment transactions in Russia. The development of digital banking products made the access to account balances and financial transactions much easier thus, attractiveness of Qiwi's cash linked services dropped. Also it is important to notice, that banks usually provide cashback service for many payment operations but, Qiwi`s wallets do not. This is the main reason for stagnation of growth rates in number of total wallets and hence, revenue in 2015 year.  
Company started reducing the number of active kiosks because of stagnation in the segment and global headwinds. Management clearly understands that kiosks do not have long-term lucrative prospects and this was the reason why company launched the SOVEST project and started actively investing in blockchain technologies.

(Source: Qiwi Investor Presentation)
Despite the drop in the number of kiosks, company managed to generate revenue through growth in other business lines such as Money Remittances and E-commerce payment. Currently margins are under strain caused by kiosks closure, as it was the most marginal part of the business, as well as SOVEST project capital expenditures. Clearly, management aims to transform Qiwi's business from kiosks operating company into online financial services company with tilt towards financial tech development.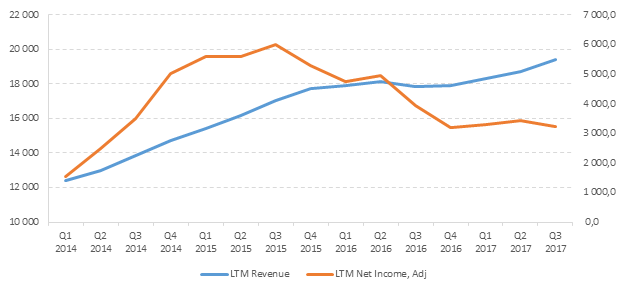 (Source: QIWI Financial Results)
Russian online payment company's business transformation is also perceptible if we look at dynamics of revenue breakdown. Company has four main segments of payment business, which are:
 E-commerce payment adjusted net revenue consists of fees charged from customers and merchants that buy and sell products and services online, including online games, social networks, betting, online stores, game developers, software producers, coupon websites, tickets and other merchants.
Financial Services payment adjusted net revenue primarily consists of fees charged for payments accepted on behalf of the bank partners and microfinance companies.
Money Remittances payment adjusted net revenue consists of fees charged for transferring funds via money remittance companies, card to card transfers and certain wallet to wallet transfers.
Telecom payment adjusted net revenue primarily consists of fees charged for payments to MNOs, internet services providers and pay television providers.
 In 2014 over 50% of revenue were derived from Financial services and Telecom segments, in contrast, today most payments come from P2P (Money remittances). This process smooths the decline in kiosks payment business. In the third quarter of 2017 money remittances payment segment grew 47.2% y/y. In our opinion, a significant impact came from the increase in crypto-money flow through the company.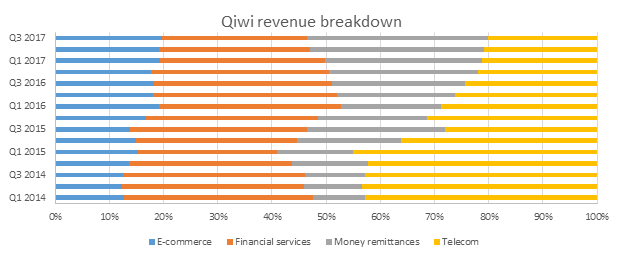 (Source: SEC filings)
Qiwi`s anonymous account registration (for transactions under 15k RUB ($270) you don't have to verify the account with passport details) also helps the company increase volumes of E-commerce segment, primarily because of online casinos. According to the latest independent research, about 10% of nation are into gambling activities and this number increases year over year. This factor may positively affect financial results of Qiwi, but there is also a potential risk. In 2017 government authorities tightened regulation of the online casinos market. In order to control gambling industry's financial flows, direct restrictions were put on banks and online-payment providers (i.e. Qiwi and Yandex (YNDX) Money) such as ban of financial transactions to non-registered players. This situation will not cause problems for Qiwi, because they can still use web for creating anonymous accounts to accept payments, which are not subject to new laws. This trend will result in further growth of P2P segment.
Also, it should be mentioned that revenue generated from financial services is supported by Qiwi's recent purchase of rights to banking apps Tochka and Rocketbank. Both banks are popular in Russia as debit card providers due to these user-friendly banking apps. The apps still work with the Otkritie bank licence, but after the Qiwi's acquisition, clients of Rocket and Tochka banks can choose Qiwi bank as well. However, the company did not disclose the sum paid for these apps. Important part of this deal is a client base. Rocketbank`s and Tochka`s applications, IT infrastructure and brands are among the most reliable, stable and competitive within Russian market. Qiwi develops multibank strategy, to diversify its business. Combination of company's low commission rates and acquired assets will most likely result in client satisfaction boost.
Qiwi's current business exposure to cryptocurrency market
Qiwi`s opportunities to increase financial growth rates derive from cryptocurrency hype as well. Russia did not stay away from crypto-boom and here is why Qiwi can have a  good ride on "the cryptocurrency horse". Within the country, Qiwi has the smallest transaction fees and commissions for cryptocurrency exchange. This really helps to beat down the most commonly known competitor - Yandex Money.

(Source: Bestchange.ru)
As we can see in the figure above, Qiwi offers lower bids among main exchange dealers, which is a pure advantage that can drive increase in total payment volume and profits. This partly comes from anonymity of Qiwi`s transactions (under 15k RUB ($270)). As it can be noticed in the table above, the amount of Qiwi wallets is growing accordingly with bitcoin price. However, it's important to understand, that this process includes not only bitcoin transactions, but all cryptocurrency investments.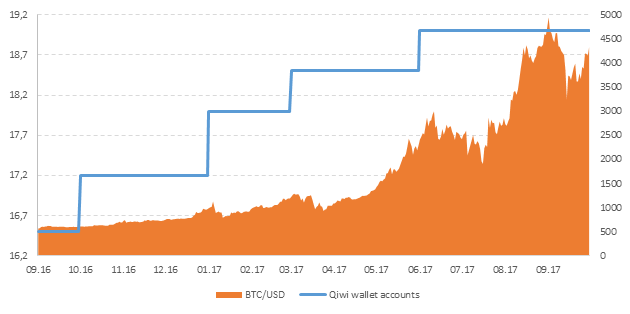 (Source: SEC filings, finam.ru)
As we can see, the increase in money remittances payment segment helped company to approach closely to a peak in payments volume and we expect that volume will beat the historical maximum in fourth quarter.   

(Source: SEC filings)
We also think it is important to mention the issue with dividend payouts. Before the decision to cut off dividends in 3Q 2017, company had an average historical payout ratio around 0.8. TTM dividend yield of the company is 4.88%. Management is loyal to shareholders and corporate decisions are focused on maximizing their wealth through dividend payouts or investments in new projects. However, company's transformation and large increase in CAPEX, related to blockchain project and SOVEST, made the 80% dividend payout harmful for Qiwi as it could negatively affect company's financial position and cash flows. We want to highlight, that company does not have any debt outstanding and out of $1 billion capitalization, $300 million is cash and cash equivalents. It means that the company maintains a stable capital structure and with its cash buffer, it can realise the SOVEST project without raising any debt.
Part 4. "SOVEST" card project is in high CAPEX stage, but payback is around the corner
SOVEST is a first large-scale payment-by instalments card system in Russia developed to help consumers get easy and transparent access to funds and purchase a wide range of goods and services they need.
SOVEST business model presumes that the lender earns money from the retail partners sharing their sales profits with SOVEST and not from the customers' paying interest, while lender carries all non-payment risks. Therefore, Qiwi gets payments from partnered merchants (large retailers and retail chains), which are connected. By the way, the network is quite extensive and includes retail chains, which are especially important for customers.
(Source: QIWI Corporate Overview)
The potential estimated market size will be over 7 million users by 2025. Qiwi Plc. forecasts a 200-300 billion RUB (currently $3,6-$5,3 bn.) transactions volume and 15-20 billion RUB ($260-$350 m.) target net revenue by 2020. Total payment volume, generated by the SOVEST project is growing at impressive rate. Currently the project is in investment stage and we do not expect that it will generate any profit in 2018.

(Source: QIWI Financial Results)
SOVEST's current exposure to Russian lending market is quite low (less than 1% of all deferred transactions), but its potential is actually great. Basically most of company`s retail partners have already got programmes for deferred payments within 12 months, but SOVEST's selling point within a sector is simplicity. You do not have to re-sign contracts with many operators and make payments with different accounts – you`ve got a single platform for all payments. Company forecasts a negative 1.4 bn. RUB ($25 m.) net income effect from SOVEST project in 2017. This business model gains an increase in accounts receivables for QIWI because customers have 12 months to pay back the loan and only after all credits are paid Qiwi can charge its commission. Therefore, net income occurs when payment timeframe has expired. Because SOVEST project was launched in the end of 2016, and essential growth in the volume of payment transactions appeared only in Q3, financial effects will appear within 12-month period, when creditors payback their loans to Qiwi's trade partners.  
Unfortunately, Qiwi Plc. does not disclose separate results of SOVEST. Company continues to increase its investments in marketing and advertising and we can see the dramatic growth in payments volume that it is effective. We suppose that Russian customers are in need of low cost funding and do not really want to borrow money from banks because of significant interest overpayments. Most credit cards charge annual interest rate of 20%. Thus, we think that clients prefer to move to "zero cost" credit, which is the cheapest way to maintain their consumption level in relation to falling real disposable income of Russians.
Summary
To sum up, we want to say that Qiwi Plc. is going through transformation of its core business model and its SOVEST project has great opportunities on the Russian market. Additionally, company's core online P2P transaction business is growing due to increase in cryptocurrency exchange money flows, so it is directly exposed to cryptocurrency ecosystem. Qiwi Blockchain Technologies is a pioneer in blockchain-based technologies development and integration in Russian financial, utilities and logistic industries. There is a chance that Qiwi might become an official cryptocurrency operator in Russia and this will have a huge impact on its stock price. The company has a stable financial position and currently invests in new lines of business that will start to pay back in 2019. Therefore, we think that it is a good pick for a long-term investor with a desire to have an exposure to blockchain technologies, high upside potential and to limit its downside risk.
Disclosure: I am/we are long QIWI.