*I expect the "End Game" for the current cycle to be led by Bonds, regardless of stock valuations.
*In turn, the potential prerequisite to a Bond market Bear Cycle would be increased inflation expectations, through indicators such as wages and commodities.
*There is a case to increase exposure now to assets benefiting from higher inflation expectations, such as selected commodity and Emerging Markets, playing a traditional late cycle class.
To invest successfully one must be a contrarian to a certain extent, to look where the puck is going, not where it's been -- to process and consider what the crowd expects is least likely to happen, then look for mispriced assets that may benefit from a change in that view.
The predominant world - view out there is the following:
* Entrenched or threatening deflation, in many parts of the world.
* Contractionary Fiscal Policy
* Permanent slow growth and credit formation
For this reason, the best asset classes have been Bonds and bond like sectors -- Utilities, REITS, and defensive, dividend paying stocks, all have which been bid up to expensive valuations, projecting forward a long run view of the status quo.
I believe profitable investment allocations are made by challenging the status quo viewpoints with variant perceptions, and looking for evidence fundamentally and technically that supports a variant view. Lets examine a few possibilities fundamentally, that might change the macro outlook for inflation expectations.
The massive excess reserves from multiple QE rounds, and continuing to be added by ECB action today, have simply piled up. What if, through easier housing lending standards (promoted by the new FHA head) lending and credit formation accelerate?
Fiscal policy has been highly contractionary. What if, due to public pressure on the crumbling state of our Nations Infrastructure, this dynamic changes -- leading to more usage of Steel, Copper, Energy, and other inflation - tied components? In my view, this is only a matter of time, unless we all stop driving!
The investment case to be made, in my view, would be an appropriate allocation commodities and selected emerging markets tied to commodities. Even if not as a primary investment class for the investor, I believe it makes sense -- like buying any asset when cheap -- to pick up some "inflation protection" while it is still cheap.
There are various ways to do this. I am not much of a bond guy, but one could (alternatively to generic government bonds) take a good look at TIPS, which are very cheap relative to normal Treasuries -- note the word "relative".
I'll note that many folks would say, "I'll wait for overtly higher inflation numbers, and then re-allocate" -- and that's fine. However -- I think we can improve our results by Anticipating change in a widely held world-view, and then incrementally applying exposure to benefit from this change.
Remember the old, and wise saying: "Market leads the news" In other words, we will likely see the asset classes start to move before the news changes, and indeed this is starting to occur.
My preferred method is to look at what the "smart money" is saying;examine the technicals for confirmation, and consider investments in these areas while they are still out of favour. Lets examine briefly a few specific ideas.
Russia: (NYSEARCA:RSX) (NYSE:MBT) Little is more out of favour, or cheaper, than Russian stocks. And perhaps because of oil's recovery, (up sharply again as I write this) or smart money allocation, Russia is starting to really motor. Russia's large telecom company, I have profiled in earlier writings.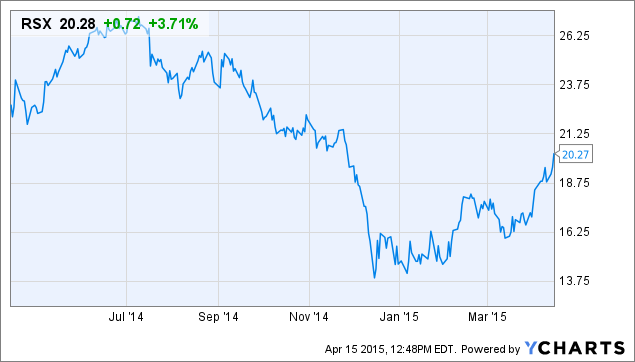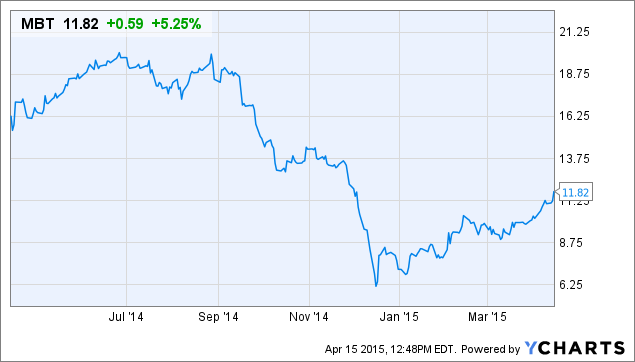 Next, talk about out of favour, Brazil's national Oil company, (NYSE:PBR). Now it is rocketing, perhaps because of oil, perhaps because they have promised to release financials finally, but more importantly because China is extending a financial backstop, as recently reported.
Do we then follow the "Smart Money" here? (China) Is it reasonable to assume -- If China is willing to risk billions of dollars here, they know what's going on within the company, and the resolution to the corruption scandal that has engulfed ?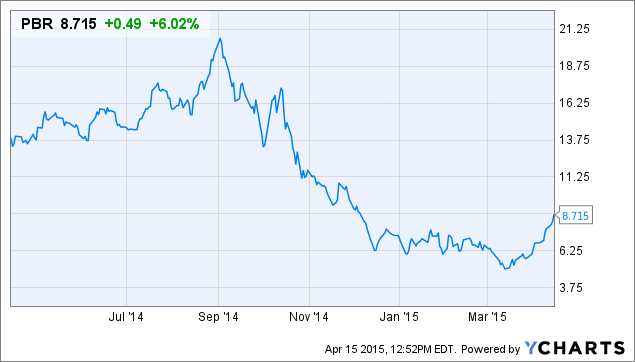 Next, metals plays. I am reading increasing reports that the "big players" expect actual copper SHORTAGES by 2017 or so. This is a variant perception if ever one was heard, as we are bombarded by record low iron price reports amid China's slowing economy.
Lets look at Copper for second (JJC) ETF. I note that even with the Iron Ore price, and strong US dollar, Copper is showing signs of building a base here, as is one traditional leader, (NYSE:FCX). There are a number of stocks, both senior and junior, to consider here. I am long a few junior names, which are breaking out from long downtrends, as well.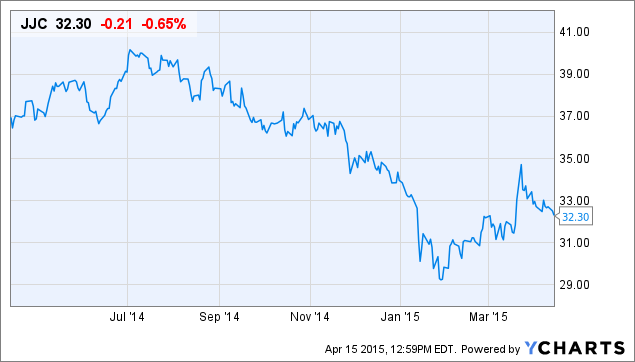 is blasting higher today. (although they have energy exposure).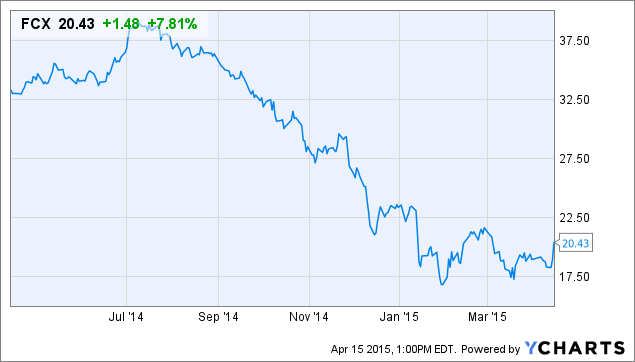 One last specific idea, with a high risk and reward quotient, is battered offshore driller (NYSE:SDRL) This name has been crushed due to Russian connections and low oil prices. However -- looking ahead -- they have the youngest, best offshore drilling fleet in the business, and older rigs are getting scrapped. IF oil comes back, (a big if, admittedly) these guys may start printing money.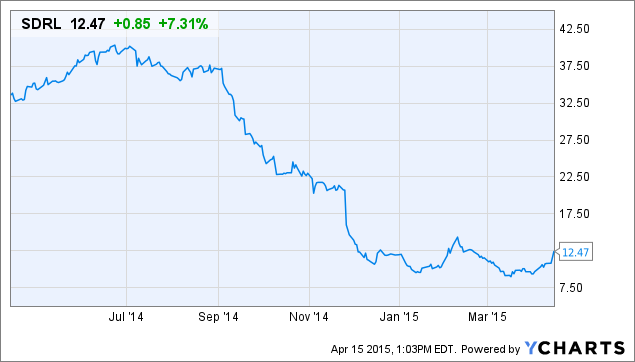 Summary -- even as part of a balanced portfolio, I believe exposure to this area is timely for the investor.
Best Wishes!
Disclosure: The author is long MBT, PBR, SDRL.
Additional disclosure: consult advisor, not investment advice