When King Digital's founder and CEO, Riccardo Zacconi, conceived Candy Crush Saga five years ago, he knew he was on to a winner. The concept was not original, predated by the connect three Columns in the late eighties and more recently in PopCaps Bejeweled, however with the addition of a cute animated narrative, a sprinkle of vegas glitz and critically a merciless ' freemium ' monetization model, King took the tried and tested to the next level.
With 364m active users, from which 2.3% translated into paying customers producing rakes of in excess of $1m a day, Zacconi had created a slot machine on steroids, with of course the distinction to its mechanical peers of never having to make a payout. At a time when facebook had double from its stuttering IPO, the timing and sentiment seemed perfect to take King to the public.
By the close of trading on its market debut March last year, King's share price had slumped from $22.50 to $19 and with that, it now held the distinction of the worst performing IPO of 2014. Unlike other newcomers, piggy backing on the social media bandwagon, the ungeared offering at under x14 earnings seemed honest enough. So what went wrong?
Perhaps foremost, the markets had for reference Kings peer, Zynga (NASDAQ:ZNGA), which had IPO' d at the tail end of 2011, and the signs there were woeful, as a demise in users of its flagship offering, Farmville, and spiraling costs lead to a quarterly $435m loss and an ongoing struggle ever since. King with 67% of its revenue derived from the Candy Crush title, appeared a similar one trick pony facing the same risks.
To a large extent the sceptics were vindicated, while not as pronounced as in Zyngas case, sequential quarterly profit declines dragged the share price down into the $11 range, representing a 50% decline from its IPO.
Fast forward a year and the jury is still out. The stock has recovered somewhat to $15.36 at the time of writing, though this appears largely on valuation grounds, with revenues now broadly flatlining. Margins and cashflow so far have remained healthy, which has enabled the Company to repurchase $111m of shares and paying out $662m in special dividends with as of the last count $661m (14% of Mkt Cap) in cash and equivalents on the balance sheet.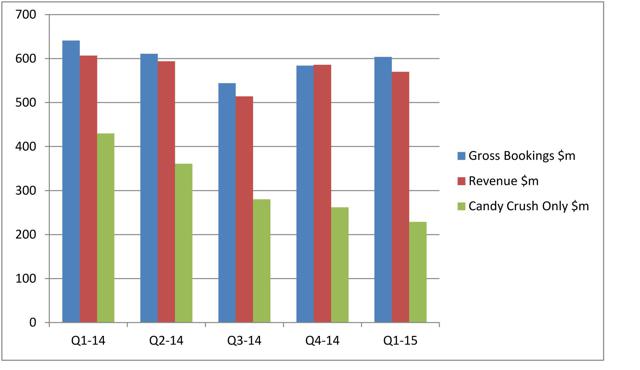 CHART - Faltering Revenues as Candy Crush Gross Declines.
The redress on the over reliance on Candy Crush Saga, has been somewhat comical, lauding the rise in non CCS titles to 67% of revenue, when the majority of this income has come from Candy Crush Soda Saga, a near identical concept and themed sequel. Though King have played down the canabilising effect to its stable of games, the original Candy Crush has seen revenues slump from $392.62m (Q4 '14)to $229.52m (Q1 '15). Investors were left with a significant (20% sequential) mark down on Q2 guidance, though with a promise of better things to come with seasonality factors and work in progress to impact the end of the year.
From here there are two facets to the bull argument.
Firstly regarding the core business and that the Zynga comparison fears are ill founded with those issues company specific during the markets infancy and gameplay specific, (Farmville and Poker) which unlike Candy Crush poorly migrated from the facebook platform to mobile.
Player interest for CCS is on the wane, but this can be compensated by new titles, updates and franchise extensions. Overall on valuation grounds with continued special dividends netting a 6% yield, King could make do with just treading water.
The second side to the bull argument is that they may have growth prospects from here, with the Company pointing to CCS being bundled into Microsoft Office 10 and the expansion of Candy Crush with territory specific offerings, with an initial focus on Asia.
A lot of hopes are pinned on a new flagship, resource management title, 'Paradise Bay', made from their Seattle based subsidiary F2LIVE, acquired for a contingent $150m.
There exists a theoretical untapped reservoir of cross selling beyond gaming, with the huge 364m monthly user base ranking only below facebook and WeChat in size, although the company for now has no plans in that direction.
On the flipside, concerns remain on the long term earnings visibility in propping up the Candy Crush franchise. The new titles from their core team, have lacked imagination and with it the ability to compensate the diminishing interest in King's flagship title.
On a technical level King's buyback authority is nearly exhausted and with the low free float (under 10%) it is unlikely that they will seek to renew this. The free float issue, aside from the usual governance concerns it raises, also fails many funds investment criteria's, which further limits its appeal.
In the last few days Paradise Bay, after several months of soft launch testing was released on IOS. At the moment it is too soon to make a call on its future impact and I doubt that the Company will be making any bold predictions for it during this tentative stage at the impending Q2 results.
As King are able to use their existing player network to introduce new products, Paradise Bay currently sits near the top of the free download charts, though down in the 40's in terms of gross. This would likely climb in the coming weeks as paying customer retention develops, although for it to impact future earnings in any meangingful way I would guess it would have to hold its own in the top 20 for an extended period.
One gauge that bodes negatively for Paradise Bay, and maybe gives an insight to its future prospects, is its user rating of 4.0/5, which lags behind those attained by the established hits such as Clash of Clans, Game of War or indeed Candy Crush, tallying favorably at 4.6/5 on the IOS platform.
Q2 Results are to be announced after market close on the 13th of August with guidance at $490m to $520m for gross bookings. With currency headwinds persisting and a decline in gross ranking for Candy Crush Soda, I would suggest waiting till after the results with a focus on Q3 outlook before making an investment decision. The markets are unforgiving at the moment on any bad news.
Disclosure: I/we have no positions in any stocks mentioned, and no plans to initiate any positions within the next 72 hours.