| | | |
| --- | --- | --- |
| Date | Volume | 90 day Volume |
| 10/23/2018 | 65,456,388 | |
| 10/24/2018 | 108,300,525 | 6,695,204 |
| 10/25/2018 | 26,109,766 | |
| 10/26/2018 | 47,693,331 | 8,175,402 |
| 10/29/2018 | 179,396,955 | 8,652,957 |
| 10/30/2018 | 871,482,289 | 10,623,450 |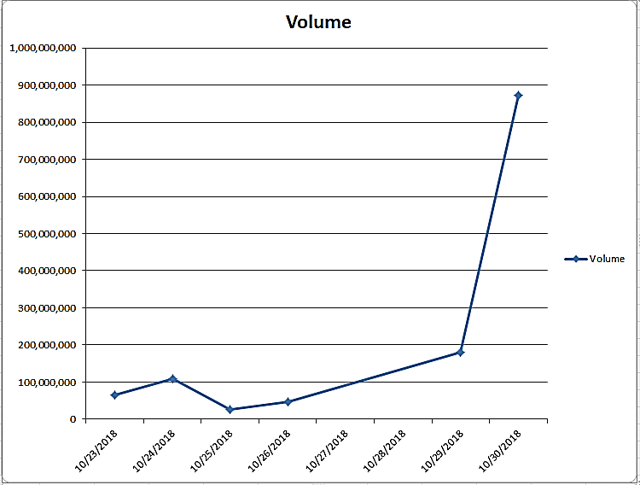 To answer these Questions we must first look at:
What is EVSV?
What are the recent events to precipitate such strong investment?
Are there any other catalysts in the near future to thrust EVSV even further?
What is EVSV?
Enviro-Serv Inc.(OTCPK:EVSV) is a micro-micro cap OTC company that, like many of us, has lived paycheck to paycheck for many years. EVSV is Tampa based and is essentially two businesses in one.
First, EVSV provides to both residential and commercial clients air conditioning/refrigeration installation, roofing contracting, and on-site maintenance services.
Second, through EVSV's wholly owned subsidiary franchise, Pestmaster Services-Tampa, offers year round pest control services. Pestmaster Services-Tampa is a Federal U.S. Gov't GSA Vendor
EVSV's Client List Includes:
James Haley VA Hospital system
Bay Pines VA Hospital system
MacDill Air Force base
Army reserve center based in Pinellas Park Fl
EVSV has two web pages: www.evsvinc.com and www.gsasvcs.com
What are the recent events to precipitate such strong investment?
For a long time Enviro-Serv has sputtered along at an uneventful rate, then in October 2018 things started to change in a big way. EVSV announced anticipated rapid revenue growth from new services and acquisitions.
How?
A new partnership that will diversify EVSV's service offerings enabling the company to win a larger share of the approximate $45 billion in contracts awarded annually under U.S. Government General Services Administration (GSA) contracts
Acquisitions. EVSV is in negotiations with two telecommunication companies that currently provide cell phone services under a government contract.
Enviro-Serv is targeting the $10 billion hemp industry in light of 2018 Farm Bill. EVSV is preparing to bring its expertise in organic fertilizers and other potential critical necessities to the industrial hemp farming market. Also, the company anticipates a joint venture announcement with a cannabis cultivation operation working to develop a proprietary hemp cultivar to be coming soon.
Also:
The company plans to release a three-year growth plan which will include revenue objectives. According to the CEO this should be within the next week.
EVSV will update its shareholder communication strategy.
EVSV is transitioning to a new website, http://www.gsasvcs.com, a work in progress.
Enviro-Serv will be expanding regionally through the acquisition of independent service companies.
Are there any other catalysts in the near future to thrust EVSV even further?
Yes:
Everything announced in October 2018 is not finalized, so therefore, every event when it matures becomes a catalyst:
Each new GSA contract,
Each acquisition,
Each joint venture,
Entering into new rapid growth industries (OTCPK:HEMP),
Each new product (fertilizer).
In addition, a three-year growth plan to be release in the coming week, and a better communication strategy.
The pronounced surge in volume witnessed over the past 6 days is caused by investors getting in cheap in anticipation of near term growth events.
In the world of micro-micro caps it does not take much to catapult volume and price, and for EVSV there are plenty of catalysts coming.
So, is this High Risk and High Rewards? You bet yah.
Everything announced in October 2018 is not yet finalized, so therefore it is not yet finalized.
Micro-micro caps are inherently high risk. Like anyone who lives paycheck to paycheck, one bad event can cause great disruption.
At today's closing price 1 million shares can be bought for $700.
This article is just how I see it. Do your own research. Evaluate your own risk tolerance. I hope you find the outline format that I use to be quick and easy access to key information and framework for your own research.
Disclosure: I am/we are long EVSV.