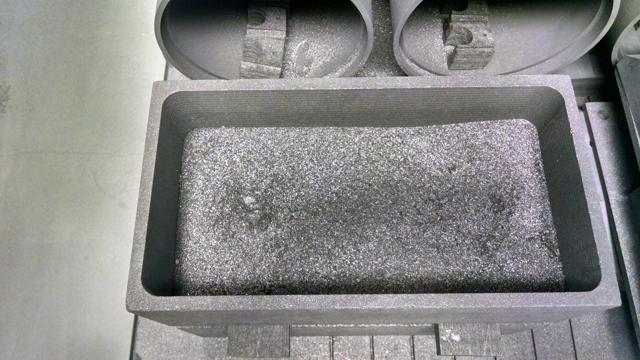 Six years after graphite "blew up" in the junior resource space in 2011, the reality that producing graphite concentrate is not actually a business model has sunk in. Canada Carbon (V.CCB) has had a high purity, high value strategy from the beginning. Bruce Duncan, Canada Carbon's CEO, recognized early on that Canada Carbon's flagship Miller hydro-thermal graphite deposit in Quebec had very high purity graphite at the mine head. The question was where to sell that graphite for the best dollar.
When people think about graphite they immediately go to electric cars and the Li-ion batteries which power those cars. High purity spherical graphite is an essential ingredient for storing the energy which powers everything from your cell phone to electric cars. What people don't tend to associate with graphite is the actual production of the electricity the Li-ion batteries are going to store.
Where does that electricity come from?
In many parts of the world the nuclear reactor business is going full speed ahead. According to the World Nuclear Association as of April 2016 there were over 60 nuclear reactors under construction in over 15 countries with many more planned in the next few years. As well, existing reactors are being updated and upgraded to higher capacities. Nuclear energy is clean, efficient and reliable. For many Asian and developing countries nuclear power is the best possible way to generate the electricity they need.
Ultra-high-purity graphite is used as a moderator in many nuclear reactor designs. Essentially the graphite slows down neutrons so there is a greater chance of fission and therefore a sustained nuclear chain reaction. To date, most of the graphite used in nuclear reactors has been "synthetic". Synthetic graphite is made from the residue of petroleum coke. It can be very high purity but it is also environmentally unsustainable. Perhaps more importantly, the expansion of the nuclear industry has exhausted the world's supplies of the highest purity synthetic graphite. It is becoming a bottleneck in the expansion of clean nuclear energy.
Canada Carbon owns one of the highest purity natural graphite projects under development anywhere in the world. Its Miller hydrothermal lump vein graphite deposit yields nuclear grade natural graphite with only relatively inexpensive flotation and thermal upgrading techniques. Instead of the weeks of expensive, environmentally damaging processing at 2800 degrees Celsius needed to produce nuclear grade synthetic graphite, Canada Carbon's natural graphite can be fully processed in an inexpensive, environmentally responsible manner, yielding graphite purer (99.9998%) than any natural or synthetic graphite used in U.S. government sponsored nuclear energy research programs. The Miller deposit flotation concentrate is of such high purity that Canada Carbon begins with a huge advantage because the costs of thermal treatment are proportional to the impurity content.
Canada Carbon's management recognized the potential value of the Miller deposit early on, and began advancing the project's environmental assessment work and permitting concurrently with resource definition, process engineering and economic assessments. The Company is on target to complete a Bankable Feasibility Study later this year, with final permits anticipated by year's end. If you consider that the graphite structure at the heart of the proposed open pit mine was discovered in July 2014, the pace at which the project has been advanced is remarkable.
With supplies and sources of synthetic nuclear graphite running down and construction of graphite moderated nuclear reactors ramping up, Canada Carbon has been smart enough to gain certification of its graphite product as suitable for nuclear use. The potential demand for nuclear grade graphite is effectively unlimited.
Most importantly, the price paid for a nuclear grade graphite product is many, many times the price paid for graphite concentrate or even the spherized graphite suitable for battery use. By investing in the relatively inexpensive flotation and thermal processing required to bring the Miller deposit graphite to nuclear grade purity, Canada Carbon transforms already pure graphite into a high value end product.
Ultimately the graphite mining and processing business is about making money. Canada Carbon has identified a huge target market and is ready to service that market with its nuclear grade graphite. The money should follow.
Like most of the junior graphite sector, Canada Carbon's share price took a bit of a beating in 2016. It's trading around CDN $.25 with 95.63 million shares outstanding. However, unlike a lot of graphite companies, Canada Carbon has a unique value added product for which there is a significant and growing demand,at what is expected to be a very good price. As the junior graphite space shakes out, Canada Carbon looks ready to lock up a significant part of the natural nuclear graphite market. Because purity really does mean profit when it comes to graphite.