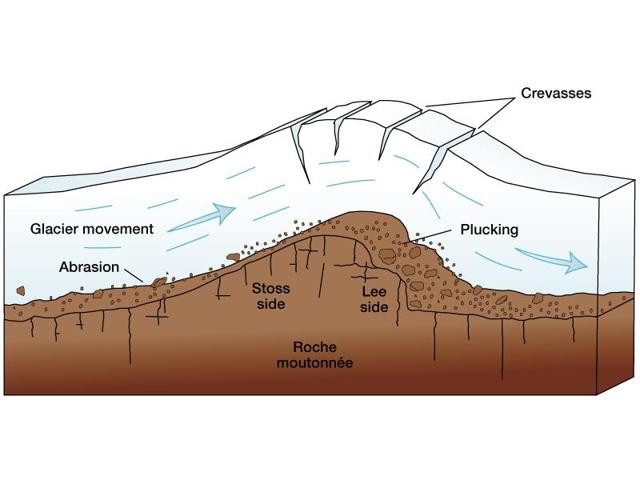 One of the hazards of following junior mining companies is that, occasionally, a company will put out a press release which buries significant results in "geo-speak". Geologists drive the exploration business and they are the people who make the discoveries; but they are often nearly impossible to understand.
Evolving Gold put out a press release on its Toro project in Northern Quebec. You can read the release here.
Unlike most exploration press releases which will detail drilling results or "grab samples", Evolving is reporting the results of "till samples" which it took "down ice" from a magnetic anomaly it refers to as Toro 7.
Now, before getting to those results, a brief sidebar on what the heck these guys are talking about. Imagine a flattish plain with the occasional chunk of rock sticking out of it. Now imagine a mile high glacier coming across that plain and, over time, flattening the chunks of rock. As the chunks are flattened bits fall off and are deposited over an area "down ice" from the original chunk of rock. This material is referred to as "glacial till" and its composition tells a geologist what the composition of the magnetic anomaly – or chunk of rock in my version – might be.
Down ice till samples are assessed in terms of anomalous metal content. In simplified form such till anomalies have large metal content relative to the surrounding till. Evolving, following industry standards, classified its till samples as either anomalous (above the 90th percentile) or highly anomalous (above the 95th percentile). Gold values over 1,000 ppb (equivalent to 1 g/tonne Au in the till concentrate) were deemed anomalous while values over 10,000 ppb (equivalent to 10 g/tonne Au in the till concentrate) were deemed highly anomalous.
With me so far? Good, because once you translate the geo-speak EVG has actually found some very good news in its down ice samples.
"The highly anomalous Toro 7 values include two gold ("Au") results (12,300 and 11,800 ppb), three copper ("Cu") anomalies (110.5,62.2 and 54.1 ppm Cu) and five bismuth ("Bi") anomalies (3.69, 3.97, 4.9, 6.52 and 8.97 ppm Bi). There were six additional anomalous gold results, all continuous with the highly anomalous Au results, providing a positive gold signal with a total length of greater than 800 m, and open to the north."
Again, in simplified terms, what this suggests is that the Toro 7 chunk of rock which was scraped by the glacier had a very prospective gold and copper content.
All of which adds up to a compelling case to bring in the drills. You need a compelling case because the Toro property is up by James Bay in the northwest of Quebec. The good news is that it is only 5 km from the year round Rte de Nord highway but it is still a long way to go unless there is a real chance of a discovery.
In the release Evolving Gold's Chief Executive Officer, Mr. R. Bruce Duncan stated, "We are excited about these exceptional gold anomalies in till concentrate samples of up to 22,000 ppb (22 grams per tonne Au) as well as the prospect of a making an IOCG style discovery. The Toro Project claims have never before been the target of advanced exploration work. The discovery of significant mineralization in one or more different deposit types suggested by these early results could be very important not only on the Company's claims, but also on a regional scale."
EVG is trading at around .20 CDN. It has a bit of cash on hand, certainly enough to continue with its surface exploration program.
It is very early days at the Toro project but with gold and other minerals showing intriguing values it makes sense for investors to put EVG on their watch list. As always, the real proof will come with drilling but smart junior exploration companies figure out where to drill before spending the cold cash required to sink holes. That's what EVG is doing at Toro and as more results are announced there is every chance the thinly traded shares will catch a bump or two.
As importantly, EVG only has 18,046,000 fully diluted shares outstanding. That number will go up as the company raises money for further exploration and drilling but right now the company has avoided dilution while proving up its properties.
One to watch.
Disclosure: I/we have no positions in any stocks mentioned, and no plans to initiate any positions within the next 72 hours.