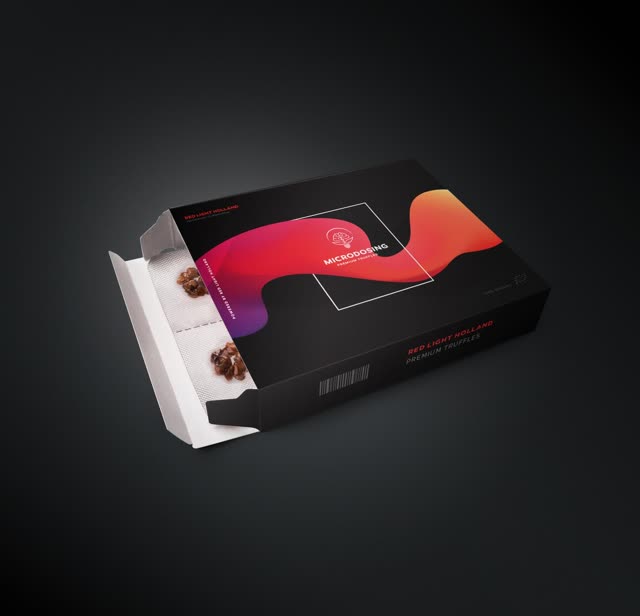 When a huge business opportunity comes over the horizon it is tempting to look at the opportunity and forget all about the business. It is not a mistake which Todd Shapiro and his team at Red Light Holland (C.TRIP) are going to make.
There is no question that the broad class of psychoactive substances which are not cannabis are a huge opportunity. Everything from mushrooms to LSD has the potential to follow cannabis's route to legalization. Eventually. And there is no question that companies which move first may be able to carve out a huge market just like Canopy's predecessor company, Tweed, did in the early, pre-legal cannabis space. However, as the Canadian cannabis market illustrated, there is more to it than just jumping in first.
Red Light Holland is focussed on a single segment of the psychedelics market: magic truffles. These are psilocybin truffles which, taken in microdoses, appear to help people achieve clarity and what might be described as "mental well-being".
The company is focussed on actually creating a business from the psychedelics opportunity. Shapiro knows that to build a business you can't just raise and spend money. You have to actually make money as soon in the life of the business as possible.
But how can a company make money making a product which, for the moment, is illegal? Red Light Holland's answer is right in its name: Holland.
As I write magic truffles are legal for recreational use in Holland and Holland will be the focus of Red Light Holland's business for the immediate future. At the same time, Red Light Holland will be looking at the medicinal potential of psilocybin truffles.
"To the best of my knowledge, we will be the first publicly traded company  to produce a branded microdose which is completely legal," said Shapiro. "Our product will be in the natural, unprocessed, "wet" form legal under Dutch law."
"It is the reverse of cannabis," said Shapiro in a brief interview. "Recreational first and then medicinal."
To meet the Dutch recreational market, Red Light Holland plans to build a growing facility, create retail channels and work hard on branding. What Red Light Holland will not be doing is growing for the sake of growth.
Paying attention to building an actual business is Shapiro's mantra and he is joined in this by the Chairman of his Advisory Committee and an early investor, Bruce Linton – the co-founder of Tweed. Linton is well aware of the fine balance between trying to dominate a market and actually making a profit.
"I talk to Bruce every day," said Shapiro. A fact that may push Red Light Holland to the front of the pack of psychedelic startups. Linton pretty much invented the legal cannabis market in Canada and understands the need to both grow and profit from an opening market. He has also jumped through the regulatory hoops which usually characterize the "legalization" of a formerly illegal substance.
Joining Linton as an early, and large, investor is Terry Booth, the former CEO of NYSE listed Aurora Cannabis and an advisor to PharmaDrug (C.BUZZ). Commenting on the sector in general, Booth stated, "In my opinion, the opportunities that exist for this non-addictive, age gated, safe recreational fungi or a prescribed micro-dosed psilocybin drug has significant global market potential."
As a listed, public company trading on the CSE under the symbol TRIP Red Light Holland has access to capital which is critical, but Shapiro is running a tight ship. Again, learning from some of the missteps in the early days of the cannabis business in Canada, Red Light Holland has a very bright path to early profitability.
On its website, Red Light Holland states, "Red Light Holland is starting to build out its potential EU-GMP facility which aims to pioneer and lead EU-GMP in the naturally occurring PSILOCYBIN category with the strictest legal compliance measures." Right from the go, Red Light Holland is committed to compliance with Dutch law and that means building the right facility with the right controls and security. It also means building a facility which meets the existing market. Far too many Canadian cannabis companies built huge grow ops with no clear idea of how big the legal market was going to be. Which is why 96% of the July 2019 cannabis harvest went straight to inventory.
While Red Light Holland has big plans, it is looking to establish cash flow and then profit in Holland. Practically, this means establishing legal, retail sales both through stores and with a well-executed online presence. Critical to this strategy are Holland's network of "smart shops". Shapiro mentions "smart shops" casually but investors need to know that smart shops in Holland are legally able to sell a variety of psychoactive fungi.
Red Light's strategy is to build the Red Light Holland Microdose brand through this network of smart shops. Here is where the Red Light Holland plan is so very different from the early days of cannabis in Canada. With cannabis, early entrants could only sell medical marijuana to registered users by mail. That was the only legal source of cash until recreational marijuana was legalized and regulated into the ground.
In Holland, magic truffles are already legal for recreational or any other use. Which means that, from day one of Red Light Holland's production, they have the opportunity to brand and sell their product at retail, legally.
Investors are asking whether or not the psychedelics market, and more importantly, shares in the companies in that market will be worth more than the Canadian cannabis market. It is far too early to tell, but Red Light Holland and Todd Shapiro learned a lot from the Canadian pot bubble. Have a plan, keep costs down, get cash flow early, make money: lessons which cost the Canadian pot market literally billions to learn.
As I write, Red Light Holland is trading a $0.13 CDN. In February 2013, Tweed, later Canopy (WEED) traded at $0.03. As Bruce Linton, founding CEO of WEED can tell you, it went to over $67. Getting in early in an emerging market can be very lucrative. It can be even more lucrative when a company has an actual business plan and the discipline to execute.
TRIP is worth a look.