Group 11 Technologies – The 'Un-Mining' Company
Please Note: Blog posts are not selected, edited or screened by Seeking Alpha editors.
Summary
In Situ Gold Mining.
Environmentally harmless mining solution.
Private but Joint Venture of 3 Public Companies.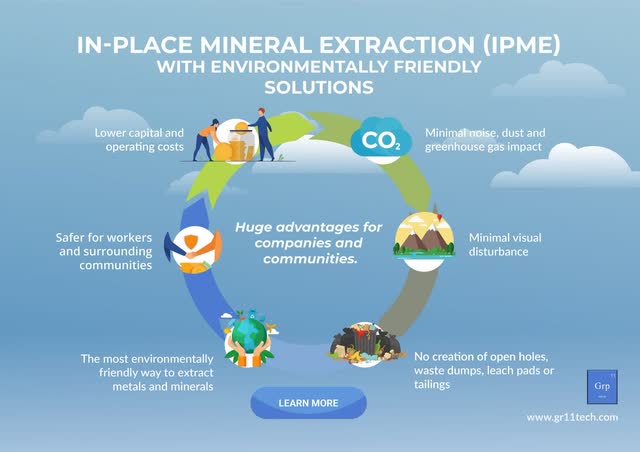 When you think of a gold mine you usually have a picture of a system of shafts and tunnels going deep into the earth or a very large pit with big yellow equipment and huge, slow moving, haul trucks. If you know a bit about mining you will include some sort of mill, possibly with large leach tailings ponds, chemicals and waste rock dumps.
That vision of gold mining is a huge challenge for the industry simply because it makes gaining "social licence" and government permits a long and, sometimes, impossible task. Some jurisdictions have outright banned the use of certain chemicals in the mineral extraction process.
Group 11 Technologies has a different vision: Un-Mining. This may be the next environmentally friendly, more profitable way to produce gold. Group 11 Technologies is about to find out.
Group 11 Technologies wants to extract gold and other precious metals utilizing an environmentally friendly solution that does not contain cyanide or mercury. It is 100% recyclable and often faster than cyanide leaching. The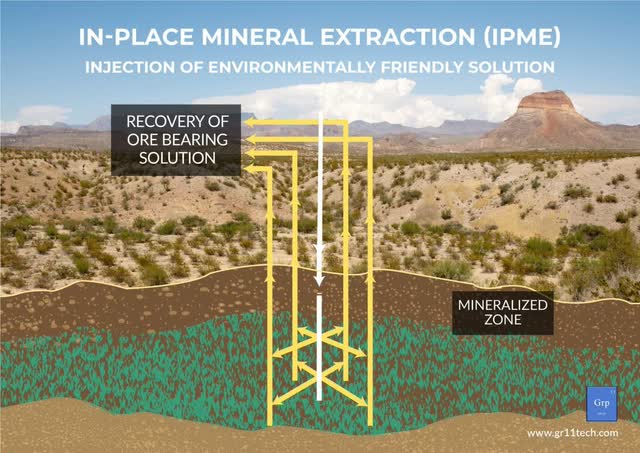 great leap is to use this environmentally friendly solution with mineral extraction technology which leaves the rock in place. "In Place Mineral Extraction" (IPME) means no rock would ever be moved; instead the environmentally friendly solution would be injected into a contained mineralized zone, following the typically fractured structures in the rock in small controlled sections, and then removed having leached the gold. At surface, a small plant (similar to a water treatment facility) would extract the target metal from the recyclable and reusable solution which will be recycled and used over and over.
"In Situ Recovery" is a form of In Place Mineral Extraction. It is already used in the uranium, potash and copper industry to dissolve and transport the target metals and minerals to a treatment plant on surface.
The in-situ recovery mining of gold uses EnviroLeach's proprietary and eco-friendly solution to dissolve the gold in small, controlled patterns.
From the gold mine developer's perspective, building a big pit or sinking the deep shaft are huge cost elements. So are the environmental rules and, realistically, so are the costs of permitting and reclamation. These significant up-front and on-going costs mean that a proposed mine needs to be big just to justify spending the money. Group 11 wants to upend that cost structure.
Taking gold mining into the 21st century means rethinking mining and processing methods. It means looking at technologies and techniques used in other fields. It involves paying close attention to how best to extract the metal you are after with the least physical and environmental footprint.
Group 11 Technologies Inc. is a private company which combines the skills and knowledge of several people and companies who have been in the exploration and mining business for decades: Janet Lee-Sheriff, the Chief Executive Officer of Golden Predator Mining Corp (TSXV:GPY, OTCQX:(NTGSF), a gold developer; Duane Nelson, CEO of EnviroLeach (ETI:CSE | (OTCQB:EVLLF):OTCQB) an extraction technology maker, and Dennis Stover, former CEO of EnCore Energy Corp (TSXV:EU), a uranium company with extensive "in situ recovery" (ISR and Latin for "in place") expertise and now CTO of Group 11.
The Group 11 team came together when Golden Predator built a mobile batch recovery unit to conduct the world's first field test of Enviroleach's environmentally friendly solution to successfully extract gold from its sulphide concentrate. These entrepreneurs, and their expertise in mineral extraction, social licensing, reclamation and operations combined to create a company that aims to revolutionize the mineral extraction industry and become the 'un-mining company'.
Janet Sheriff explained, "We invested in EnviroLeach as I knew Duane and liked what he and his team were putting into their vision. We looked at a lot of these sorts of solutions, none of them worked. When we all decided to give the EnviroLeach's system a test run at the test plant we ran for a project in the Yukon it surprised me. Our metallurgists and engineers were able to observe and document the testing. The tests conclusively proved that the chemistry worked very well on our material with better gold recovery and efficiencies than cyanide".
When Golden Predator used the EnviroLeach solution to extract the gold from part of its project, the work was done using a mobile unit (which looked a bit like a micro-brewery) with the crushed rock being fed into a tank and then immersed in the "non-cyanide solution". The now "pregnant" solution was then removed and processed to remove the gold. GPY achieved nearly 90% gold recovery using this system and it was faster than cyanide. The EnviroLeach solution is 100% recyclable and the solution can be reused multiple times over.
enCore Energy with its team of ISR recovery experts from the uranium sector were closely watching the results from Golden Predator and EnviroLeach's tests. The enCore team includes scientists and professionals holding patents for ISR technology. They are instrumental in the initial development and utilization of in-situ recovery technology, and saw an opportunity to adapt this technology to test the ability to extract gold and other metals in place.
With this combination of the "in the field" experience of Golden Predator, an environmentally friendly solution from EnviroLeach and vast expertise in the field of in Situ Recovery from enCore Energy, Group 11 Technologies Inc. was created to focus on the development of new technology to extract precious metals in an environmentally and socially responsible manner.
Group 11 is taking this to the next level with the encore Energy ISR experts. This group, equipped with patents and decades of experience in the uranium industry, will now adapt its technology for precious metals extraction using a different solution than used in the uranium or copper extraction industry.
Group 11 is now focused on bench-scale testing its technology in the lab using samples from projects in jurisdictions which have the necessary regulations to guide testing in the field after the completion of the bench test lab work. Pilot projects and plant testing will continue to identify an initial test project anticipated by year-end 2021.
"With its smaller physical footprint, In Place Mining will gain social license more easily and as the uranium industry experienced in the past, we expect a smaller footprint, and an environmentally friendly liquid solution to extract the gold. As the 'un-mining' company Group 11 will provide an alternative to conventional gold mining that is long overdue. The global demand for change is driving the partners behind Group 11 Technologies," said Janet Lee-Sheriff.
Analyst's Disclosure: I/we have no positions in any stocks mentioned, and no plans to initiate any positions within the next 72 hours.
Seeking Alpha's Disclosure: Past performance is no guarantee of future results. No recommendation or advice is being given as to whether any investment is suitable for a particular investor. Any views or opinions expressed above may not reflect those of Seeking Alpha as a whole. Seeking Alpha is not a licensed securities dealer, broker or US investment adviser or investment bank. Our analysts are third party authors that include both professional investors and individual investors who may not be licensed or certified by any institute or regulatory body.