Namibia, Brazil: Gratomic Is Set To Mine Vein Graphite
Please Note: Blog posts are not selected, edited or screened by Seeking Alpha editors.
Summary
Gratomic very close to vein graphite production in Namibia.
Has acquired very prospective graphite property in Brazil.
Geared up to meet EV driven world wide graphite demand.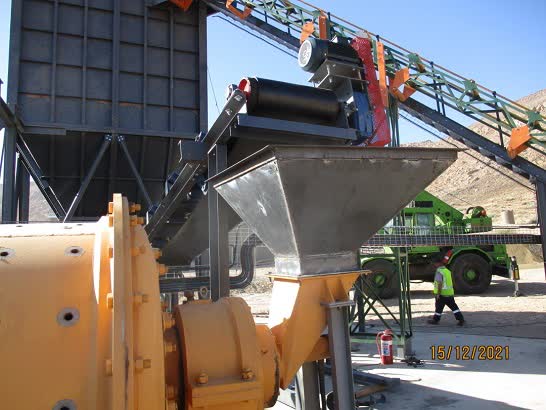 The march towards electric vehicles ("EV") is picking up its pace with major car makers, from Volkswagen to General Motors, announcing plans to go electric for some or all of their product lines. EVs create demand for batteries, Lithium-Ion batteries. Which, in turn, creates huge demand for the graphite which Li-ion batteries use as the battery anode.
At this point, most of the world's anode graphite supply is synthetic and comes from China. Synthetic graphite is an environmental disaster. To make it petroleum coke is roasted for many days consuming energy and leaving toxic waste behind. It is so filthy that the Chinese government has been dialling back production even in the face of increasing world demand.
Natural graphite mainly comes from China as well. However, as an analyst at Benchmark Mineral Intelligence pointed out in a Reuters article on the graphite squeeze, "Northeast China's graphite mines tend to close during the winter months due to extreme cold temperatures."
All of which means that graphite is in short supply currently and the situation is only going to get worse as more "giga factories" are built to produce more Li-ion batteries.
The IMF has produced a graph showing where the shortages of battery materials will be most acute as we go forward into a net-zero world.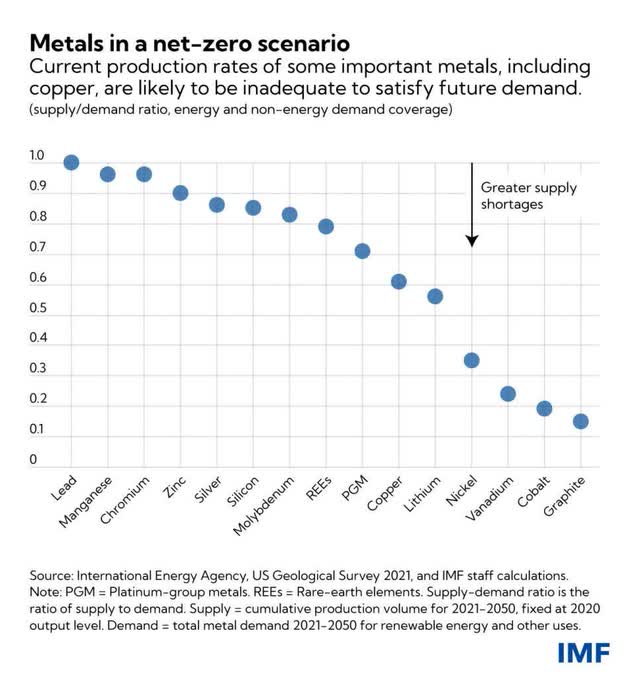 Little wonder that the United States has had graphite on its list of strategic materials for years. The US imports all the graphite it uses to make batteries and as demand outstrips supply the nation is looking to add to its graphite reserves.
With surging demand and fixed supply, economics 101 tells us that price has to rise. Benchmark Minerals which tracks graphite prices indicates that the Year over Year price of flake graphite has gone up nearly 25%. Normally that sort of price increase would bring new supply to the market, however, it can take years to find and develop and finance a graphite mine. Plus, not every graphite deposit is suitable for battery use. US and European automakers need security of graphite supply and they need it almost immediately.
In the desert of Namibia Arno Brand and his team at Gratomic (OTCQX:CBULF) (GRAT.V)have been quietly building what is shaping up to be a world-class vein graphite resource and production facility. I say quietly because, while many graphite end-users are aware of the deposit at Aukam, the retail investment community has not yet realized the scope of Gratomic's ambitions or just how close the company is to achieving those ambitions.
Graphite has been produced at Gratomic's Aukam property on and off since the 1940s. Gratomic is confident that there is a large graphite deposit, close to surface and will, in due course release a 43-101 Resource estimate. However, Brand is going ahead with the construction of a mine and a processing facility with an initial capacity of roughly 20,000 tons of graphite per year.
"Wet commissioning" of this facility using material from the onsite stockpiles was begun in September 2021 and a detailed description of the work was press released September 27, 2021. At the same time, Gratomic has been working on refining and upgrading the vein graphite it intends to supply. It has had independent verification that Aukam Graphite is capable of being upgraded without any chemical or heat treatment to a grade of 99.38% Cg. And the company is working on an air-classification system that is being used in conducting the non-chemical refining process that is intended to upgrade the graphite concentrate from 99.38 to 99.98 %Cg for the purpose of achieving battery grade material.
Gratomic is also constructing and extensively testing Gratomic TM coin cell batteries using graphite sourced from the lower adit of the Aukam graphite project and prepared by Ortech to 99.81% Cg. Coin cell batteries are the industry standard for determining the electrical properties of particular graphite. The company is also continuing to work with Forge Nano to develop its graphite finalization phase for the micronization, spheronization, and the patented ALD coating of its Aukam vein graphite for use in lithium-ion batteries. (Well worth looking at Forge Nano's website, they are partnering with very large companies.)
There are many steps in the process of building a mine and a processing facility and Gratomic has kept the market and its shareholders apprised of its progress. Update press releases are part of that, however Gratomic uses its website to post photos of the actual work at Aukam.
There is no question that Gratomic will bring Aukam into production in 2022. Full commercial production will occur when all of the systems have been optimized. The company also plans to release a 43-101 Resource Estimate and a Pre-Feasibility Study and has drills turning to extend and delineate the deposit.
These are all catalysts which, as they are released, are likely to cause Gratomic shares to be rerated. However, professional investors, led by First Republic, are not waiting. On December 15, 2021 Gratomic announced the close of an over subscribed 27 million dollar private placement. The private placement was priced above Gratomic trading price. With this money in the bank, GRAT can finish off the work at Aukam, likely expanding capacity as it goes.
Gratomic's vein graphite ambition does not end at Aukam. In a December 8, 2021 press release Gratomic announced that it had acquired 100% of the rights and interests in and to the "Capim Grosso Property" comprising mineral claim 870.180/2012 (426.03 Ha) located in Capim Grosso, BA, Brazil. The next day GRAT reported the results of the sampling and trenching work it had done at Capim Grosso as the acquisition was being finalized. From the release:
"These two trenching programs included the excavation of 42 trenches on site varying in length from approximately 30 to 145 meters and from 1 to 6 meters in depth. These trenches were excavated in areas where grab sample results were positive, or where surface graphite was observed. 31 of the 42 trenches intersected graphite mineralization and an extent of 4 km of mineralized strike length has been confirmed."
Drills are turning in Brazil to begin to delineate the deposit and to gain the information needed for an initial 43-101 Resource Estimate. Having a second mine would put Gratomic into an entirely different category in the graphite space. It appears the Brazilian graphite will be easy to mine and perhaps even easier to process than the graphite at Aukam. We can expect a steady stream of hard news from Capim Grosso as drill results come in.
The reality is that the market for high purity, environmentally certified, graphite is expanding far more quickly than supply can be brought online. Gratomic will enter commercial production with good and easily expandable capacity right when graphite will be in very short supply. Best of all, European and North American manufacturers will be able to get graphite with a non-Chinese supply line.
GRAT has been trading between $1.20 and $1.35 for the last few months. News is expected to flow when the private placement is officially closed. Well worth a look.
---
Analyst's Disclosure: I/we have a beneficial long position in the shares of CBULF either through stock ownership, options, or other derivatives.
Seeking Alpha's Disclosure: Past performance is no guarantee of future results. No recommendation or advice is being given as to whether any investment is suitable for a particular investor. Any views or opinions expressed above may not reflect those of Seeking Alpha as a whole. Seeking Alpha is not a licensed securities dealer, broker or US investment adviser or investment bank. Our analysts are third party authors that include both professional investors and individual investors who may not be licensed or certified by any institute or regulatory body.