This past week I offered my technical analysis on GLD and Gold. It is possible an inverse head and shoulders pattern, a bullish pattenr, is forming in GLD, but it has yet to be confirmed. Failure to hold recent support (the right shoulder) could mean further, swift declines to December 2011′s low, and then $140 would be the next support level. I am also watching the long-term price channel and key fibonacci levels (in blue) as levels of both support and resistance: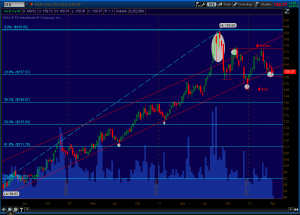 JW Jones of Options Trading Signals argues that Gold is headed lower in this article.
Below is an excerpt from his article including his chart analysis:
The European Central Bank and the Federal Reserve are not going to give up that easily. The process of admitting defeat will take time and global central banks will print money until they feel they have papered over the issue. It is the culmination of either QE III or other monetary easing around the world that will eventually move gold back above the all time highs. Unfortunately the short term price action of gold will most certainly remain under selling pressure barring any major unexpected announcements. The daily chart of gold futures is shown below.
Gold Futures Daily Chart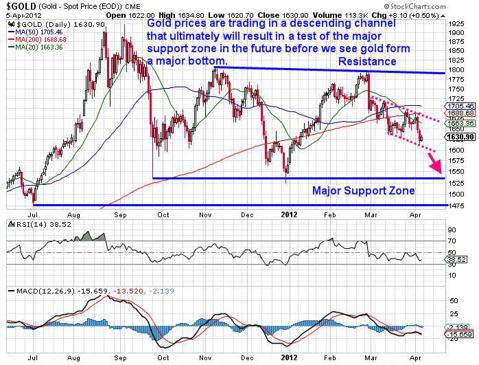 As shown above, I believe that short term targets to the downside are likely somewhere in the 1,475 - 1,525 price range. I think gold will find a major bottom near these levels and a strong bounce will play out. For long term buyers, I would take advantage of the forthcoming pullback. However, I would be mindful that further selling is quite possible before gold finds a major bottom.

As I said before, the longer term is bright for gold. However, the short to intermediate term will likely see more selling pressure. Until either the Dollar tops or some form of major quantitative easing is announced, I would anticipate lower prices in the yellow metal.

In the near term gold does not look attractive, but the longer term the catalysts for a major move above recent highs are present. The real question has become when and where will the Dollar top? When the Dollar tops and gold finds a major bottom, the potential for a monster move higher will become likely.
Until then, risk remains high.