Last month I wrote an article that discussed how changes in Lifetime's (LTM) attrition rate could be largely projected through analyzing the growth and absolute level of non-access memberships. Basically, customers that wanted to cancel their membership would instead convert their "access" memberships to "non-access" and pay $10-$20 per month, effectively putting their membership on hold. I argued that non-access members would eventually terminate their contracts when they realize that the monthly cost isn't worth it.
What I didn't mention in last months article is that Lifetime sales associates don't only pressure access members who want to terminate to convert to non-access but additionally, they offer them incentive. In fact, non-access members are rewarded a $10-$20 Lifetime gift certificate each month, called "Lifetime bucks" over the course of their non-access membership. If Lifetime bucks are used throughout the course of their life (most expire from 1-3 months) the $20 paid monthly will be reimbursed to the customer via free services at the LifeSPA, personal training sessions, food from the concession stand and daycare.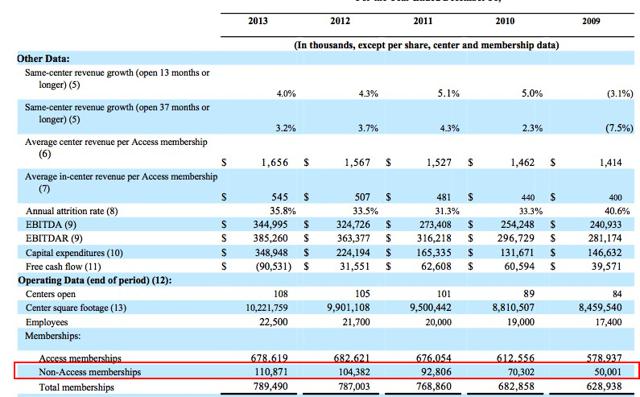 Lifetime doesn't mention the word "Lifetime bucks" or "gift card" on their annual report, let alone any financial statement. According to Lifetime's 2013 10-K, there are around 110,871 non-access members. For an average of $15 per month, non-access members generate close to $20 million of annual revenue. However, if these same customers make use of their gift cards, non-access revenue doesn't translate into true profit.
If half of non-access members use their entire monthly incentive, actual revenue will turn out to be $10 million less per year, or a little over 1% of total membership revenue. While this figure isn't material, it seems clear that management is trying anything they can to hide the fact that attrition is high and growing.