Sahara Investment Group can boldly go on record to state that Apple (NASDAQ: AAPL) is the most popular stock, not just in the U.S., but globally. This observation is widely shared by authoritative voices in the financial media, including CNBC's senior tech reporter, Ari Levy. The reporter wrote that data released on 16 Oct 2014 from online investment start-up, Future Advisor, showed that APPLE was the most widely held stock in 45 of the 50 U.S. states.
Owing to a popularity that is growing in cultic proportions, a lot of experts (including yours truly) have come out analyzing Apple from a wide range of angles. Apple's long-term case, we believe, has been the most interestingly analyzed.
Seeking Alpha's Alex Cho, for instance, strongly believes that Apple's current fundamentals merit a long-term investment. In a recent article, Cho, who is Seeking Alpha's top contributor in the technology section, downplayed Apple's early December pullback, postulating that the dip was plausibly triggered by aggressive day traders.
Piper Jaffray's Gene Munster, on the other hand, believes that if holiday sales remain strong, the stock will track upward in March, 2015. Piper Jaffray has a "Buy" rating on Apple
Although we believe that the assessments by Cho and Munster are valid, we have an even stronger conviction that both of the assessments (and a host of others not mentioned here) conspicuously overlook a factor that can't be ignored any longer when analyzing Apple's long-term prospects-the tech giant's marketing prowess.
Apple consumer marketing is an overlooked asset
Right from the outset, Apple understood a fundamental rule in the marketing of products to consumers-consumers don't think, they feel. And this has become its greatest asset, despite the fact that investors have not yet been able to quantifiably present the relation between good marketing and return on investment.
Apple Steve Jobs understood the power of appealing to consumers' emotions and made a point of using the tool exhaustively in his powerful presentations. He understood that consumers didn't want to listen to facts and statistics, but emotive and captivating stories. He focused on narratives that touched the emotions of the audience by relating to their aspirations, dreams, hopes and culture. Jobs understood that connecting with consumers emotionally was the mother lode in terms of enlisting wholesale patronage for consumer products.
Jobs may be gone, but he left the culture alive and deeply engrained in Apple. This culture has been mightily important in sustaining Apple's success. It also informs the basis of our view that Apple's long-term future is bright, both in the tech market and in the stock market.
Search for Apple's 'Misunderstood Holiday ad' on YouTube that was shot in 2013. The ad is narrative about a teenager who has gone on vacation with his family but finds better company in his iPhone than in engaging with family. Apple understands that everyone, including you (when you were younger), relates to the mood swings of adolescents. But as the ad continues, and everyone is settling with what appears to be a stereotypical narrative of a moody teenager ignoring everyone because of their iPhone, it emerges that the moody and zoned out teenager was actually taking a video of the whole vacation using Apple's iPhone (we recommend you watch the ad here and read the comments to understand the power of Apple's consumer marketing asset). Accordingly, the ad won the 2014 Creative Arts Emmy for Most Outstanding Commercial.
There is currently no universally accepted way of quantifying the value that good marketing presents to companies in terms of return on investment.
Despite the fact that there are no ways of showing the relation between good promotional campaigns and returns on investment, Apple's strong connection with consumers (emanating from its unique marketing strategies) has allowed it to consistently beat analysts' sales estimates for the iPhone. In the fiscal fourth quarter of 2014, for instance, APPLE sold 39.3 million iPhones, beating analysts' estimates that projected sales of 38 million units for the period. This is despite analysts using what you would loosely describe as proven or empirically tested forecasting methods
Apple's continual beating of analyst estimates has provided considerable tailwind for Apple's stock, suggesting that there is a correlation between brand loyalty and return on investment.
Proof that consumer marketing is an asset
Technically, Apple's products are not widely different from competitors' products. This explains why Apple doesn't do resoundingly well in the enterprise market, but does well in the consumer market.
Unlike the consumer market, products in the enterprise markets are judged objectively. Emotions rarely come in the way as institutions' supplies are bought purely on a cost and functional basis. Any appeals to emotion, as APPLE routinely and successfully does in the consumer segment, do not work in the enterprise market.
Ask yourself: Would it make business sense for an institution to get an iPad while they can get an android tablet from another brand that does the same thing for half the price? This explains why institutions such as schools have expressed overwhelming interest in Google's (NASDAQ: GOOG) cheaper Android tablets more than they have in Apple's iPad. This chart for tablet sales reinforces of this argument.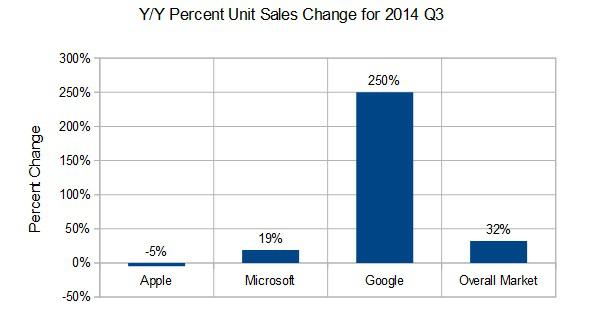 Tablet sales y/y, Source: Mark Hibben Seeking Alpha
This argument suggests that the X factor in Apple's success in the consumer segment is not the products themselves (if this were the case then enterprises would also stock up) but the ability for Apple to consistently convince consumers to buy these products at steep prices. This kind of convincing requires an expert understanding of consumer behavior, as well as an organizational culture that highly prioritizes the brand's need to connect personally with consumers.
If Apple is able to sustain and develop its ability to connect personally with consumers, we see it capturing the Chinese market very soon. Its dominance won't be in terms of market share, but rather in terms of capturing a small but obsessively loyal section of Chinese consumers who will willingly pay steep prices for iPhones and iPads. The Chinese market has been highly receptive to the iPhone 6, suggesting that there could be greater loyalty for future products in view of the Asian country's ongoing transformation to become a consumption-led economy.
Highly welcomed ridicule
We expect our view on Apple to attract a lot of criticism as people generally prefer 'universally accepted' methods of analysis. We have seen this before. In our previous article on Exxon Mobil (NYSE: XOM), we provided cogent reasons why the capital fleeing suffering shale producers was likely to end up in stable players like XOM. Our analysis was, however, dismissed as speculative by some because it lacked what was described as 'hard data' and did not use the standard methods of valuations, highlighting investors' general reluctance to accept new schools of though. Here is a snapshot of some comments.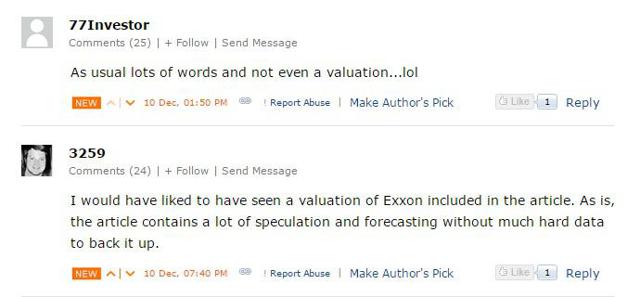 Source: Past article on Seeking Alpha
What we can, however, confidently say is that any new investment model that is destined for greatness almost always is a stretch of imagination. Picture Warren Buffet in the 60s. At that point in time, stocks were going up. The war in Vietnam was pumping the market like never before. In fact, the Dow Jones Industrial average broke 1,000 for the first time ever in 1966. All investors could think about at the time was making easy money and living a lifestyle akin to Leonardo DiCaprio's portrayal of Jordan Belfort in the Wolf of Wall Street. Buffet, however, was fretful and reluctant to invest. As authored by Roger Lowenstein in 'Buffet the Making of an American Capitalist', Buffet at the time had a considerably large fund but couldn't find good bargains (Chapter 6 page 96). Imagine the ridicule Buffet could have received if other investors established that he was reluctantly sitting on a big pile of money at a time when the market was roaring like a Lion? Moreover, that his reason to hold back was some so-called value investing philosophy. Today, however, Buffet, who is constantly covered on ValueWalk, is considered to be an instrumental force behind the widely popular value investing.
Conclusion
In conclusion, Sahara Investment Group is convinced that Apple merits a buy and hold investment of at least five years. Five years is certainly a long time horizon for an investment in the tech sector. This is because technology changes constantly and sometimes abruptly, wiping off entire companies like a thundering hurricane. But Apple is highly innovative and has the cash to buy off or neutralize any new threats.
So why do we still insist on a five year buy and hold investment in Apple at the current share price?
We believe that despite all the changes that can take place within five years, what can never change is consumers' innate need to patronize brands that understand their innermost needs. This is an unwritten and elemental law in marketing. And as long as Apple can maintain its firm grip on consumers' hearts, it will be able to invariably maintain that high paying critical mass in the consumer market for smartphones and tablets. Over the next five years, Apple's stock will undoubtedly dance to tune of speculators, short traders and 'Carl Icahn characters', moving up and down constantly. By and large, however, it will maintain a steady upward trajectory.
Writer's note
For a robust discussion, we encourage all your views on this new way of looking at Apple. Kindly leave your thoughts in the comment section. We can also be reached at saharainvestmentgroup@gmail.com
Disclosure: The author has no positions in any stocks mentioned, and no plans to initiate any positions within the next 72 hours.
The author wrote this article themselves, and it expresses their own opinions. The author is not receiving compensation for it (other than from Seeking Alpha). The author has no business relationship with any company whose stock is mentioned in this article.