Offshore has some wind in its sails of late. GE has purchased
ScanWind
to acquire its offshore designs and the European Wind Energy Association (EWEA) has just published a bullish report on offshore. EWEA have placed a European
target
of 40 GW by 2020 from a current installed base of 1.5 GW worldwide.
This relates to rare earth metals because of the emerging use of Neodymium-Iron-Boron (NdFeB) magnets in the generators of wind turbines. Reliability is particularly important for offshore applications because servicing turbines in the water is problematic and expensive. Traditional Doubly Fed Induction Generators (DFIG) with gearboxes are prone to breakdown. Offshore operating and maintenance costs are variable depending on location but the UK experience with offshore DFIGs has seen O&M take up
23%
of total costs. Of these, the gearbox and generator account for 42%. Thus as much as 10% of the capital cost is due to servicing the gearbox and generator.
However Direct Drive Permanent Magnet (DDPM) generators have no moving parts and no gearbox and are therefore much less prone to breakdown. They are quickly becoming the turbine of choice for offshore applications.  DDPMs contain NdFeB, and lots of it. Jack Lifton suggests 1 ton NdFeB/MW however I have not seen a source for that. This
source
suggests 567kg/MW.
This is of interest to investors in Great Western Mining Corp and other rare earth mining firms as it could be a major driver of growth in coming years. While the EWEA 40GW target may be ambitious, it should be noted that 100GW of offshore wind are at various stages of planning in Europe, with more in China and potential interest in the US also. That said, GE
forecasts
30GW worldwide by 2020.
I'll take the middle of both estimates and assume 785kg/MW and 35GW installed worldwide by 2020 to get an idea of the possible demand from offshore wind. 35GW represents approximately 37% YOY growth in offshore out to 2020 – not entirely unreasonable since the world experienced a similar growth in onshore wind during the 90s.
Those numbers suggest a total requirement of 27,475 tons of NdFeB by 2020 or 8,500 tons neodymium. The following graph distributes this with YOY growth out to 2020: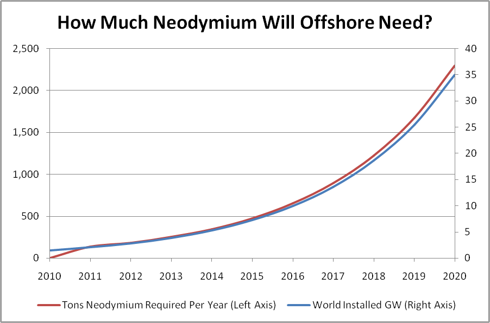 Neodymium global production in 2007 was approximately 11,000 tons. Neodymium use for wind turbines at present is very small but should NdFeB become widespread in offshore wind, this would take up 18% of the 2007 total by 2020 (2000 tons Nd).
There is a lot of
research
being conducted into making gearboxes more reliable. There is furthermore another generator option – the
Direct Drive Synchronous Generator
(DDSG) which like the NdFeB magnet variety has no gearbox and is almost as reliable. It has a 30% heavier tower top mass, though. It's not a given that NdFeB will monopolise offshore generators, but it seems likely to take the lion's share. GE has acquired ScanWind, which uses NdFeB, and other wind companies are also turning to NdFeB.
I can find nothing that indicates that any wind manufacturers are aware of the supply chain issues associated with neodymium. For rare earth mining investors it is safe to assume, however, that in the coming years increased demand for neodymium will come from the wind sector. The extent of this demand remains to be seen.

Disclosure: None