Tiger Resources (OTC:TRSDF) is an interesting company. They have an exciting copper play, initially mining a 7% copper resource used to mine concentrate and moving to produce copper cathode over the last few years. They are situated in the Democratic Republic of Congo (DRC), a relatively stable country over the recent decades that has seen a rapid growth in foreign investment. A recent expansion to 25 ktpa LME Grade copper cathode (required by the DRC governments concentrate export ban) and buying out of their joint venture Gecamines, left the company with a heavy debt profile. Tiger's hopes of a second 25ktpa electro-winning plant and expansion to 50 ktpa are halted by any chance of funding. This lack of funding has caused them to reduce their ambition to 32.5 ktpa, an increase of over 7.5 ktpa from the existing electro-winning plants 25 ktpa capacity.
With recently refinanced debt and decreasing costs, it has an enticing potential of 500% that can not be ignored, against a downside of 25-30% dilution, or possibly 100% loss if the DRC falls into civil war. Before going ahead, I would recommend investors wishing to take a position to purchase directly through the ASX where more liquidity is available (albeit volume has taken a nosedive of late on the stock). Here is a quick overview.
Head Office - Australia
Production Location - Democratic Republic of Congo
Product - LME Grade A Copper Cathode
Quarterly Production - 6,557 Tons (Q4 2015)
Full Year Production 2015 - 26,151 Tons (Q4 2015)
Cash Operating Costs - $US1.29 per pound (Q4 2015)
All-in Sustaining Costs - $US1.50 per pound (Q4 2015)
Market Cap: ~$AUD 90-100 million
Without going too far back into the history of the company, here is the share price chart over the last 5 years.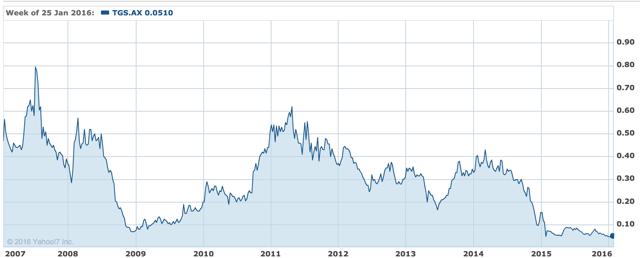 Source (Yahoo Finance)
Country Risk
Any country out of Africa has elevated risk to its first world counterparts. The DRC has been relatively stable over the recent years as investment has flowed to the countries resources. However, it remains close to civil war, rebel groups and terrorist attacks. A risk that would crater Tiger's value if elevated regional aggression hits the mines output. Euler Hermes provides the following breakdown of the business environment. The UN has recently agreed to re-enter the Congo to assist the Congolese military with the uprising from Rwandan rebels.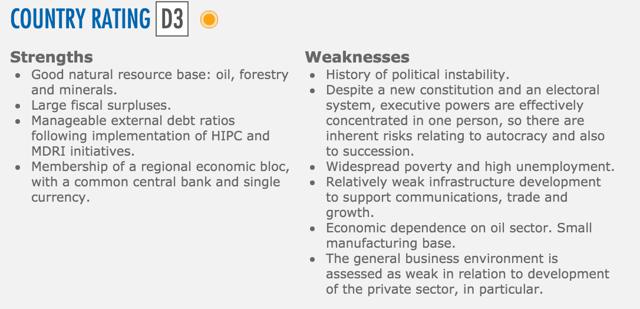 Source : Euler Hermes
In my view, the biggest risks come from proposed change to the countries mining code. This involves tripling the royalty on copper from 2%-6%, raising the governments free stake from 5% to 15%, and reduc the time of guaranteed contracts from 10 years to 5 years. This all sits in the power of the president and poses the most significant short term risk. I have factored these in as a worst case scenario.
Perfect Storm
The share price is sitting close to its all-time low at the moment, with few signs of movement. The majority of recent problems with the share price started after Tiger Resources bought out its Joint Venture partner, Gecamines, for equity and $100 million in debt. This issue compounded with an existing facility Gerard Metals, a declining copper price, and exiting of the CEO to flatten the share price.
Debt Refinancing
For months, Tiger was barely scraping by with its debt payments and had no way of paying a large bullet payment due to Gerald Metals in 2016, until now. Tiger has refinanced all of its debt with a new debt facility from the Taurus Mining Finance Fund for $162.5 million. Tiger provided the breakdown of the new debt facility as follows: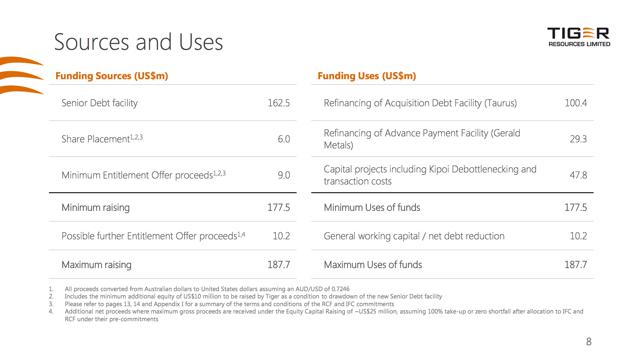 Source : Tiger Resources Funding And Business Update Investor Presentation
All in all, we get a new (manageable) debt profile, some shareholder dilution and a capital project that should increase Tiger's copper output to 32,500 ktpa from 2017. For a cash flow model, we have one long-term debt facility. The risks from the covenants are hard to tell with the data available, but Tiger needs to work to pay down the debt as quickly as possible, so I doubt we will see a dividend anytime soon.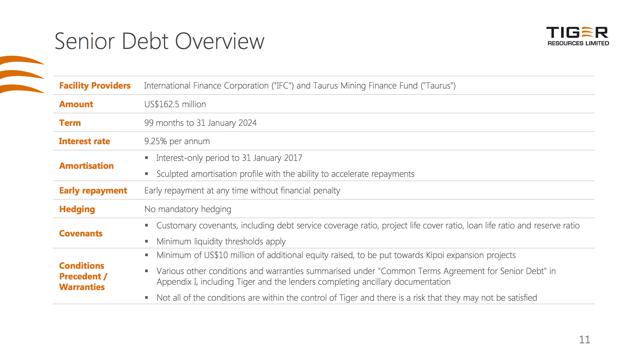 Reducing All-In Sustaining Costs
With a troubled balance sheet, I will use All-In Sustaining Costs (AISC) to evaluate Tiger. Something great about this company is the continually decreasing costs, despite already being one of the lowest cost producers. This drop comes despite a relatively stable exchange rate between the USD/Congolese Franc.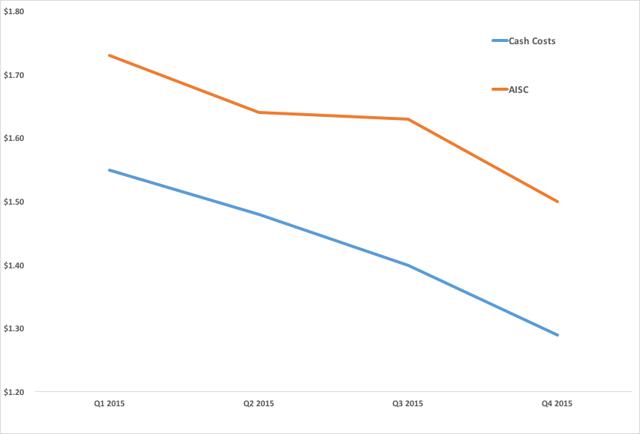 Source : Tiger Resources Quarterly Report
AISC To Drop Further
This reduction in AISC is even larger if we take into account Tiger's comments. In the quarterly, Tiger attributed an additional $0.15/lb cost to slightly lower production numbers and a charge for a year's worth of fringe benefits taxes in the quarter. We could argue that the real AISC for last quarter were around $1.40-$1.45/lb.
Furthermore, as Tiger converts from diesel-powered generators to grid power, their costs drop dramatically. With processing costs dropping $0.30/lb in the December '15 quarter as Tiger moved from 18% to 63% grid power, there is more room for AISC to fall. AISC as little as $1.30 isn't off the table next quarter if they can increase production slightly and move to 100% grid power.
Simplified EBITDAX Calculation
At the recent quarterly rate of $1.50/pound and a copper price of $2.00, a quick back of the envelope calculation for last quarter gives Tiger an annualized EBITDAX (before overheads) of $28.9 million. If we use the extrapolated figure of $1.30 for next quarter, and the LME Grade A price of $2.15 that Tiger received in the quarter, we would see annualized EBITDAX (before overheads) of $48.9 million. With many analysts pointing towards rising copper prices, Tiger provides tremendous leverage to a rising copper price if you are willing to take on the risk.
With primarily fixed costs, the increase to 32.5 ktpa should drop AISC even further, and AISC could drop a further 10-15% on capacity alone, further propping up EBITDAX.
Copper Catalysts
With such deep exposure to the copper price, an elevated copper price is vital to the investment thesis. With the USD at decades highs, we have seen the copper price at decades lows. If we see this invert, investors will benefit from increased returns, on top of an elevated AUD/USD trade. Coupled with shutdowns in copper plants, decreasing inventories, and increased copper demand in China, this could be one of the best turnaround trades for the year.
Shares On Issue
Tiger had an incredible 1.14 billion shares on issue as of June 2015, this will have increased recently by 700 million shares (or more) in the recent equity raising, and there are circa 100 million options available. It is hard to get an exact number due to the recent raising, and options provided during debt raisings. But, I will assume that there are 2.0 billion fully diluted shares on issue at the time of writing as a worst case scenario.
Cash Flow Model Assumptions
In building the cash flow model, I will use the following assumptions. I have tried to make worst-case assumptions to provide a factor of safety in the analysis. Debt is fully drawn to $162.5 million as of today
Fully drawn down debt to $162.5 million as of today
2.0 billion shares on issue
Realized Copper price of $2.15 LME Grade A Equivalent, rising at 1% per month until January 2018
No further decrease in AISC, sticking at $1.50/lb. This should account for future sustaining CapEx as well as a drop in AISC going forward. Last quarter had sustaining capital of $0.09/lb but only for construction of two new heap leach pads and no mining costs.
Annualized production of 26,228 tons, rising to 32,500 tons in January 2017
Interest only payments (9.25%) until January 2017
Mortgage profile debt afterward, with an end term of January 2024
General and Administration costs of $US 5 million per year (well more than 2014)
Discount rate of 15%
No Further exploration success
Export Tax of $100/ton
Royalty of 6% of copper produced
That Tiger will be forced to cede an additional 10% of the project to the government
I'll assume that the company pays 20% of net profit in taxes to account for depreciation (actual tax rate is 30-35%).
As my final worst case assumption I will use 600kt of ore remaining, well below an extrapolated figure from 2014, and assuming no mine extension and no second stage SXEW is completed, which would feasibly increase the valuation over 50%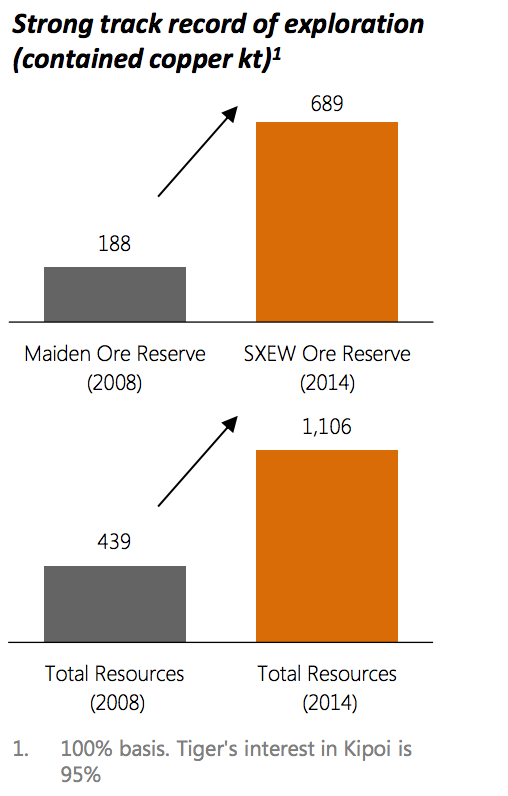 Source : Tiger Resources
Cash Flow Outcomes
Using the assumptions above, I get a valuation of $US 0.20($AUD 0.28) per share at a Net Present Value (NPV) of $US 394 million ($AUD 555 million). This assessment provides over a 500% premium to the recent price of $AUD 0.05 per share. EPS is set to grow slowly with the copper price, and nearly exceed the current share price from 2020 onward if we believe we will see growth in copper pricing - but that is for another article.
Tiger At $1.75/lb Copper
No NPV is complete without a sensitivity analysis, and I am interested in the upside of a rising copper price, and downside of a decreasing copper price. At $US 1.75/lb copper, Tiger would be losing between $US 0.5 and $US 1.0 million per month. If we believe that Tiger has reserved $US 10 million for overheads and paying down debt, then they can survive between ten and twenty months before more capital will need to be raised. In that case, we would see a further dilution of 20-25%, but the healthy return would exist in the long run. Again, this is a high-risk investment, with high prospective returns. It should be thought of similar to a call option on copper. It may be prudent to hedge with a short on copper to limit the downside to a further drop on the metal. But the large upside means a smaller investment can be made.
Copper Price and Cash Costs Sensitivities
Controlling for the copper price and all in sustaining costs with the same assumptions above, we get the following sensitivities. There are scenarios with an extraordinary upside for Tiger if copper rises, and we could see EPS of over 10 cents per year going forward.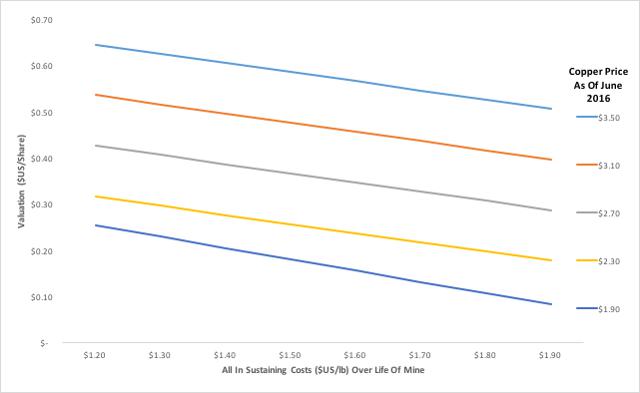 Wrap-Up
Tiger Resources provides a considerable risk/reward. If the current price of copper has hit a floor, then Tiger is set to roar ahead in earnings over the next decade with EPS to exceed the current market cap. With significant exposure to a rising copper price, and as one of the lowest cost producers, Tiger Resources has a significant upside. However, country risk can't be ignored as it could erase the value of the company. I also can't ignore the possibility of Tiger being worthless below $1.75 copper, but with Tiger producing the higher value copper cathode, and being one of the lowest-cost producers in the world I see the downside as a minimal risk with 20-25% further dilution. Debt has now been refinanced with terms that Tiger can meet, and with AISC dropping, we can expect further gains in earnings. Tiger has been a story I have followed for a long time, and I believe the time has finally come to take a full position in this copper miner with a price target of $US 0.20 ($AUD 0.28) per share based on my assumptions.
I also wish to note my frustration with the fact that Tiger Resources does not post quarterly cash flow statements. Without these we are expected to trust the reported numbers from management blindly, we will also struggle to adapt the annual report numbers that will be received soon to the most recent quarter, as we are looking at a much different company to that of a year ago. All of this contributes to Tiger Resources reduced share price, and I hope that we will soon get quarterly figures once Tiger succumbs to the markets want to this information. But, good luck trying to get a position.
Disclosure: I am/we are long TIGER RESOURES.
Additional disclosure: I have tried to ensure that the cash flow model is as accurate and up-to-date as possible. Most of the assumptions are opinion based or inferred based on available information and subject to error. This article is not, and should not be considered, financial advice or an exact picture of the company's circumstances. Tiger Resources is a very high-risk investment and considerable research should be completed by any investor before investment. I may change my views, or position, of the company at any time.