With little geopolitical news over the weekend, nervous investors seemed to have a temporary reprieve as risk on returns to markets.  The focus on this month's Winter Olympics seemed to be more on the medals count than the political drama occuring behind the scenes.  The administration seemed to waver slightly on its North Korea stance, as Vice President Pence initially talked tough; then signalled that the U.S. would be open to talks.  The fact that Kim Jong Un's sister, Kim Yo Jong, was spotted seated right next to the Vice President made for some interesting optics, as well as potential propaganda for Kim's regime.  Internally, some South Korean's took to the streets to protest the nascent rapprochement between North and South, going so far to as deface pictures of Kim Jong Un and burning the Korean Unification flag under which representatives of both North and South marched under during last week's opening ceremonies.
The dollar's decline overnight appears to be short-lived, as the dollar index and 10 year treasury yields are rallying sharply.  Continue to watch the dollar as an indicator of investor fears over inflation and hawkish Fed policy derailing the stock market's historic climb.  Despite the dollar's rally in the early morning hours, commodities are climbing; this is possibly a return to fundamentals as global economic growth takes over.  Copper, widely considered a barometer of economic health, at this moment is up 1.3%.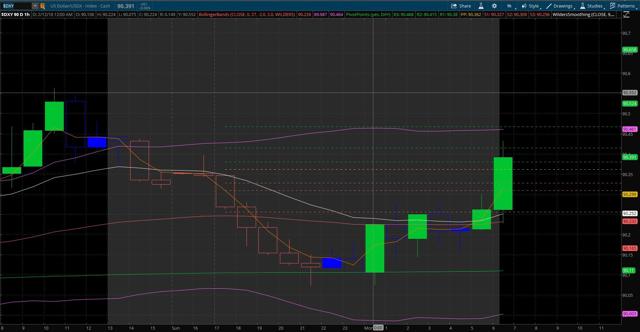 Don't be surprised to see earnings come back into focus as traders continue to search for clues.  Some names reporting this week include Under Armour, Pepsi, Baidu, Dr. Pepper Snapple, Cisco, Waste Management, CBS, Coca-Cola, John Deere, Kraft-Heinz and Campbell Soup.
For additional commentary not included in this writing, click here for the video edition of Trader's Espresso.
Disclosure: I/we have no positions in any stocks mentioned, and no plans to initiate any positions within the next 72 hours.