February is on the books, and it was ugly.  Despite the efforts of stock bulls to keep the rally going, volatility and concerns over inflation and impending Fed policy were just too much.  The Dow, S&P and Russell 2000 indices are all signalling a bearish stochastic cross-over on the monthly chart, while the NASDAQ indices are showing bullish momentum that has slowed drastically.  As of yesterday's close, the bearish stochastics are lining up across the four hour, one day, one week and one month timeframes.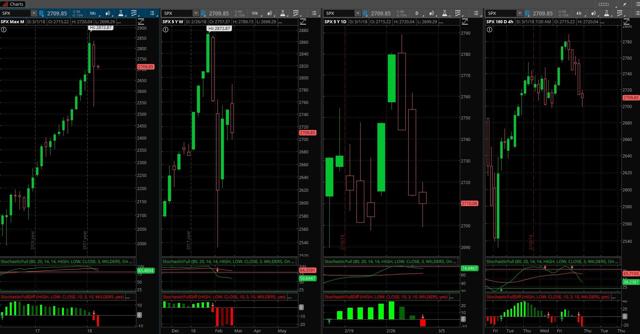 In addition to Jerome Powell's testimony this morning before the Senate Banking committee, one of the hot topics is that of U.S. steel and aluminum tariffs.  Although steel producers, and to a lesser extent aluminum producers, are rallying on the news, the concern naturally revolves around the possibility of this protectionist trade policy launching a trade war, hurting U.S. exporters who are currently benefiting from a weak dollar.
With Mr. Powell reading the same opening statement before the Senate Banking committee, it remains to be seen whether his testimony reveals any further clues that traders are looking for as to the pending hawkishness or lack thereof of future Fed monetary policy.  That said, traders have plenty of economic data to chew on as Mr. Powell delivers his testimony to the Senate.  Results over the week paint a mixed picture, but so far nothing that would indicate that the economy is overheating:
Core Personal Consumption Expenditure (the Fed's favorite inflation measure) came in at 1.5% against a consensus of 1.5%, still shy of the Fed's 2% target.
Continuing jobless claims, print of 1.931 million against 1.93 million consensus.
Initial Jobless claims, 210,000 print against consensus of 226,000; the lowest read since December, 1969.
Markit Manufacturing Purchasing Manufacturing Index (PMI), read of 55.3 against consensus of 55.9
Institute for Supply Management (ISM) PMI, print of 60.8 against consensus of 58.7.
ISM Prices Paid, read of 74.2 against consensus of 70.5
Total Vehicle Sales due at 15:30 ET.
Today is a good day to be cautious, be mindful of the timing of data releases and be aware of headlines.  I believe that we are trading in a very reactionary market, whipsaws should be frequent and moves can be quite large.
For an expanded discussion, as well as charting and technical discussion, check out the video edition of Traders' Espresso here.