Preface:
More than 200 companies from mainland China chose to make their listings both at home and abroad in 2014. Momo's trading debut in New York may be the most debatable in valuation: it aroused heated discussion with its predicted market capitalization of $ 2.5 billion. This article is composed of two parts: part one explains what Momo is, and part two discusses its valuation. Our research and conclusion are for your reference only.
---
Ⅰ. Scenario experience of strangers' social networking: glamorous and lively
When Momo first entered the Billion Dollar Club, one partner from China Renaissance, after helping Momo achieve its financing target, put forward the famous view of "Momo Street":
"Momo is just like a glamorous and lively street, which is full of the handsome & pretty, and the most exciting thing is, every person has a detailed profile on his/her homepage, on which you may find their photos, mood states, and professionals, etc.. According to these profiles, your chat up could be well targeted. Furthermore, this lively street also provides lots of O2O opportunities. Many Momo users work as manicurists, Thai boxers, Jatukam vendors, or hairdressers. After becoming friends on Momo, you can further your friendship in their stores where you may have a discount."
1. Basic functions: searching, chatting, and offline activities
1.1 The function of searching: searching people nearby and searching in "new discovery" list
On Momo's interface, the most important function is searching people nearby and searching in "new discovery".
The function of nearby list is used to search, including searching people, activities, groups, and stores.
The function of new discovery list is used to interact, and meanwhile it also has a searching function on many dimensions.
Picture: Function list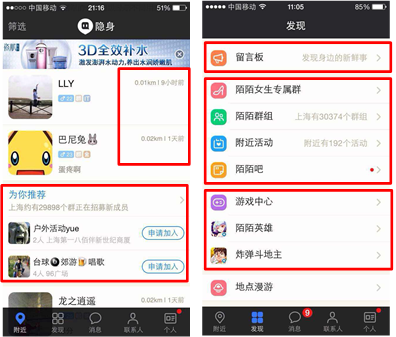 1.2 The first core interactive function: chatting
You have four ways to find someone to chat with:
(1) People nearby: Momo sorts friends by distance and the sequence of time, and gradually it manages to screen people by gender, age, profession, and identity;
(2) Visitors' track: this function only works for subscription membership. It would have a higher rate of success if you chat with the one who has viewed your homepage than chatting with a stranger;
(3) Message board: Momo's message board could be understood as Sina Weibo (Chinese Twitter) with geographic locations. Judging from user experience, the message board does not have enough interactivity; however, by sharing pictures and mood signatures, one could attract others' attention as a chatting partner;
(4) Momo's post bar, groups & activities: these two functions are classified by interest, thus, users could easily find people sharing similar interest and topics.
1.3 The second interactive function: offline activities
Based on geographic locations, Momo facilitates the transformation of social networking from online interactions to offline activities. The function of groups & activities is the major representation.
(1) Groups: stimulate inactive users and set upper limits for group numbers to promote activity level.
Generally speaking, Momo's groups could be classified into three categories: the first is of daily-life related topics, including pets, photography, traveling, and losing weight; the second category is of sports-related topics, including cycling and all kinds of balls games (This kind of groups has great demand to extend online interactions to offline activities, and they are relatively more active.); the third category is of game related topics, and this type of groups is in pace with Momo's game business.
The scale of activity groups is relatively small, often about 20-50 people per group. The unwritten rule of groups is to encourage activity level and participation, and the group administrators would regularly exclude inactive users. Each user could choose to enter a maximum of 6-10 groups.
Offline activities could help enhance adhesiveness of users. Because most groups are of entertainment topics, there are naturally strong appeals for offline activities. Taking a cycling group as an example, it organizes at least a cycling activity each week; most group members would participate actively, although they do not often speak in the online chatting room. Beside group administrators, group members can also initiate activities.
Picture: high participation from a cycling group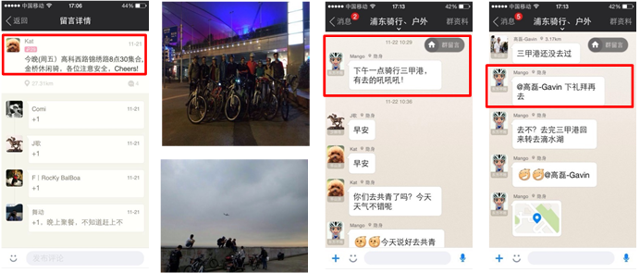 The groups assembled by interest often contain business opportunities. Some group administrators establish their groups with commercial purposes, targeting potential customers and promoting business through their groups. Momo launched Shopeasy, an advertising platform for the offline users to demonstrate their goods online, and this is a natural extension of their product system.
Picture: Fitness Club promoting business through their groups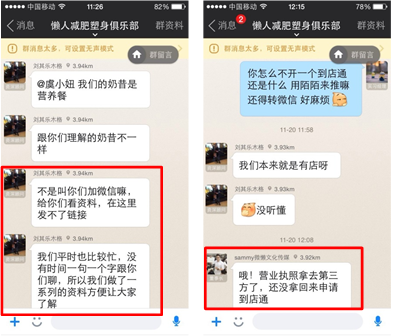 (2) Activities: officially initiated, inviting friends to activities
Momo's activities require formal units, organizations, institutions or associations to be activity organizers, most of which are experienced and capable organizers in related areas.
Users sign up on the activity homepage, and they can also invite other users to participate. Judging from the hyperlink "signing up and inviting friends" and "inviting friends", Momo organizes activities for the sake of enhancing users' engagement and participation.
Picture: Registration Entry for offline Activities

1.4 Data: 167 million times of searching, 655 million one-to-one massages, 222 million group massages every day
·Momo's users refresh the page of "people nearby" 167 million times on a daily average;
·There are 16.4 million messages issued on message board by users every day;
·By Sep.30, 2014, there are 2.7 million postings in Momo post bar on a daily average, which still have a big gap with Baidu post bar;
·By Sep.30, 2014, "activities nearby" section has released 49,000 offline activities, with 11 million activity registrations; that's to say, 225 people have signed up for each activity on average;
·By Sep.30, 2014, 44.7% of all Momo users have joined at least one group. There are as many as 222.4 million group messages sent per day, which is to say that an average of 50 messages are sent by each group every day, and certain active groups would even send an average of 111 massages every day;
·In Sep.30, 2014, Momo's users sent a daily average of 655.2 million one-to-one messages, among which 63.5% of these messages were exchanged among people who had already followed each other;
Judging from the data of operation, "people nearby" has higher page views, and "activity nearby" as well as "group nearby" have higher activity level.
2. Luxury advertising: $26 million's worth of ads breeding novelties
Momo is nurturing a sound platform in terms of user acquisition and user management
Since 2014, Momo has put "identifying novelties nearby" as its marketing slogan, and promoted interest groups by offline ads demonstration and microfilm presentation. The sales expenditures in the first three quarters of 2014 reached $1.87 million, $7.2 million and $17.14 million respectively, while the total sales expenditures of 2013 only reached $3.01 million. Large scale marketing expenses break the bottleneck of scale and property faced by the growth of user base.
Picture: Demonstration of Momo's large scale marketing expenditure since the first quarter of 2013

Considering user management, Momo managed to enhance user credibility by refining their personal information, establishing the evaluation system for star users, and handling reports and complaints from users.
Momo's registration need applicants provide their phone numbers, and one phone number could be tied to one Momo ID only. This method enhances the credibility and authenticity of Momo's users.
The evaluation system classifies users into six categories, from distrusted users, one-star users to five-star users. In our experiment, we tried to change the "gender" information, and this action was considered by Momo as untrustworthy, and consequently the user evaluation was reduced to "distrusted user" category.
3. Social networking platform: relation chain based on location and interest, and the Matthew Effect based on user base
Momo survives and develops between the competitions from Wechat and mobile QQ (both are chat software like Skype and MSN). Wechat and mobile QQ are based on acquaintance relationships, while Momo is based on stranger social networking, which explains that stranger social networking is also a critical part of all social contacts .Researcher of Tcoins (Shanghai) Financial Information Service Co., Ltd. considered that Momo classifies users according to gender, age, interest, profession, and credibility, which is to the right point, and more importantly, Momo has the function of displaying users' geographic locations (which Douban post bar and Baidu post bar are short of), and that makes offline activities possible and thus strengthens users loyalty.
Picture: Reinforcement of Momo's user relationships and realization of user values

---
Ⅱ.Momo's Valuation Challenge: discounting users' loneliness and interest equals to $3 billion's valuation?
1. Four discounting models in the first three quarters of 2014 only contributes $ 26 million's revenue
Momo's commercialization began in the second half of 2013, when it launched premium services and began to charge membership subscription fee. Currently its revenue mainly comes from premium membership services, online game distribution, emoticon shops and mobile ads, all of which are mature realization methods for internet companies.
Picture: Momo's business structure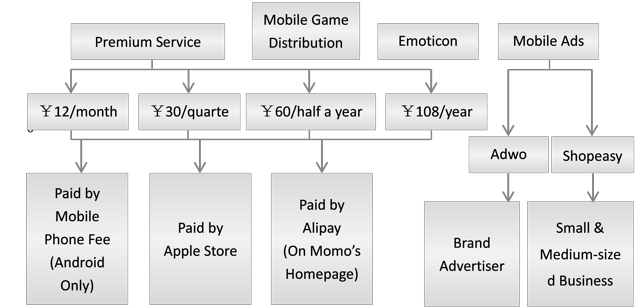 Judging from revenue contribution, premium membership service is Momo's major source of revenue for the time being.
Picture: Momo's revenue structure

(1)Business line of membership subscription fee: number of premium members accounts for 3.8% of the monthly actives
Momo launched its membership premium service in July, 2013, which includes basic services, upper limit increase service and the privilege service. These service all centered on users' need of self-presentation, interaction with other users, and being individualized and personalized.
Picture: Momo's membership service

Momo's membership subscription fee includes the following different types of payment: ¥12 per month, ¥30 per quarter, ¥60 half a year, and ¥108 one year, among which the payment of ¥12 per month is the biggest revenue resource of membership fees.
The increase of Momo's membership subscription fee comes from the expansion of Momo's user base. At present, Momo has a registered membership of 180 million, of which 60.2 million are monthly active users, 25.5 million are daily active users, and 2.3 million are premium members.
The conversion rate of registered members to premium members is 1.3%, and the conversion rate of monthly active members to premium members is 3.8%. Researcher of Tcoins (Shanghai) Financial Information Service Co., Ltd. believes that this conversion rate is still at a low level, and there is a still large room for future improvement.
Picture: Momo's 180 million's user base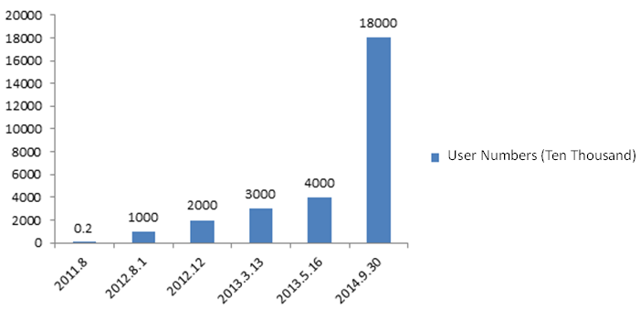 (2)Business line of online game distribution: number of premium members in this business line accounts for 2.3‰ of monthly actives, and 7% of game players
Momo began to set foot in business of online games in the fourth quarter of 2013, mainly serving as an online game distribution platform. In the third quarter of 2014, game revenue reached $ 2,453,000, accounting for 20% of the total revenue. The number of premium members increased from 35,000 in the fourth quarter of 2013 to 139,000 in the second quarter of 2014.
According to the prospectus, online game business would be Momo's key business in the future. Momo plans to develop online game business by game distribution on the platform and independent R&D of online games. Researcher of Tcoins (Shanghai) Financial Information Service Co., Ltd. browsed the recruitment information on Momo's official website, the talent demand in the game development section is the biggest, with the recruitment positions of game designer, game operation specialist, back-end engineer, data operation engineer, operation manager, client engineer, senior server developer, game tester, website designer, game data product manager, game business assistant, game platform development engineer, UI designer, and user operation, etc., which is the most diversifies in all of its recruitment.
(3) Business line of mobile marketing: already received 11,000 advertising applications from small and medium-sized businesses
In regard to mobile marketing, Momo serves brand advertisers through the cooperation with Adwo (leading mobile marketing platform in China), while serves small and medium-sized businesses through self-operated platform Shopeasy.
At the beginning of the year 2014, Momo authorized Adwo as its exclusive mobile ad platform. The ads are generally presented on the homepage of "nearby list". By clicking the ads, users can see product introductions and users' reviews, can submit orders online, and also can share them with their friends through external social networking platforms such as Sino Weibo.
Picture: Ads have little effects on user experience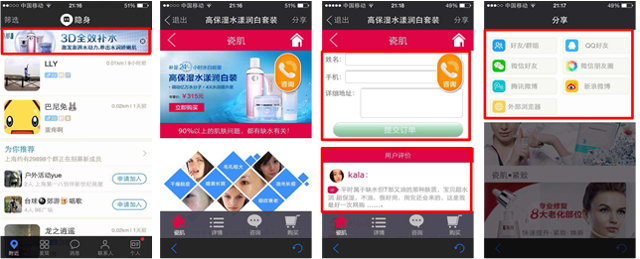 Shopeasy 5.X, as Momo's mobile marketing platform, came into use in 2014. It provides services to small and medium-sized businesses, and it does have certain development space in its future commercial value. These ads are in the middle of the homepage. If clicked, users can enter the homepages of the businesses, and can quickly get the snap shot of the products through the pictures, introductions, and promotions posted by the business owners. If users click the addresses of the businesses, a roadmap to the business would come into view instantly, and you can also contact the business owners by pressing the click-to-call button, following the ID of the owners, or initiating a conversation with the owners on their homepages
Picture: business promotion on Shopeasy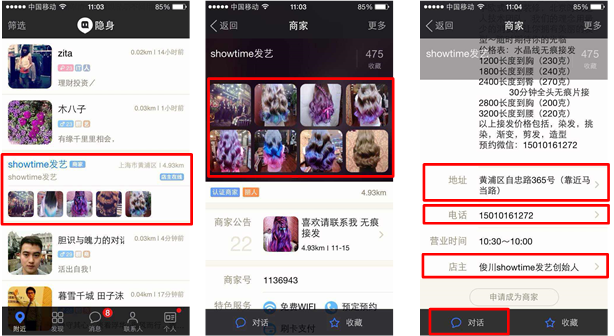 At present, Momo does not have its own real shop promotion team and the whole registration process-submit application, censorship, and paying charges-is all completed in the APP. Shopeasy monetizes the page views of the "people nearby" function. In September 2014, the clicks on the function of "people nearby" reached 167 million per day, and Momo has already received 110,000 applications from businesses without the help of real shop promotion team.
2. Profit structure in the first three quarters of 2014: $ 22.88 million's net loss, more than $ 26 million's sales expense
According to the prospectus, Momo had a net loss of $22.88 million, and more than $26 million's sales expense in the first three quarters of 2014.
Picture: data sheet of revenue and profit disclosed in Momo's prospectus

3. Debate for valuation in terms of the upper limit of Momo's registered users: is the big data reflecting loneliness and interest worthy of $ 2.5 billion?
There are two sharply opposite views about Momo's revenue model:
The pessimistic view believes that Momo's three business lines will all face fierce competition in the process of further development:(1)the business line of membership subscription fee is constrained by the upper limit of total user numbers, total number of monthly active users, and the conversion rate. And its current 180 million registered users is really close to the final limit of 300 million;(2)business line of digital games has powerful competitors both in game development area and game distribution area: in terms of game development, it is relatively difficult to develop the heavyweight games; in terms of game distribution, Momo faces strong competition from other mobile application distribution platforms such as Tencent and Baidu;(3)business line of accurate online advertising also faces fierce competition even though it is based on geographic locations and precisely targeted: Not only the application of Momo is installed on users' mobile phones, but other similar Apps such as 58.com and Dianping.com are also widely used. The level and the requirement for technology of accurate online advertising platform are escalating continuously, and Momo's market share in this area could be well below market expectations.
The optimistic analyses do not deny the pessimists' views; however, they emphasize more on the unique values of users' big data: up to now, Momo's big database may be the most accurate in terms of capturing the value of loneliness and interests, so the value of accurately targeted ads is far above what general investors believed to be. Users' dependence on this big database may equal to the heavy dependence private hospitals and pharmaceutical manufacturers have on Baidu search. Thus, judging from this perspective, the big database of users' loneliness and interests has great discounting potential.
Researcher of Tcoins (Shanghai) Financial Information Service Co., Ltd. believes in Momo's unique value in social networking. Its user base and uses' activity level make it possible for Momo to operate internet products of social networking. However, whether Momo's future development could support its $ 2.5 billion's market capitalization and $ 40's value of each active user? This is the point potential investors should pay attention to.
【Part two: Valuation report】Momo: Beautiful bubble-probably at least 25%'s over-valued
---
Momo priced its IPO at a $ 12.50-$ 14.50 range, leading to a market capitalization of $ 2.3 billion to $ 2.7 billion. Considering its current 60.20 million monthly active users, the valuation of each active user could be $38-$44. Researcher of Tcoins (Shanghai) Financial Information Service Co., Ltd. supposes that this IPO valuation is the limit of Momo's future profit capability, which contains great investment risks. If you are a rational investor rather than an agitated arbitrager, we, based on the most basic logic of investment, suggest you to keep off this controversial IPO.
---
Ⅰ. Momo's valuation of $ 2.5 billion should be underpinned by $ 332 million' sustained net profit. Is it possible?
Our discussions in this part all base on the following two assumptions:
(1)Suppose that Momo enters a steady profit state in 2017, its profit state reaches its highest level that can be expected, and it could sustain its steady and continuous development (In fact, it is almost impossible for an internet company in an extremely competitive market environment);
(2)Suppose that the number of registered users reaches 300 million in 2017 (In China, population aged from 18 to 35 is about 300 million, and we are more inclined to believe that Momo's registration number of 180 million has been really close to its upper limit) ;
Under the above two assumptions, we will use the DDM valuation model to calculate the profit and revenue level needed by the $ 2.5 billion's valuation in Momo's steady development state. Our conclusion is: $2.5 billion's valuation is rational only if Momo creates a net profit of $ 332 million and revenue of $ 902 million in the year of 2017.
That's to say, Momo needs to manage a net profit of $ 332 million in 2017. But the fact is, Momo's loss is estimated to be as much as $ 35.44 million in 2014.
We assume that if the cost of revenues, R&D investments, sales expenses, and administrative expenses altogether account for 51% of the total revenues, Momo needs to create the revenue of $ 902 million, which would be 20 times higher than the expected revenue ($ 42.7 million) of 2014. And meanwhile, the cost of revenues, R&D investments, sales expenses, and administrative expenses of 2014 is 1.74 times of the expected operating revenue of 2014.
After analysis, we think that only if Momo, in 2017, achieved 90% of Tencent's comparable revenue level, can it become possible for the outcome of $ 902 million's revenue and $ 332 million's net profit.
The logic is as follows:
We predict that Momo's user subscription fee will not be higher than $ 178 million in 2017 (because Momo's premium membership will not surpass 9.9 million, and the predictive expense of each premium user is in an average of $18 every year); we assume that 33% of the registered users (300 million) are monthly active users (99 million), and 10% of monthly active users are premium membership (9.9 million). According to the statistics of the third quarter of 2014, Momo's registered users are 180 million, of which 33% (60.20 million) are monthly active users, and premium membership accounts for 3.8% of the monthly active users. The percentage of premium membership over the monthly active users is assumed to rise from 3.8% to 10%, and at present, Tencent QQ's premium membership has already accounted for 10% of the number of active monthly users.
In 2017, the revenue from games and advertising shall not be less than $ 724 million, which, alongside membership subscription fees, could reach the level needed by the valuation of $ 2.5 billion.
At present, Tencent's 820 million monthly active users contribute $800 million's advertising revenue and $ 6.3 billion's revenue of online games, which is equivalent to $ 0.97's contribution to advertising revenue and $ 7.7's contribution to revenue of online games from each single user.
We assume that in 2017, the revenue of online games and advertising from Momo's 99 million active users will come up to 90% of Tencent's present revenue level, then Momo will have $ 686 million's revenue from online games and $86 million's revenue from advertising. In that case, Momo will altogether have $772 million's revenue from online games and advertising, just surpassing the $ 724 million's minimum required by its $ 2.5 billion's valuation.
Whether Momo, a social networking App which is only applicable to limited age groups of specific characteristics, has the potential to make its revenue from online games and advertising approach that of Tencent? Most of investors will give a negative answer.
On the other hand, compared with Tencent's current data, Momo's single user's contribution to the revenue of online games is less than half of that of Tencent, and the total contribution of game users is no more than $381 million; only if the revenue from accurately targeted ads ($288 million) be two times more than that of Tencent can it meet the revenue standard needed by Momo's $ 2.5 billion's valuation. As investors' prediction, this could be Momo's best probable performance of accurately targeted ads of discounting the data of loneliness and interests.
The valuation process is as follows:
Picture: critical prediction data under simplified assumptions

Picture: Momo's profit and cash flow under simplified assumptions

Picture: DDM valuation output under simplified assumptions

---
Ⅱ. Momo's reasonable valuation should be no more than $ 2 billion, and the issuing valuation may be 25% overvalued
Based on the above logic, we can adjust the parameters in the simplified valuation model:
(1)When Momo's valuation is $2 billion, the value of each active user is around $ 33, and that also requires a registered user base of 300 million. Meanwhile, although its theoretical valuation is less than that of Tencent, the valuation expectation of revenues from accurately targeted ads still remains high. The valuation of $2 billion is quite fair, because it not only takes into account the potential risks, but also reflects the good anticipation investors have on Momo's future development.
(2)Under the neutral assumptions, Momo's valuation is $1.2 to 1.3 billion, and the corresponding value of each active user is $20. This valuation is based on the conditions that Momo's registered user base can hardly reach 300 million, its business of online games only accounts for 1/2 of Tencent, while its possible revenue from accurately targeted ads has higher expectation. Considering the capital market's enthusiasm, we do not have the chance to see this valuation at present; only when the passion for mobile social networking faded can we finally see this price.
Picture: contribution and value of active users of different platforms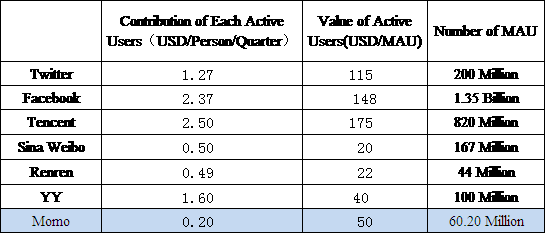 Other assumptions on which the above discussions base:
(1)All of the revenues are in the form of cash flow;
(2)All of the cost including the depreciation expenses are spent in the form of cash flow;
(3)Zero capital expenditure;
(4)Zero liability;
(5)Risk-free rate of return: taking the average rate of return of American ten-year treasury bond as the risk-free rate, the risk-free rate of return is 2.25%;
(6)β factor: taking YY.NASDAQ as a reference, β factor is 1.3;
(7)Sustained growth rate: 2%
---
Disclosure: The author has no positions in any stocks mentioned, and no plans to initiate any positions within the next 72 hours.