1. Company Introduction
Fuyao Glass Industry Group Co., Ltd. was founded in 1987 in Fuqing, Fujian Province of China. It is China's largest and the world's second largest automotive glass manufacturer, and is the only world-leading auto glass maker who focuses exclusively on the auto glass business. According to the sales revenue statistics made by Roland Berger, Fuyao Glass takes over a share of 63% in the domestic auto glass market and a share of 72% in the passenger vehicle auto glass market. In terms of sales volume, Fuyao Glass has a market share of around 20% in the global auto glass market, and from the year 2011 to 2013, Fuyao's operating revenue and net profit have achieved the compound growth rate of 8.95% and 12.59% respectively.
Fuyao Glass concentrates on the OEM auto glass market and after sales auto glass market both at home and abroad. It is one of the few auto glass makers who have been qualified for overseas OEM supplies for the world's four major motor models. Sales revenue of auto glass accounted for 94.9% of its major income in 2013. And Fuyao Glass is actively exploring international markets, incorporating subsidiary companies in Hong Kong, the United States, Germany, Korea, Japan, and Russia successively. Income from overseas markets accounts for 31.5%, 32.6%, 32.0%, 32.2% and 33.6% of the total operating revenue as of the year 2011, 2012, 2013, and six months ended June 30, 2013 and 2014. Fuyao Glass has twelve production bases in eight provinces domestically, and two overseas production bases under construction in Russia and the United States, each with the production capacity of 12,100,000 m².
The main customers of Fuyao Glass include the world's top 20 motor makers and China's top 10 passenger vehicle makers, including joint ventures like Shanghai GM, FAW-Volkswagen, Shanghai Volkswagen, Beijing Hyundai and Dongfeng Nissan, as well as world leading motor makers like Toyota, VW, GM, Ford, Hyundai, Renault-Nissan, Fiat, Honda, BMW, Mercedes-Benz, Bentley, Rolls-Royce, and Porsche.
2. Core Competence: Low Cost, High Operating Efficiency, and User Stickiness
2.1 Lost Cost is Fuyao's First Economic Moat
By sales volume, Fuyao Glass has a share of around 20% in the global auto glass market, ranked as the second largest auto glass maker in the world, and is the only world-leading auto glass manufacturer who focuses exclusively on auto glass business. The leading business scale makes low cost possible for Fuyao Glass:
1) High productivity and high utilization rate of production capacity render Fuyao significant advantage of fixed asset amortization, thus help reduce its unit production cost. Because of its high productivity and utilization rate of production capacity, Fuyao Glass reduces its unit cost by amortizing fixed assets over more products than that of the small-sized auto glass makers. Judging from the company's disclosure, the utilization rate of the company's production capacity in producing the auto glass and float glass have both surpassed 80%.
2) High self-sufficiency rate of float glass reduces the production cost of auto glass. Self-sufficiency of float glass not only enables the company to profit from float glass production, but also guarantees the quality of float glass and decreases the defective rate, reducing the additional loss in auto glass production. That's the reason Fuyao strives to ensure high self-sufficiency rate of float glass. Shown by the previous data, the company has gradually increased the self-sufficiency rate of float glass from 57.70% in 2011 to 86.60% in 2013. Furthermore, the two production bases under construction in Russia and the United States will also be equipped with the production lines of float glass, which discloses Fuyao's strategy of maintaining cost and quality advantages by high self-sufficiency of float glass.
3) Well-planned layout of production bases reduces the logistics cost and depletion cost. Fuyao Glass has 12 production bases in 8 domestic cities, covering all motor production bases in China, and two production bases under construction in Russia and the United States. Being in the vicinity of OEM bases largely helps Fuyao to decrease the logistics cost and depletion cost. The number of the company's production bases is far outnumbering that of its competitors. The production bases of Fuyao spread over 8 cities nationally, while the production bases of its main competitors, such as AGC, NSG, Saint Gobain, and Xinyi Glass, are scattered over less than half of this figure. This differentiates Fuyao from its competitors not only from cost control, but from the promptness of product delivery, which are two integral parts of strong competence of Fuyao Glass.
Picture: Domestic production bases largely outnumbers that of its competitors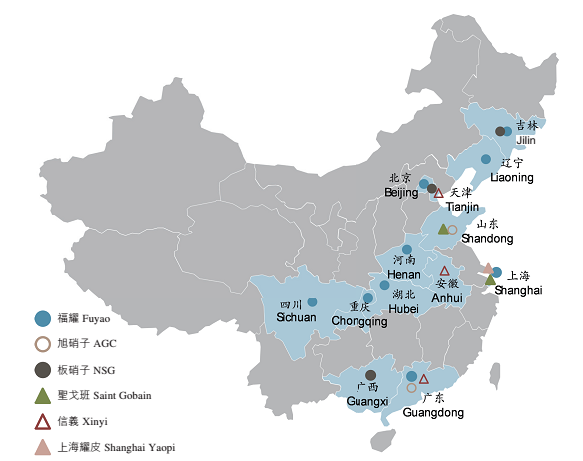 2.2 High Operating Efficiency is Fuyao's Second Economic Moat
Apart from production cost, operation management is Fuyao's another winning edge. Taking operating profit as the major parameter, Fuyao has high operating efficiency compared with its domestic and overseas competitors, which means steady period cost as well as high operating profit margin. The operating profit margin of NSG's auto glass branch (NSG has other non-glass business) and AGC's entire glass business, two of Fuyao's major overseas competitors, are quite low, not to mention AGC has suffered from money losing. The operating profit margin of Xinyi Glass, Fuyao's major domestic competitor, is slightly higher than that of Fuyao Glass in 2013; however, the data of the first half of 2014 manifest that while the operating profit margin of Xinyi Glass fell back to 16%, Fuyao Glass still remained above 20%, which shows higher stability than Xinyi Glass. High operating efficiency helps retain the profit in the hands of its shareholders.
Picture: Fuyao's operating profit margin is higher and more stable than its competitors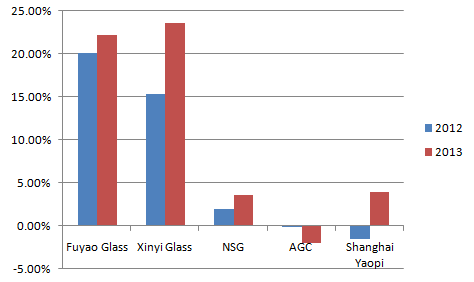 2.3 High User Stickiness is Fuyao's Third Economic Moat
The advantage of setting its production bases in the vicinity of major OEM bases and its strong simultaneous R&D strength enables Fuyao Glass to provide prompt and timely supply for its customers, and helps to reduce logistics cost and depletion. Besides, Fuyao has received several awards from world leading motor makers like GM and Chrysler for its reliable and stable product quality. The company has maintained more than ten years' cooperative relationship with its top ten customers, and has established long-term and stable relationships with the world's top 20 and China's top 10 motor makers. Large customers could hardly replace Fuyao with another auto glass maker between whom there is no previous collaboration existed. Fuyao largely weighs on its potential competitors with its stable partnership with major automakers.
3. Three Stimulations for Future Profit Growth: the Increase of Overseas Market Share of OEM Auto Glass, the Increase of Domestic Aftermarket Share, and the Increase of the Proportion of High Value-added Products
3.1 Industry Prospects: Single-digit Growth
Influenced by income growth, urbanization, and the density of road network, domestic passenger vehicle market has entered a mature period with a steady growth rate of 8%; internationally, due to the economic recovery of Europe and the United States, and the economic growth of other developing countries, the passenger vehicle market will maintain a slow growth of 4% in the next 5 years. However, because of the popularity of auto sunroof, the growth rate of auto glass may be slightly higher than that of passenger vehicles, which means 9% domestic growth and 5% global growth.
Fuyao Glass is a leading company in the industry, with high profitability and large market share. In the next 5 years, the growth rate of Fuyao Glass is expected to reach 15% due to the following stimulating factors:
3.2 To Increase Overseas Market Share of OEM Auto Glass: International Expansion Just Started, Market Share Could Be Above 20%
Fuyao's export sales account for 33% of its total revenue, and among its export sales, 85% comes from the overseas market of OEM auto glass, which only accounts for 4% of the entire overseas market. Fuyao plans to change its international strategy from pure exportation to overseas production. Two production bases are under construction in Russia and the United States, each with the production capacity of 12,100,000 m², and are scheduled to be put into production in the year 2015 to 2016. By the end of 2013, Fuyao's production capacity is 96,600,000 m², and the production capacity of the new overseas bases is about to account for 25% of its existing capacity, which justifies the transformation of Fuyao's overseas expansion strategy. Fuyao will have an additional 30% growth of its total revenue if its overseas market share of OEM auto glass doubles to 8%. We predict that Fuyao's overseas market share of OEM auto glass will reach 20% after the year 2020, based on the following reasons:
1) The low overseas market share is subject to the company's development strategy rather than its lack of competitiveness: the management gave priority to domestic development over overseas expansion. And since Fuyao's domestic market share has nearly reached its maximum ceiling, the management now decides to expand the overseas market more intensively.
2) Fuyao's overseas development plan changes from mere exportation to overseas production, which could be of great help to explore the global OEM auto glass market. The location of suppliers is a major consideration for the OEMs to make their choice; adjacent production bases have great advantage in prompt and timely supply and low depletion and logistics cost compared with other far afield bases if their products are under similar sales price.
3) Fuyao's major competitors make narrow profit margin from their auto glass business, thus they are considering downplaying their business in this field. Fuyao will benefit from its competitors' gradual withdrawing from this market and will have greater pricing rights over its products.
4) Fuyao not just has stable cooperative relationship with the world's top 20 motor makers in the domestic market, but also produces products accredited by the four major motor models in the world.
3.3 To Increase Share of Domestic Aftermarket
Fuyao has less than 30% share in the domestic aftermarket, which contributes no more than 3% to its total revenue. This underdevelopment is due to the irregular and unregulated development of domestic aftermarket, among which many counterfeit and substandard products take over a large part of market share. With the promotion of market standardization, Fuyao has the potential to increase its market share in the domestic aftermarket, which would contribute more to its domestic growth.
3.4. To Increase the Proportion of High Value-added Products
Apart from the global expansion in quantity, Fuyao also plans to improve its products in quality, which means to increase the proportion of high value-added products. The products already put into production include: the encapsulated glass, panoramic sunroof glass, HUD glass, UV protection glass, laminated heating glass, semi-tempered and laminated glass, antenna glass, hydrophobic glass, and acoustical glass.
High value-added products still under research include: coated heating glass which can defog and defrost, coated antenna glass which can receive wireless signals of multiple frequency point, active antenna glass which can meet the need of different frequency signals through free combination of active antenna, privacy glass with the light-control function, glass with stronger power to reflect infrared ray and glass with super anti-UV function.
4. The Company Has Typical Features of Graham's "Value Investing"
4.1 Solid Economic Moats
As stated earlier, Fuyao has built up three economic moats of low cost, high operating efficiency and user stickiness. The formation of these overwhelming advantages takes time and efforts, so it's hard to be broken within short time limits.
4.2 Sustained and Stable High Dividend Yield: Sixteen Years' Profit Making and Thirteen Times' High Dividend
One of the parameters of Graham's value-investing philosophy is the comparison between dividend yield and risk-free bond yield, which is the primary indicator to see whether a stock or the entire market is overvalued, and this could also be the critical reference for value investors to make investment decisions. Judging from Fuyao's dividend of the year 2013, which is calculated by the company's closing price in the A-share market on December 31, 2014, the company has a corresponding dividend yield of 4.12%, higher than Renminbi's current fixed deposit interest rate of one-year limit. The dividend yield of 4.12% ranks the 25th in the A-share market, even compared with bank shares and companies with spasmodic abnormal dividend; if companies with unusual dividend, like Anyuan Coal, are excluded, Fuyao's dividend yield, which is very stable, could enter the top ten.
Since its listing in the A-share market in 1993, Fuyao has sustained 16 years' continuous profitability from 1998 till now, only suffering a minor loss of 18 million in 1998. Its profitability has been on a steady growth except during the financial crisis in 2008, and it even made a growth rate of 18% in the third quarter of 2014. Besides, Fuyao has a good record of dividend payout, accomplishing thirteen profit-sharing records in twenty fiscal years after its listing, and has maintained a dividend payout ratio of above 50% in the recent four years.
For investors in HK stock market, if set aside the risk of devaluation of Renminbi, which is rather small in the long run, the dividend yield of Fuyao Glass is much higher than the risk-free yield of HKD. The fixed deposit interest rate of one-year limit of HKD is only 0.7%; even taking the rise of the interest rate of USD into consideration, the dividend yield of Fuyao Glass in the A-share market is much higher than the interest rate of fixed deposit of HKD. Judging from the past experience, Hong Kong's capital market favors companies with high dividend yield
Picture: more than ten years' profitability and thirteen dividend payouts

4.3 Solid Financial Performance: Positive Operating Cash Flow, Stable Capital Structure, and Low Cost Unsecured Loan
Graham's value-investing philosophy stresses "large, prominent, and conservatively financed", of which "conservatively financed" refers to long-term stable profitability and stock dividend, rational asset-liability rate, and stable positive operating cash flow.
Fuyao has a record of more than ten years' positive operating cash flow, which grows in step with revenues except a major downturn in 2011, and even in its fast growth period it still keeps a stable cash flow. Positive operating cash flow renders Fuyao strong bargaining power in its upstream and downstream business.
Picture: the company's consistent positive operating cash flow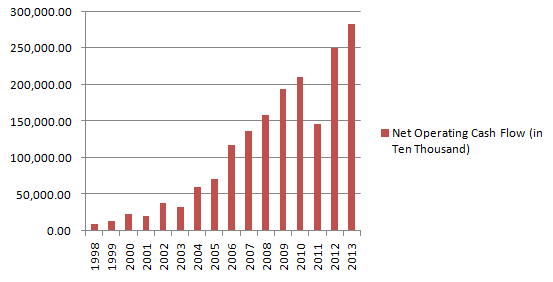 Fuyao's asset-liability rate has stabilized at around 50% in recent years, but actual leverage rate (net liabilities/ (net liabilities + equities)) remains in an even lower level, which has been about 33% since 2011.
Picture: the company's actual leverage rate is 33% or so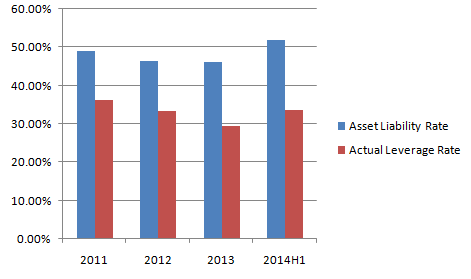 The company's consistent access to low-cost loans largely proofs its financial stability. The cost of Fuyao's one-year-limit financing bond has always been below the year-long benchmark interest rate; although the cost has been on the rise in recent years, it is due to the rise of median interest rate and the influence of the marketization of interest rate. In the year of 2014, Fuyao, as a private enterprise, has similar interest rate of the newly-issued financing bonds with Shanghai Automotive (parent company of Huayu Automotive, see the picture below) and Beijing Automotive, two large state-owned enterprises in China. Meanwhile, all of the loans of Fuyao Glass are unsecured loans, which is the best endorsement for its financial soundness.
Picture: The interest rate of Fuyao's short-term financing bond is always lower than the benchmark interest rate of the same period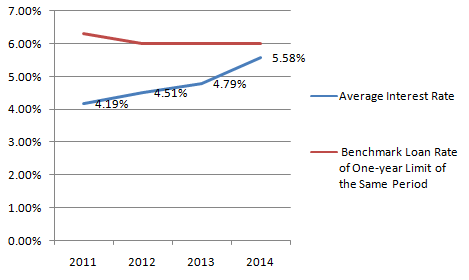 Picture: interest rate of newly-issued bonds of the comparable companies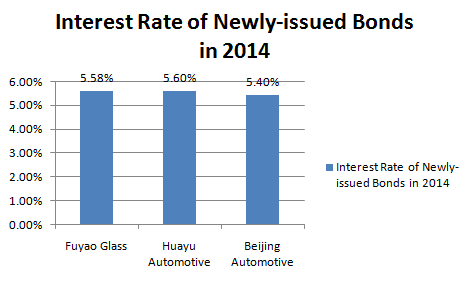 Notes: the interest rate of the newly-issued bonds of Fuyao Glass is of one-year limit, the Huayu Automotive is of two-year limit, and the Beijing Automotive is of three-year limit.
4.4 Improving Profitability of Shareholders: Fuyao's ROE Is Consistently Higher Than Its Cost of Equity.
In the value-investing philosophy, one company's profit growth is not so important as the value growth it brings to its shareholders, of which the best measurement is whether the company's ROE is higher than its cost of equity. According to Fuyao's performance in the A-share market, the company's cost of equity is about 11% based on the CAPM model, while its average ROE is 25.46%, considerably higher than its cost of equity, which means continuous creation of value to its shareholders. And we predict that for a long time to come Fuyao's ROE will remain well above the level of its cost of equity, thus its profit growth is effective in creating value for its shareholders.
Picture: average ROE is considerably higher than the cost of equity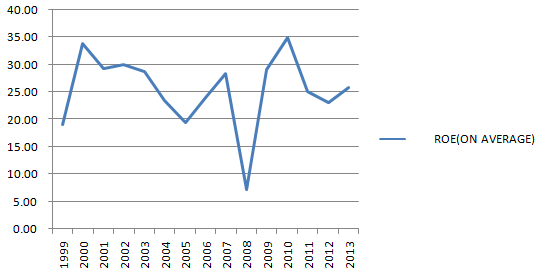 4.5 Good Enterprise Image
Graham's value-investing philosophy emphasizes "large, prominent, and conservatively financed", of which "large" and "prominent" refers to the company's leading position in the industry as well as good enterprise image. Mr. Cho Tak Wong, founder of Fuyao Glass, has won "China Charity Award" for five consecutive years, which is the highest charity award granted by the Ministry of Civil Affairs, and he is also the first Chinese entrepreneur who has entered the "Ernst & Young's Global Entrepreneur" list. In addition, Fuyao's win over anti-dumping charge has also given a push to its establishment of good reputation.
5. Accelerators and Risk Factors In Its Development
5.1 Falling Energy Prices: Cannot Reduce Costs in the Short Run, Will Stimulate End-user Consumption
Crude oil price fell 60% from $ 115 a barrel in July, 2014 to the current level of $ 50 a barrel. Although natural gas accounts for 25% of Fuyao's overall production costs, the falling of crude oil price cannot affect Fuyao's production cost in the short run, for in China, the price of natural gas does not have the linkage with the price of crude oil, except in the experimental areas such as Guangxi Province and Guangdong Province. With the formation of market mechanism of natural gas price in China, Fuyao will eventually benefit from the falling crude oil price. The overseas newly increased production capacity will be directly influenced by the current oil price slide.
Lower oil price is good news to auto-end consumption. In 2014, gas price has dropped ¥2050 per ton, leading to a yearly expenditure decrease of about ¥3000 for every ordinary consumer. The price drop is good for the sales growth of mid-low level passenger vehicles, which might give Fuyao the chance to benefit from the end-user consumption.
5.2 Falling Interest Rate: Limited Decrease of Financial Expenses, Increased A-share Valuation
On November 21, 2014, People's Bank of China cut the benchmark loan rate of one-year limit by 40 points to 5.6%, 6.67% lower than the previous level. We predict that in 2015, the central bank will further cut the loan rate by 40-60 point, 15% lower than the figure before the rate cut. Fuyao's interest expense will be 10% lower, saving pre-tax profits of around 20 million RMB.
At the same time, the central bank cuts the deposit interest rate. The decrease of risk-free interest rate boosts the valuation of companies of high dividend payouts like Fuyao Glass. According to Fuyao's stock price on December 31, 2014, the company's dividend yield is 4.12%,112 points higher than the one-year deposit interest rate of 3.00% in 2013; if the interest rate decreases by another 25 points, the gap between its dividend yield and the one-year limit deposit interest rate will be further enlarged by another 25 points, which will definitely increase the attractiveness of Fuyao's stocks.
5.3 Exchange Rate Risk: the Devaluation of Renminbi, Ruble, and Japanese Yen Has Various Impacts on the Company
1) The devaluation of RMB: with the cooling of real estate market and the possibility of interest rate cut, the expectation of devaluation of Renminbi against USD will be prevailing in the short run. The devaluation of RMB is good for Fuyao's export business: assuming that Fuyao keeps USD as its pricing currency, the devaluation of RMB against USD will not only give rise to its RMB revenue, but will result in the exchange gains of part of its accounts receivable in USD. However, we predict that the devaluation of RMB will not be much and long, thus weaker Yuan's impact on the company is quite limited.
2) The devaluation of Ruble: Ruble is suffering great devaluation due to the falling crude oil price and the economic downturn in Russia. The first-stage project of the production base in Russia will be put into operation in the first half of 2015. Even if Russian business is included in its total financial statement, the profit will still be affected by the devaluation of Ruble even its business makes profits. What's worse, Russia's auto-end consumption falls sharply because of its economic slump, the sales volume and the utilization rate of the new base's production capacity may fall below expectation, and the production base might also suffer from losses because the gross margin cannot cover the costs led by the depreciation and amortization of fixed assets. Fuyao's depreciation and amortization cost in 2013 is about ¥900 million RMB, accounting for 15% of its major operating cost.
In the short term, this production base is mainly targeted at providing supplies for the OEMs' Russian branches, for many motor makers like Great Wall Motor and Geely Auto set their OEMs in Russia, but in the long term, this production base can also supply for European motor makers. In the short run, it will be affected by the economic slide in Russia, but in the long run, the weaker ruble might give a price edge in Fuyao's exportation from Russia to Europe. Taken together, we believe the declining Ruble has limited impact on Fuyao's long-term development.
3) The devaluation of Japanese Yen: the yen depreciated 36% against the US dollar from 77 in 2012 to 120 in December 2014. The yen's depreciation should be good news for the price negotiation of AGC and NSG, two major Japanese competitors of Fuyao Glass. But according to our statistics, the operating profit margins of these two companies didn't obviously benefit from the devaluation of the yen; on the contrary, the devaluation of the yen almost has no impact on these two companies.
5.4 Shenzhen's Auto Purchase Restriction: Limited Short-term Impact
Shenzhen started to take restrictive measures on auto purchase from 6:00 PM of December 29, 2014, with a tentative validity period of five years. From this date, Shenzhen will release 100,000 purchasing permits annually, of which 20,000 permits are targeted at electric cars while 80,000 permits are for sedan cars. The purchase of electric cars will adopt the form of license plate lottery, and the purchase price of sedan cars will be half decided by bidding, while the eventual price might be moderately adjusted by the market demand. Shenzhen becomes the 7th domestic city which released the auto purchase restriction, one of crowded second-tier cities that have already been in the list to release the purchase restriction during the period of 2014 to 2015. Other second-tier cities in the list are: Chengdu, Chongqing, Wuhan, and Shijiazhuang. We have pointed out in the research report of Beijing Auto that the growth engine of domestic auto industry is largely dependent on the growth power of the third and the forth tier cities as well as the driving force of rural urbanization. The first and second tier cities are the major markets for luxury cars. Therefore, the restriction on auto purchase in Shenzhen has limited short-term impact on the passenger vehicle market.
Disclosure: The author has no positions in any stocks mentioned, and no plans to initiate any positions within the next 72 hours.
The author wrote this article themselves, and it expresses their own opinions. The author is not receiving compensation for it. The author has no business relationship with any company whose stock is mentioned in this article.