In June 2007, Citibank Ex-CEO Chuck Prince famously said: "When the music stops, in terms of liquidity, things will be complicated. But as long as the music is playing, you've got to get up and dance. We're still dancing,"
With Monday's selloff and today's "recovery", it is worth questioning if markets globally have overreacted or are signaling something much bigger. With every major central bank around the world implementing easing monetary policy, the environment remains, in theory, accommodative to risky assets and should support growth in the near term. Although it might be true, I am skeptical of this mid-cycle adjustment because of where we stand in the business cycle, the globally synchronized slowdown, the risks around China, the hostile political landscape, and the government and corporate debt jubilee. As Howard Marks said: "You can't predict. You can Prepare". Let's look at both the fundamental and technical indicators.
Macroeconomic Fundamentals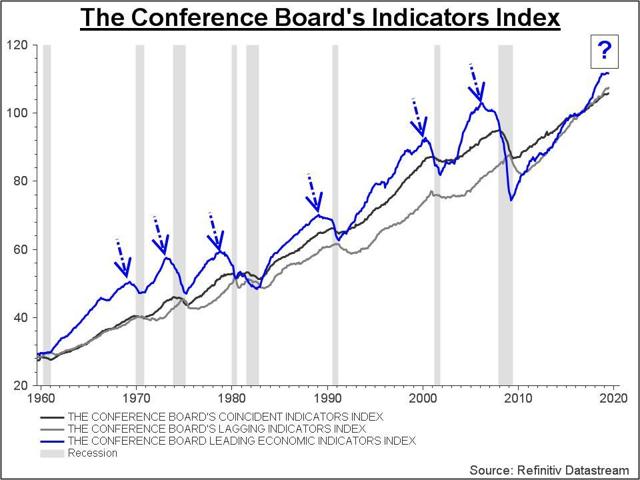 I use the three main indices from the Conference Board and look at each constituent's contribution to their index. Refinitiv released the June 15th monthly index contribution on July 18th, 2019. In the tables below, a positive (negative) 3-month average means that it is contributing positively (negatively) to the index. I personally like the fact that it is released with a lag since it reduces the recency bias, and helps to formulate a more objective analysis. In order words, those data points were already available before Monday's selloff.
Leading Economic Index (LEI)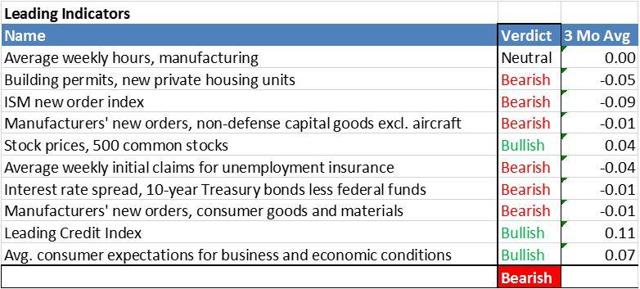 The Leading Economic Index has peaked before the six prior recessions with very few false signals in between. The LEI is one of the most reliable signals to identify an economic downturn and seems to be flattening. The S&P 500 Index has historically behaved as a discounting mechanism to detect upcoming recessions and close attention should be paid once it reverses. It is very possible that we may see new highs again within the next 3 to 6 months; however, tariffs will mute all significant upside potential.
Coinciding Economic Index (CEI)

Industrial production has been declining globally and the US isn't escaping the trend. Once the unemployment rate starts ticking up, it should coincide with the peak in the business cycle and equities should have already peaked.
Lagging Economic Indicators Index

Borrowing and labor costs are rising, employment-related numbers and loan growth are muted, and inventories have started to build up relative to sales, which is negative for corporate earnings growth.
Technicals
S&P 500 Daily
We have seen a 7% pullback in May to the 200-day moving average and we are seeing a similar pattern at the moment. A price close significantly below the 200-day moving average would reinforce the bearish thesis; however, if it holds again, I would expect to see new highs over the next 3 to 6 months.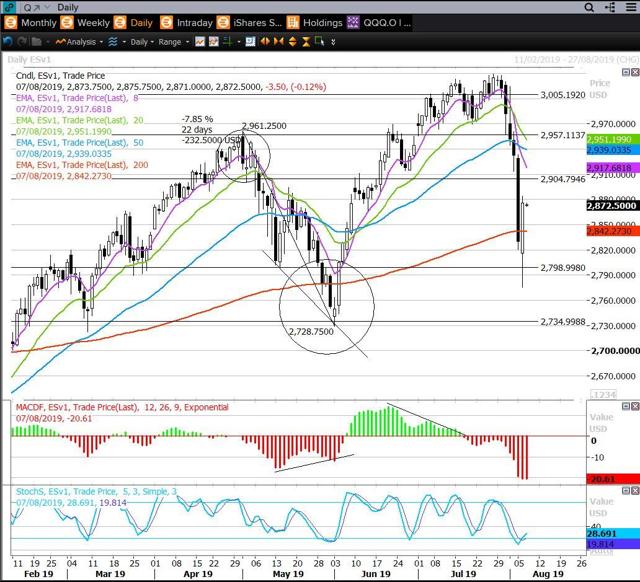 S&P 500 Weekly
There is a clear divergence between the MACD Histogram and the price where the price made a new high and the histogram didn't. If the 40-week moving average does not hold, I would expect another 20% correction similar to what we witnessed in December 2018. If the support holds, I wouldn't be surprised to see the market revisiting recent highs.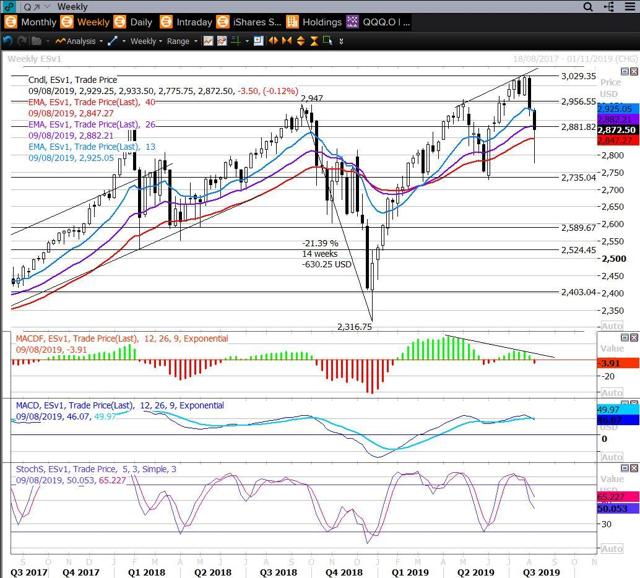 Gold
I am extremely bullish on gold. With a currency war between the US and China, and with central banks globally exploring new rounds of quantitative easing and negative interest rates, this environment is nothing but positive for gold. I have a price target of $186 on GLD over the next several years.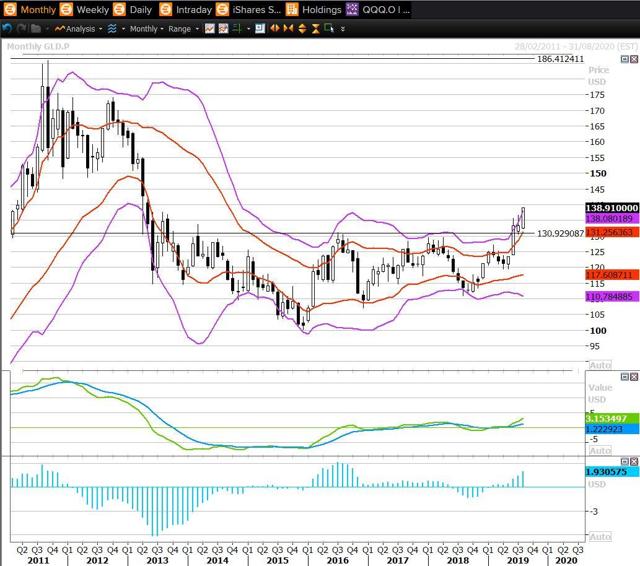 Gold Miners
Similar to gold, I am bullish on gold miners to a lesser extent since, during the last global financial crisis, gold miners actually lost over 25% of their value due to their high beta and financial leverage. I am expecting GDX to reach $32 in the next few months and $66 during the years to come with significant volatility and pullbacks.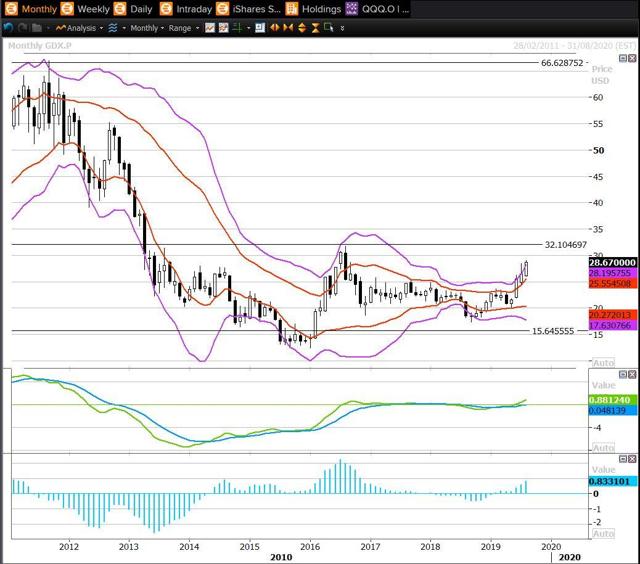 US Treasuries
I think the short end of the US treasury curve will go to zero in the next year and this will bring down yields across the entire curve. As long as GDP growth and inflation numbers are not surprising to the upside, and China does not start offloading their US treasury holdings, I will stay long the 10, 20 and 30-year treasury bonds. Looking back at the 2007-08 period, IEF, TLT, and EDV significantly outperformed during a time of duress before selling off once the recovery was underway.
Current Asset Allocation
There is a time to be aggressive and there is a time to be defensive. I will continue to overweight cash, gold, gold miners, and US government treasuries while being underweight developed markets investment grade and high yield bonds, equities, real estate (REITs) and emerging markets sovereign bonds and equities.
I am looking to add to my GLD and long volatility trades before the next Federal Reserve meeting depending on how the US dollar is trading.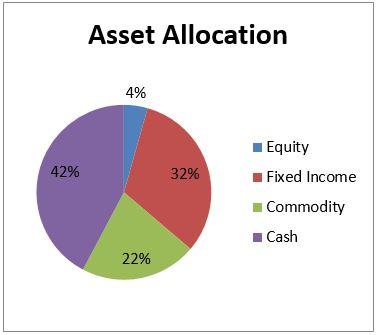 Disclosure: I am long GLD, GDX, IEF, TLT, EDV, VSP, XIC, ZDM, XBB, and short SPX using various trading instruments. I wrote this article myself, and it expresses my own opinions and not trade recommendations.
Disclosure: I am/we are long IEF, TLT, EDV, GLD, GDX..