Overview
FTD (NASDAQ: FTD) is a floral and gifting company. It connects consumers with local florists and gift shops from all over the world. A typical order for FTD goes like this:
A customer orders some flowers of his choosing, online or over the phone, to be delivered at a specific address. FTD redirects the order to one of the florists that belong to its network and is closest to the delivery address. The florist prepares the order and delivers it to the specified address either the same day or the day that the customer specified.
From this transaction FTD gains two-fold. It receives a part of the order as a fee for connecting the customer and the florist, and it receives an annual subscription fee from the florist in order to include his business in its network.
FTD's Brands
FTD is a recent spinoff from United Online (NASDAQ: UNTD) and is again a public company since November 1, 2013. I say "again" because FTD has entered and exited the stock market many times over the last 14 years, as you can see below.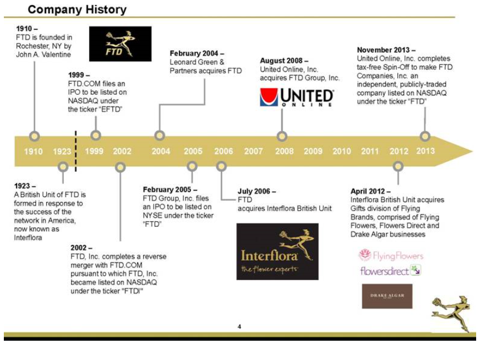 A slide with FTD's history as shown in its investor presentation on December 3, 2013.
Moat
This company is interesting because it seems to have a very wide moat. The moat is its network of 40,000 floral shops worldwide, which is a huge network if we consider that the US floral market consists of approximately 15,000 retail florists. In the floral network business the more locations a network covers the more orders it gets, and the more orders it gets the more florists want to join in adding new locations.
Read the rest of this post at MoatInvesting.com
Disclosure: I have no positions in any stocks mentioned, and no plans to initiate any positions within the next 72 hours.