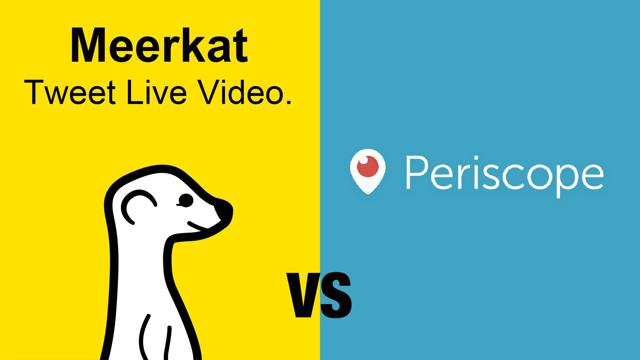 Periscope slightly has an edge over Meerkat, all thanks to Twitter.
Recently, all the social media giants were looking to introduce and battle each other through social video platforms. Previously, Mark Zuckerberg announced that within the coming times, users would see more videos than texts and images on Facebook's timeline. With that being said and done, Twitter Inc. also started to focus more on video initially through 'Vine'. As social videos were getting insane popularity on social media platforms, Twitter decided to acquire Periscope, the live streaming service, to strengthen its portfolio in the market. Rumors were that the social media giant has bought Meerkat, same as Periscope, as well but it was false.
Following the only acquisition of the live streaming service in the market, the company has been facing tough competition from other social media network giants, including Meerkat, the independent competitor of Periscope. Twitter is working and ensuring that its service is better and surpasses its competitor, which had a slightly earlier start. It is likely that micro blogging social media network is winning the live streaming service battle with Periscope and it is doing everything to make it happen. Recently, the company directly cut off access of Meerkat on its social graph. Moreover, it also forced celebrities as well as publishers to stop using the independent live video streaming service.
It is believed that the efforts of Twitter in to bring more people towards the live video app are finally paying off. The recent study shows that Periscope is ahead of Meerkat by more than half a percentage point on the basis of monthly active users. This data was only obtained from the users of iOS.
Both services offer its users to broadcast live events directly from their smartphones and share it on Twitter, but as it cut off access to Meerkat on its platform, it would result in significant damage and loss in its user database. Both services are competing to get customers' attention. Moreover, the companies are also updating the apps immediately in order to provide better user experience.
However, Meerkat just moved a step ahead by rolling out its app for Android users as well. However, so far, the access is limited to invite only people. Regardless of this, Periscope still has the competitive edge over Meerkat, all thanks to Twitter for that. Tech Crunch reported "Twitter, however, still has the advantage as it controls the platform and, as a larger, publicly traded company, already has the resources to court the celebrities, media companies and others who could help make its platform a success."