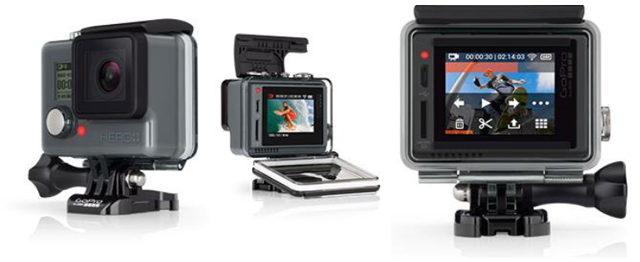 The struggling company looks forward to growth after stepping into two profitable deals.
America's action camera manufacturer, GoPro, has been facing a hard time for long now. In an attempt to revive its business, the Californian business has joined hand with yet another struggling company - Twitter. Twitter tumbled when its top profile executives left the company last weekend. Now, both organizations see their collaboration as profitable to both of them.
The third-largest social network organization focuses its expertise on Periscope - live streaming app. The company is revamping the app to stream live footage using GoPro's camera device; GoPro Hero 4. The app will enable the users to switch from iPhone camera to GoPro's without disturbing the live streaming.
The directions are simple; connect GoPro device to the WiFi, open Periscope app, and tap the broadcast button. The app also has a new button to "lock the screen" so that nothing is "accidentally captured" and "broadcasted" when the device is inside the pocket. The future collaboration will likely to help the declining business of both companies.
The idea of the app is overwhelming. It allows people to witness the live coverage of almost anything, which the users intend to share. Twitter CFO, Anthony Noto, is equally excited about the GoPro's integration in Periscope. This step is likely to encourage the camera manufacturer to tread on the path of growth once again.
Moreover, the high tech camera maker company has renewed the partnership with National Hockey League Players' Association (NHLPA) and National Hockey League (NHL). It will record and produce 11-part series under the name, "NHL after the dark" which will focus and feature some of game's top players.
Hosted by Mike Murphy and Mike Johnson, the series will be broadcasted on GoPro Channel and app, YouTube, NHL Channels and other social media outlets. It is scheduled to premiere on February 3.
Both deals are the ray of hope for the $1.5 billion company whose share has been plunged down over 82% from a strong $65 per share. Investors and analysts have named it as "one-hit wonder." The U.S. based organization has also taken the bold step of cutting jobs. Analysts raised their eyebrows when the company announced that it would delay the launch of its new action camera Hero 5 but it justified its decision by adding that the delay is to ensure the addition of more features and upgrades to the latest GoPro.
At the market close on Wednesday, GoPro Inc. stock stood at a $10.74.