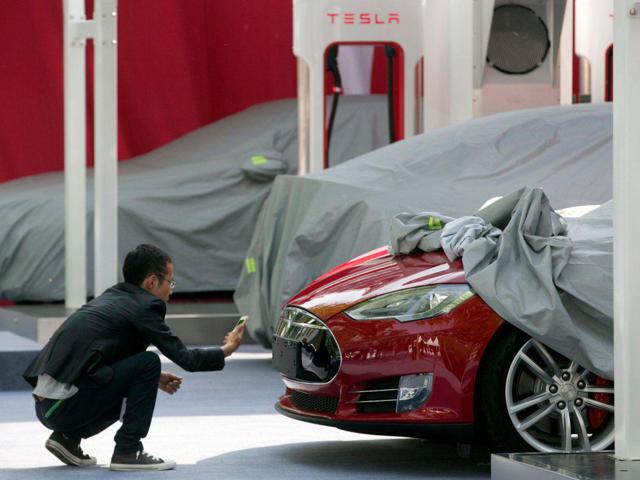 Tesla is about to launch its new model in March and it provides a glimpse in what is ahead to come.
In coming March, American $25 billion automotive company is set to make public the-highly anticipated electric car named "Model 3". Tesla has not revealed much about its groundbreaking project even though it has claimed that the new automobile will take the sales from 50,000 to 500,000 in 2020.
According to Bloomberg, sources close to the "launch plan" of Tesla said that contrary to rumored launch of company Model Y unveiling, the car manufacturer would reveal only one Model - Model 3 sedan in March.
Company's CEO Elon Musk showed faith in the new model and said that the new car will be the greatest automobile available at highly affordable prices. The model costs $35,000 and its production will start in 2017. However, the pre-orders begin right after the launch.
The expected range of the car is 200 miles per charge and it would be about 20% smaller than Model S. The CEO also stated that the car "won't have quite as many bells and whistles." The new model also has sensors for autonomous driving. Mr. Musk predicts that in about 10-15 years, almost all cars will self-drive.
The Palo Alto, Calif. organization intends to set up Model 3 factories in Europe and China earliest by 2018, in addition to its leading factories in California and battery Gigafactory in Nevada. The car is based on utterly new-platform. JB Straubel, Chief Technology Officer, endorsed that it has new battery architecture, motor technology, and vehicle structure.
The new model has 8-year infinite mile transferrable warranty. However, the biggest challenge for the car manufacturer will be whether its Nevada battery factory is able to supply the proposed number of battery units. The batteries supply and price are the biggest deterrent in the growth of EV. By March, the company will provide more insights about the matter.
CEO Elon Musk has immense confidence in his company's future performance. Recently, he bought 532,000 shares in the company through employees share scheme. The shares were bought at $6.63 each which worth around $100 million, considering Tesla stock price of $191. However, he is in no hurry to sell the shares. Altogether, he has paid $50 million in cash in order to pay for the option exercised and the tax related to it.
The confidence put by one of the company leaders is appalling. In near future, and after the launch of its new model, Tesla is likely to yield high returns. Tesla stock stood at $191.2 per share at the stock market close on Thursday.