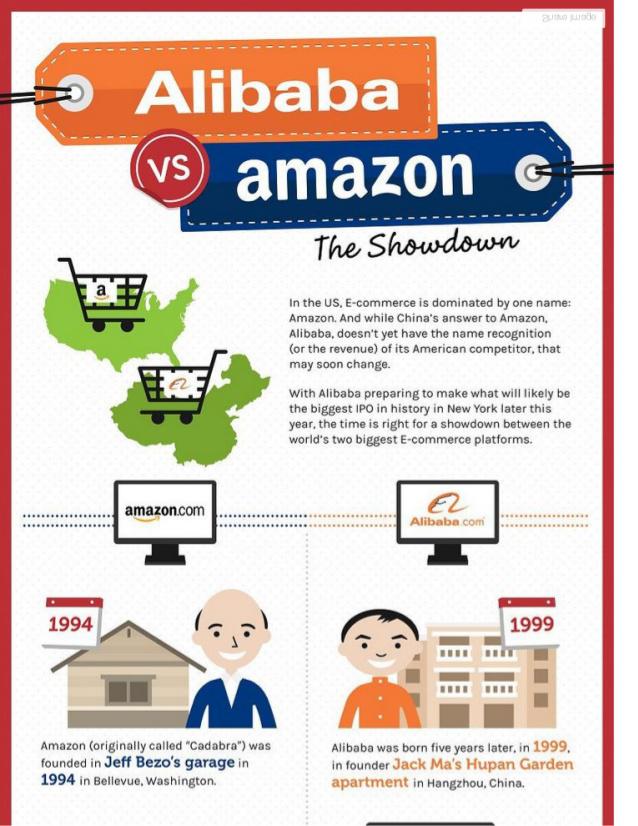 Alibaba and Amazon both aims to become the first ever global e-commerce company in the foreseeable future.
Alibaba Group Holding currently dominates the domestic e-commerce market. However strong push from Amazon Inc. to enter the Chinese market is tad bit worrying. The US e-commerce giant took a major step forward when it challenged Alibaba for the global e-commerce domination, lure away the domestic consumers and brands, and battle FedEx and UPS. Amazon plans to do all of it in 'one fell swoop'. The US online retailer was working on its new venture, Supply Chain by Amazon (SCBA), for a very long time now and it has announced to launch it this year.
According to reports published by Forbes, SCBA has a launch date set for this year and all of it is at stake for the company. It is believed that Amazon expected to generate $1 trillion in cross border e-commerce revenues by 2020.
A Forbes analyst, Michael Zakkour, talked to sources that were linked with the US retailer. The sources disclosed that Amazon has been working on a plan for the last three years or so which was code named as Dragon Boat. The plan is to build a proper system which will allow the company to ensure its customers that companies, businesses, or individual sellers can sell from and to any parts of the world with minimal or no shipping charges. The target is to deliver the product to the customer in three days or less.
Know that this plan indicates that Amazon is planning to lift all the barriers and go for a massive expansion in the cross border e-commerce business. It wants to cater customers from any part of the world. This can be said as cross border commerce 'writ' large.
Forbes added that Alibaba Group is also working on a similar project and has the same goal to achieve in the coming years. Previously, both tech giants were considered as 'Frenemies' but with this move they both actually have turned into each other's enemies.
The Chinese tech giant and the US tech giant are currently in a cold war in order to become the first ever global e-commerce company. However Alibaba is the uncrowned king of the retail market in China but has little or no presence in the international markets. There are people present who are still unclear about what Amazon's actual goals are. The goal of the Seattle based firm is not to be the 'everything store' but it wants to be the 'everything company/world's biggest commercial enterprise'. And of course, Alibaba shares the same plans and goals but being strong only in its mainland would not help much.
Both companies may have different methods to walk past the finish line in this cold war but their end game seems same to all.
In the past year, the Chinese e-commerce behemoth has been investing heavily in global logistics and supply chain services. It is also focusing on expanding its online marketplaces which include AliExpress, Tao Bao Marketplace, Tmall, and Tmall Global in most parts of the world. Apart from the e-commerce domain, Alibaba also invested in cloud computing, its payment system Alipay, streaming services, and technology. Hence at least in China and a few other regions, Amazon will be working on to catch up Alibaba.
According to Mr. Michael Zakkour, here is why the new SCBA plan of Amazon will be a success, "Amazon, despite what they would have you believe, is not focused only on retail. They are a technology company first, a logistics company second, and a retailer last. They already dominate e-commerce sales and logistics domestically, and the SCBA network is designed to expand the model globally. Amazon had tried for ten years to compete directly with Alibaba in China, but to no avail. So this year, it connected with Chinese consumers who started buying from Amazon.com, rather than Amazon.cn."