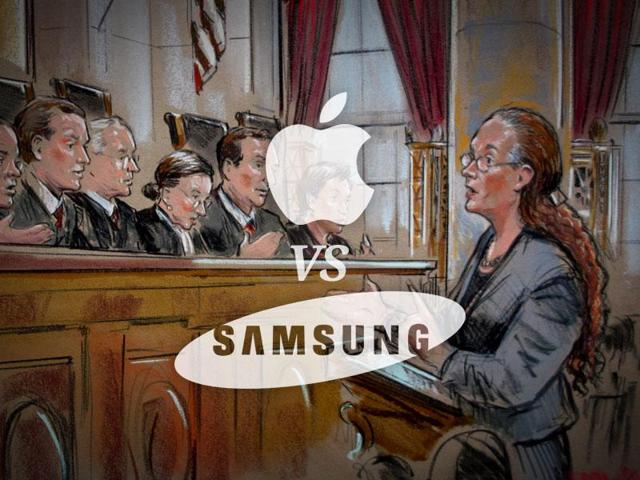 The third jury trial of Samsung and Apple patent dispute has been postponed and is pending the review of the Supreme Court.
Samsung and Apple are known for being tangled in lawsuit battles regarding patents with one another all the time. These two tech giant decided to put the past behind and keep the fight where it belongs, in the market, but it seems that did not last very long. The South Korean tech giant made an appeal to the Supreme Court regarding this design patent infringement lawsuit, which has been answered and is now pending the reviews of the United States Supreme Court.
The battle between the Galaxy maker and the iPhone maker is now going in the hands of the US Supreme Court. Its third trial dates back as far as April in 2011. The reassessment will be conducted on five Samsung's products that were accused by Apple of infringement. The design of the products was highly similar to that of iPhones.
The damages were going to be determined if the verdict was found guilty over the sales those specific accused products and the profit made from them. Samsung has already made the ordered payment to Apple as a settlement of the damages, which was $548 million, the total award to the iPhone maker of $930 million according to the US District Court of California. The reassessment of the rest of $382 million was to be evaluated in the third trial.
The District Judge, Lucy H. Koh, wrote in her order on Tuesday according to PCWorld, 'All three design patents at issue in the 2016 damages retrial are also at issue in the Federal Circuit opinion that will be reviewed by the US Supreme Court.' Samsung's appeal to the court has been answered and now the design patents will be looked at this year.
The case of the patent design between these two-tech giant has been going on for far too long and now it has caught the attention of the Supreme Court, which indicates that the matter might reach a conclusion this year finally. It cannot be justified that Samsung should give up all of its profits made from the product to Apple.
Mobile phones do not simply consist of one or two feature but hundreds of others too, just because one feature is a bit similar to that of iPhone should not justify that all of the profits made from the product should simply be handed over to Apple.
Apple argues that the South Korean company has attempted to copy the look, design and the feel of its well-known smartphone, which the company has the right to protect. The court will be reviewing the entire case in depth and will reach a conclusion soon enough. Hopefully it will beneficial for both these rivals.