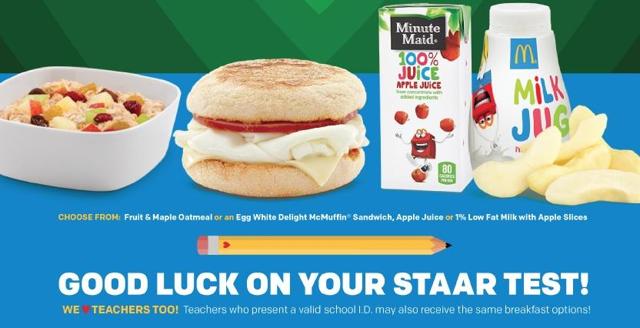 The America most popular fast food chain is coming forward to help students prepare for the important day by offering free of charge approved nutritious breakfast.
McDonald Corporation, located in Greater San Antonio area, is offering free of charge breakfast to the students currently enrolled in grades 3-8 on Tuesday. The teachers of the eligible students can also avail the offer. The Golden Arches has forwarded this scheme in an attempt to provide assistance to the students and teachers to prepare for the State of Texas Assessments of Academic Readiness Test (STAAR) scheduled on March 29.
McDonald's local owner, Jesse Guajardo expressed that as the local owners, the division can easily comprehend the stress STAAR testing put on the students and the teachers alike. Therefore, the fast-food chain decided to be a part in the students' learning process and is accordingly offering "a wholesome breakfast to assist with a good morning."
A survey carried out by Academy of Nutrition and Dietetics Foundation concluded that almost 50% of the children in U.S. have not been consuming breakfast diurnally. Additionally, a research also purports that those children who have proper breakfast are more likely to showcase excellence in reading, standardized test scores, and math. Therefore, the U.S. most popular fast food chain has taken the initiative to give away free breakfast on the day of the test to optimize the children's performance.
All the items proposed in the free give away breakfast scheme are at 300 calories the most which make the meal nutritious and filling. Moreover, the items are approved by a registered dietitian.
The $110 billion company has not made the coupons mandatory for the students to avail the free breakfast offer. The offer is valid for any child who has currently been studying in third to eighth grade and who eats at any of the McDonald restaurant participating in the scheme on Tuesday any time between 6 am and 9 am along with their guardian or parent. The eligible child will be entitled to get apple slices, an Egg White Delight McMuffin Sandwich of their choice or Fruit and Maple Oatmeal, along with their choice of Minute Maid Apple Juice Box or 1% low-fat milk.
The same menu will be extended to the teachers and they can choose their free of charge breakfast meal after proving themselves eligible for the offer by the show of valid teacher identification card. Moreover, apart from San Antonio, the Oak Brooks, Illinois based fast food chain free of charge breakfast offer for the students has been extended to the students in Dallas, Waco, Houston, and Austin areas.