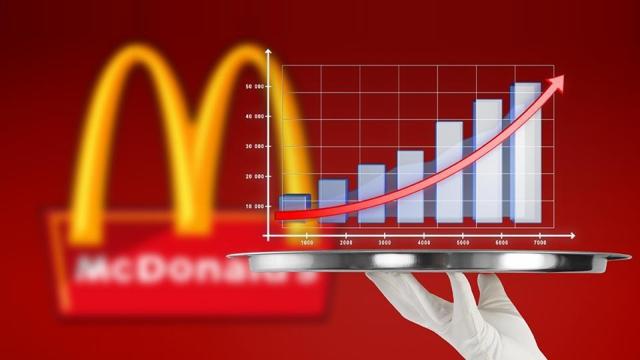 The fast food giant is soaring high all thanks to Steve Easterbrook turned around plan.
According to Barclays restaurant analyst, Jeffrey Bernstein, on Tuesday McDonald shares reached the all-time intraday high and the greatest trigger of such hit is its all-day breakfast menu. The stock soared as high as $131.96.
Mr. Bernstein added that although All-Day Breakfast Menu is pivotal in pulling the company out of the vortex of underperformance however it is not the only component substantial for the growth. Several new products including "garlic fries" in San Francisco and "bratwurst" in Milwaukee have successfully garnered customer attention. Also, the recent in progress transition to cage-free eggs and improvement of protein quality have also significantly aided the company to gain modest momentum.
The Oak Brook Illinois based organization's stock's progression has also been backed by the exceptional quarterly earnings. Last month, the fast food giant's disclosed impressive first quarter earnings of $1.23 per share and revenue of $5.9 billion. Earlier, according to the poll conducted by Thomson Reuters, the analysts had projected the EPS of $1.16 on revenue of $5.83 billion.
But will the company continue to grow? To this, Bernstein had expressed that it is highly likely that the fast food behemoth may not be "the best performer" for the investors. However the current environment might encourage the companies and there's likely to be earnings upside.
He further added, "The big pushback we hear from investors other than the fact the stocks had a big move is that once you get to the fourth quarter of this year you start to lap those very strong sales numbers and people are often spooked when you start to face those more difficult comparisons."
The restaurant analyst added that what's best for the fast food giant is not to rest on its achievements instantly. Although the most popular fast food chain is improving impressively however the arch rivals are too not lagging behind. He underlined the quick service restaurants like Burger King, Sonic, and Wendy's as the giants which have been performing quite well and can give the fast food behemoth a run for its money.
Bernstein pointed out that the Ohio-based chain, Wendy's has been revamping and transitioning towards higher-quality ingredients offering in its menu items that is more healthier which gives it an edge over McDonald. Wendy's quarterly earnings will be released today before the opening bells.
Steve Easterbrook is leaving no stone unturned in bringing the fast food giant back on the track of growth. His strategic approach can turned the once underperforming company into a profitable organization.
At the market which closed on Tuesday, McDonald's Corporation stock after reaching its all-time high stood at a price of $131.59.