One of the biggest losers in the US-listed Chinese Internet company is Mecox Lane(NASDAQ:MCOX). The stock price fell from IPO in 2010 at $55 (reverse-split adjusted) to only $2.00 as of today. The main reason for the fall is bad annual losses of the company in 2011-2012 and the fear of fraud in Chinese companies. But I believe MCOX is anything but a fraud. Recent JV with Giosis which is 49% owned by eBay and run by Gmarket's founder (Mr. Young Bae Ku) offers a turn-around opportunity. And at this price, MCOX is trading below its cash value in balance sheet.
This opportunity arises due to most institutional investors liquidating their positions in MCOX. The selling pressure keeps the share price low. However, I believe the bearer has been overreacting on Mecox Lane's case.
Company Background
Mecox Lane was founded in 1996. It was backed by VC firm, Warburg Pincus since its inception. Warburg Pincus sold its entire stake to Sequoia Capital in 2008 for $80 million. Mecox Lane went IPO on NASDAQ on October 2010. The IPO price was $55 per ADS (It was actually $11 but ADR ratio has changed from 1:7 share to 1:35 share ratio).
Mecox Lane operates M18.com which sold apparel and accessories. Its main target is women. But MCOX also has other sales channel including call center and physical store (both franchised store and direct-operated store). Gross Profit from Internet Sale is just 20% which is the lowest compared to other channels. The internet channel faces fierce competition in China. So the company decided to scale down its advertising expense which resulted to revenue decline in 2012. This is the reason why the company decided to pivot its platform and turn M18.com into the good hands of Giosis (Put into perspective later)
Mecox Lane has 2 owned proprietary brands which are Euromoda and Rampage (license from ICONIX-ICON). MCOX's physical stores focus on selling these two proprietary brands. But the Call center sales are mostly for beauty and healthcare products. This resulted to higher gross margin for both stores and call center channel than the internet platform. Mecox Lane also has its proprietary brand for Healthcare named "MaxiCare"and "La Celler" brand for cosmetics products.
MCOX has suffered annual losses since its IPO in December 2010. MCOX suffered a $33 million loss in 2011 and $22.4 million in 2012. The problem was the over-competition in Chinese ecommerce space. The CEO of Mcox indicated in several conference calls that MCOX scaled down its advertising spending because of high advertising fee which would result to declining revenue. The company also reduced the headcount but the expense did not go low quick enough .That resulted to both declining revenue and operating losses. But prior to 2011, the company had been profitable. This figure traced back to 2007 (from 20-F)

Reputable Shareholders
Mecox Lane has very reputable majority shareholders including SINA.com and Sequoia Fund. Most of the major shareholders held shares at higher cost-basis than today's price. For example, SINA bought 18% of MCOX from Sequoia at $30 per ADS (ADR-ratio adjusted). SINA puts $66 million in this investment which represents around 90% loss.
Most of Sequoia-backed Chinese IPOs (GAGA, CCSC and more) have suffered from low-valuation level since the IPO. But none of them have been a target of the short-seller. Sequoia is one of the biggest VC firm in USA. Consequently, they might rush their portfolio companies to go IPO which make these companies to build business in unsustainable ways such as too-high marketing expenses. But all of them are far from being frauds. Vipshop.com(NYSE:VIPS) is a flash-sale website in China which made a debut last year in NASDAQ, and has made almost 300% gain from its IPO price at $6.5. Revenue of VIPS is growing rapidly but it is still operating at a loss. That is an impressive return in the stagnant market of Chinese companies in US stock market. My point is internet business is one of easiest model to spot the fraud.No one blame VIPS or BIDU for a fraud. So investors value these companies at fair price without a fraud's discount. MCOX, as the operator of M18.com which is one of the leading ecommerce contender in China, deserves a better valuation from public market. But right now it is trading below cash per share, imply that investors value MCOX as same as other fraud Chinese companies.
Re-launching M18.com with partnership of Gmarket's founder and eBay
The recent JV announcement with Giosis to turn M18.com from an ecommerce website to an online market place platform also provided a vote-of-confidence and opportunity to turnaround this business. This will occur mainly if investors take some time to look at who Giosis is.
Giosis is the owner of Qoo10.com which is an online marketplace website around major Asian countries. It is run by Mr.Young Bae Ku who is the founder of Gmarket.com, a South Korea internet company which was a Nasdaq-listed company that was sold to EBAY for $1.2 billion in 2009. He later went to found Giosis to chase his ambition to make it big in Asia not just in South Korea. He moved his entire family to Shanghai to pursue an opportunity in the China internet space. That also showed the deep commitment he had in doing business in China. And 49% of Giosis also belongs to eBay (www.qoo10.com/gmkt.inc/Company/AboutComp...). The new M18.com was re-launched on 1st of January 2013. You can look at M18.com website now. It even has an eBay logo in the footer.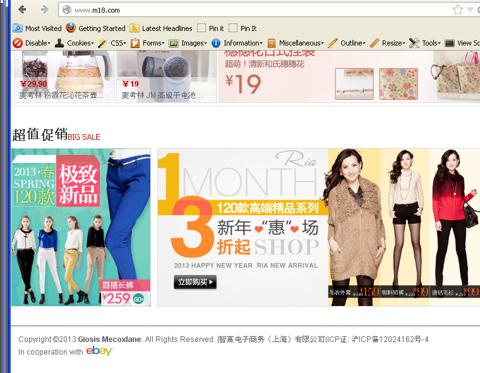 Giosis Mecoxlane has progressed rather quickly. They have already launched a new M18.com app in both iOS and Android. I tried the iPhone version for about a week. They have new features within a couple of days. And last time I checked, they also had a lucky draw coupon which cost 1 RMB for each ticket to win an iPad Mini. The app is very well-designed and very responsive.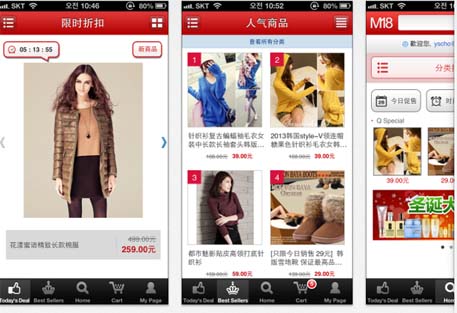 The reason behind this JV is because MCOX wants to exit the internet platform war and focus on making its own product lines. Also Giosis wants a strong brand such as M18.com to target female shoppers. M18.com will be the online marketplace for Women, not the board marketplace like Taobao or Qoo10.cn itself.
New Direction of Mecox Lane
The company has invested around $40 million in a new distribution center in Wujiang which can handle 100,000 parcels a day. The CEO admits that the capacity is excess of current company's demand. However, the management will plan to utilize the capacity as a 3rd party fulfillment service also. The new M18.com as an online marketplace can be a driver for this initiative.
Mecox Lane will sell its own product line into a variety of internet channel such as Tmall (Taobao) and Vipshop.com Qoo10.cn (Giosis) and also its new M18.com. This way the management believes that it can save advertising expenses. The revenue from internet platform is expected to decline in Q1 because the old M18.com also sell 3rd parties product at 20% of total sale in the internet channel. But stopping to sell 3rd parties' product will make gross margin from internet sales gets better. And the fee of usage of another marketplace to sell products will go to the selling expense line. The new JV (Giosis-Mecox lane) will be accounted for in equity method (MCOX invested $5 million and own 40% of the new JV). I expect the SG&A to decrease significantly because Mecox Lane can save on huge online advertising cost. The commission fee for using Tmall and new M18.com will go to the selling expenses line. This is a better way because commission fee for using other platform is variable to sale volume.
Strong Balance Sheet and $10 million share buyback plan
The company announced $10 million share buyback plan on May 2012. 3 Quarters has passed but it only bought back $572,000 in the buyback process. This is due to the limitation of the buyback by US SEC. Company cannot buyback more than 25% of 30-day average daily volume. Given MCOX has sparsely traded, so the company cannot buyback much of the shares. But the number of ADS of MCOX is around 4 million ADS (1:35 ADR share ratio) as of April 2012, according to page.84 in 2011 20-F. Given the current price ($2.00) the buyback can buyout all 4 million ADS outstanding.
At the end of December 2012, the company had $13 million in cash and $20.6 million in short-term investment which is the structured bank deposit equivalent to cash anyway. And $5 million to invest in new JV is already booked at prepaid expenses line. No bank debt in both short-term and long-term. Total equity is $89.9 million while the current market capitalization is $24 million. It is trading at just 0.27x PB. And $24 million is even cheaper than total cash in hand.
CEO also owns a significant stake
Mr.Alfred Gu, the CEO, also own 18,364,525 ordinary shares which is about 5% of company. Additionally, he own 39 million options hence owning approximately 12.9 % of the company. An option has exercise price of $0.16/share which is equal to $5.6 per ADS. Major shareholder such as SINA and China DongXiang (3818.hk) has cost basis at $30 per ADS. Sequoia was able to cash out some share to SINA and DongXiang but still hold around 30% stake in MCOX. Another management staffs have the option to purchase MCOX's ADS at $5.6. It is pretty good that public investors have the entry at such significant discounts to major firms and insiders. And this is from the assumption that MCOX is not a fraud and balance sheet is still remaining strong.
Going Forward
If the company succeeds in reducing expenses and scale back the low-margin business segment; the call center segment does most of sale from Health Care and Beauty products and this segment attains close to 60% gross margin. I believe Mecox Lane can become profitable again. Look at the income statement for the year ended 2007-2008 which were the pre-Sequoia days. The revenue came mostly from call center and the company had net income around $3-4 million.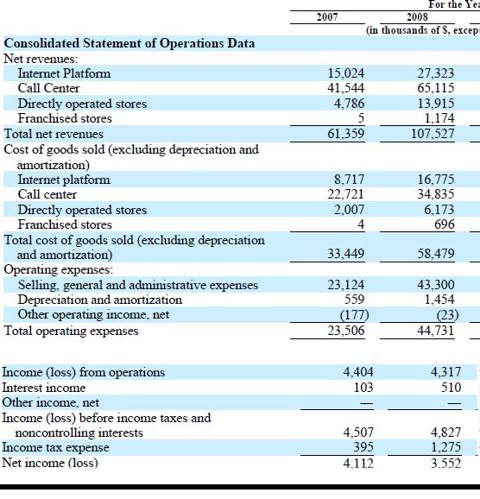 Investors have abandoned ship especially Chinese ships. However, at the current price which is less than total cash per share, MCOX does not have to do much to earn investors a nice return within a couple of years. Just like Monnish Pabrai said "Heads, I Win; Tails, I Don't Lose Much" But in this case, I might say "Heads, I Win Big; Tails, I Don't Lose At All"
Disclosure: I am long MCOX.