EPICEPT (OTC:EPCT)
Posted and updated Thursday morning 10/28/10 at Rx Investors: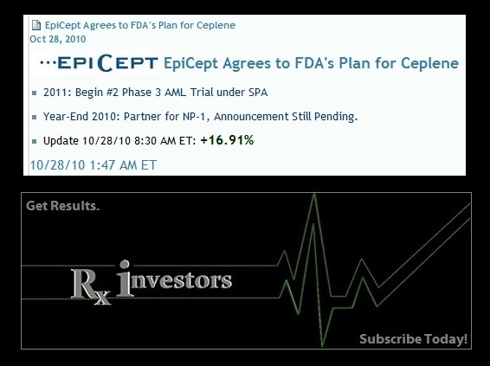 Static Daily Chart as of close on 10/28/10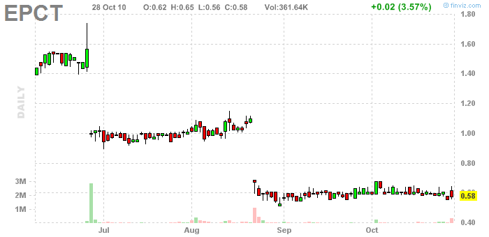 ANNOUNCEMENT PENDING: EPCT plans to announce a partnership for NP-1 on or before December 31, 2010.   NP-1, an Orphan Drug (OD), is indicated for cancer pain. 

I. Meda AB

Meda AB is known for partnering pain drugs.  More recently, Meda acquired the rights to BioDelivery Science's (NASDAQ:BDSI) pain drug, Onsolis.  Also worth noting, Meda is also trying to build a portfolio of cancer drugs, i.e. Ceplene for AML.  

While EPCT is now valued just under $30 M, it would be a smart, in my opinion, for Meda to acquire EPCT - somewhere <$100 M.  Such a move would provide Meda with the US rights to Ceplene.  Meda already retains all of the rights to Ceplene x-US.  The acquisition would eliminate future 10%+ royalties on net sales of Ceplene AND $35 M in milestones which Meda is obligated to pay EPCT under their current collaboration agreement.

By acquiring EPCT, Meda would receive worldwide rights to NP-1 AND also receive milestones and royalties from MYRX upon Azixa's approval.  In addition, the company would obtain Crolibulin, a vascular disruption agent (VDA), which is still in an early-stage study for solid tumors.

Now, whether Meda will actually end up acquiring EPCT cannot be determined with any certainty.  While it might make some sense, Meda could find after completing their own DD on EPCT that acquiring the company would just be too damn risky.   

At the end of the day, two scenarios are plausible for EPCT
(that is, until they aren't)
: 

#1 Meda could partner up with EPCT again on NP-1; OR 

#2 Meda could acquire EPCT <$100 M and take control of everything.

II. GlaxoSmithKline (NYSE:GSK)

Another potential partner for NP-1 is GlaxoSmithKline (GSK).  Right now, GSK is gearing up to do some deals in the very near future (2010-11).  NP-1 appears to meet GSK's criteria.  For more details on the deals GSK is looking to do, see this article.
Disclosure:
No positions.