Spectrum Pharmaceuticals (NASDAQ:SPPI)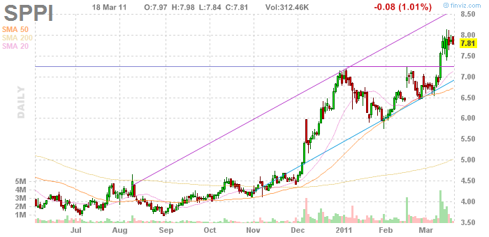 In response to Adam Feuerstein's Biotech Mailbag, let me start by saying that I do not believe the comments he made has anything to do with the -1% or so drop in shares of Spectrum Pharmaceuticals (
SPPI
) in Friday, March 18, 2011 trading.
(1) Feuerstein's analysis of SPPI in today's article was backward looking.
(2) As I recall, back in August 2009 and prior to Zevalin's first-line approval, he indicated shares would be fairly valued at $9 or $10.  Today, shares are trading just shy of $8 again.  This year, unlike 2009, the company just clocked in annual revenue of a whopping $73 million, as well as closed out FY 2010 in the black.  And all evidence suggests that both revenue and earnings should continue to grow, quarter over quarter and year over year.     
(3) Feuerstein didn't take the time to place any value on the pending Fusilev approval, which is expected on April 29. I was a bit surprised that he didn't bother to mention to SPPI's pipeline consisting of two late-stage cancer drugs, Belinostat and Eoquin.  He either missed a good opportunity or just didn't feel like shining a light on those things that really drive value.  My guess is Feuerstein, like many Americans, is probably consumed with the NCAA tournament.
(4) Most importantly, so I thought, he really didn't
dis
the stock as an investment.  If he could have made the case against SPPI's stock, I think he probably would have.  Not knocking on him, but that's just how he rolls.  
Looking backward, it seems as if Feuerstein's aim was to simply identify the known risks associated with and already priced into SPPI. And that's fair.   
Interestingly, his boss, Jim Cramer, seems to like SPPI's prospects right now.     
Cramer's last call on SPPI - back in the fall of '09 - was spot on. At that time, he gave the stock a "Don't Buy," and the rest, as most here know, is history. I think Cramer will prove to be right again.
  

When does the leucovorin shortage end?  Hard to tell.  April?  Doubtful. 
(1) I am not convinced that the contamination issues surrounding leucovorin are likely to be resolved quickly by Teva Pharmaceuticals (NYSE:
TEVA
) and other generic drug makers.  Since when do these sorts of issues just pass on by at the speed of light?  Here, I need more evidence before leaping to any conclusions. 
(2) From last week's conference call, Fusilev demand certainly doesn't appear to be slowing. Treating docs need a reliable alternative. Fusilev meets the need. 
(3) One question that has not been addressed:  What impact, if any, could suppliers have on the current leucovorin shortage?  Hmmm.
In 2011, Zevalin sales will continue to grow.
(1) During last week's conference call, Dr. Raj, SPPI's CEO, explained that the company has received a significant number of inquiries for Zevalin following the oral presentations at ASH 2010 held this past December.  I think the leads generated will likely translate into increased sales during Q1 2011.  Though Zevalin's rebirth may take more time than preferred, all of the evidence says sales of the drug will continue to grow steadily in 2011. 
(2) In 2010, Zevalin sales surpassed peak sales of $25 million previously achieved by Biogen Idec (NASDAQ:
BIIB
) and Roche (
OTCQX:RHHBY
), the drug's makers. This is an important point that I believe Feuerstein overlooked.
As opposed to looking backwards, let's look ahead to Q1 2011.


(1) As the leucovorin shortage continues into Q2 '11, first quarter Fusilev sales are likely to be smokin' hot - exceeding the $22 million generated in Q4 2010. With solid Q1 sales, total sales of Fusilev could hit and possibly surpass $40 million+ by year-end 2011.
(2) As indicated above, Zevalin sales are expected to continue growing in 2011. With a number of new, post ASH inquiries, sales of the drug are likely to reach double digits - $10 million - in Q1 2011.  With steady quarter over quarter sales growth, Zevalin will likely bring in $50 million+ for the year.  No complaints here.  
(3) Factor the amortization from collaborations with Allergan (NYSE:
AGN
) and other foreign drug makers for developing Eoquin, SPPI could bring in a cool $100 million in total revenue for FY 2011.  Not to mention, SPPI should also remain in the black throughout the year.
(4) Now, add in the $104 million in cash that the company has sitting in the bank.  
I'd say SPPI isn't done just yet.    
Bottom Line:
 Going forward, the positives surrounding SPPI certainly seem to outweigh the negatives.  For this reason, I think shares will likely continue to climb from here.  
$8 RESISTANCE
By now, it should be obvious that there's a wee-bit of resistance at the $8 mark.  For now, I think shares are likely to consolidate some more before the next advance.
Another factor likely weighing on the stock's price is options expiration.  And today, March 2011 options are set to expire.
APRIL 2011:
 On April 29, 2011, the FDA is expected to hand down a decision on Fusilev.
MAY 2011:
 In early to mid May, SPPI should announce the Q1 2011 results.  #1 Sales of both Fusilev and Zevalin should hit double-digits. #2 Total Revenue is likely to exceed the $33 million+ recently reported during Q4 2010.  #3 Quarter over quarter earnings growth should also be anticipated.    
Interested investors should take a moment to review
my other articles
on SPPI published here at Seeking Alpha.  Additional information on SPPI and other companies can be found at my member site,
Rx Investors
.     
Stay focused and good luck!
Disclosure:
I am long
SPPI
.