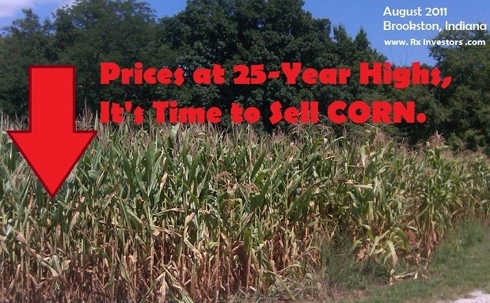 Teucrium Corn (NYSEARCA:CORN)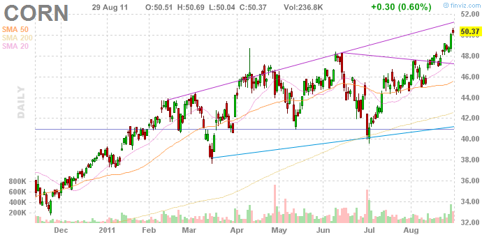 Over the past two years, most of you know me for my work covering a number of opportunities in the Biotech space. 
In the spring and summer of this year, I began working to uncover potential opportunities in optionable ETFs.  
Note: I use ETFs to get exposure to both long and short positions in various industries, sectors, commodities, and select currencies.  Since I am an investor and not a content provider, I neither cover nor explore the mechanics of specific ETFs.


Before submitting an article to the SA editors for review, I wanted to briefly provide you all with some context for my call to sell CORN.
In this article, I'll discuss the results of other ETF long and short recommendations that I've issued at
Rx Investors
 as well as Seeking Alpha in 2011. Just so you all know, I post the
RESULTS
 from all of my recommendations on my site.  There, results are updated as soon as a recommended position has been closed. 
Year-to-date, I have issued a total of 44 buy and short recommendations. Thus far, 28 of the 44 recommendations have been closed. Of those 28 closed positions, 82.1% (23) were closed with a profit. As of right now, 16 of 44 recommendations issued this year remain open.  All 16 are viewed as "CORE" positions.
Ok, here's a brief summary of my 2011 ETF recommendations:

#1 SHORT SILVER
(NYSEARCA:
SLV
) MAY 2011 $39 PUTS GAIN ≥ 233%
On
April 11 2011
, I recommended that members of my site play the May 2011 $39 iShares Silver Trust ETF (
SLV
) puts. On
May 5, 2011
, the SLV put position was closed with an impressive 233% gain.
#2 SHORT OIL
TWO (NYSEARCA:
DTO
) TRADES GAIN 10% & 19.8%
On
April 11, 2011
, I initially recommended buying PowerShares Crude Oil Double Short (
DTO
) for a quick trade. Two days later on
April 13, 2011
, the assigned target was hit and the position was closed with a 10% gain.
On 
May 1, 2011
, I recommended shorting oil again via DTO.  Exactly one week later on May 8, 2011, we exited the trade a 20% gain.  Those results were recorded here the next day, 
May 9, 2011
.  See also: my StockTalks dated
May 2
and
May 8, 2011
.
#3 SHORT BIOTECH

(NASDAQ:
IBB
) JUNE & SEPTEMBER 2011 PUTS GAIN ≥ 100% & ≥ 400%
(NASDAQ:
BIS
) SHARES GAIN 21.5% & 35%
On
May 10, 2011
, I first recommended the short Biotech plays as a seasonal play.
(1) iShares Nasdaq Biotech (
IBB
) September $100 puts at or below $2 with a target of $5.
(2) ProShares UltraShort Nasdaq Biotechnology (
BIS
) shares at or below $37 with a target range of $45 to $50.
Notably, I highlighted both plays, IBB and BIS, in the
June 6, 2011
article published here at Seeking Alpha. 
In late May 2011, I first identified publicly that Biotech stocks via IBB and BIS were likely to correct.
A few days later in early June 2011, I outlined a simple strategy for playing the Biotech correction.
After 3 short months on August 4, 2011, I posted a detailed summary of my Biotech correction coverage here on my blog.
Members of my site, who followed the recommendations, generated some nice gains, to say the least, on IBB and BIS. 
BIS: On August 4, 2011, shares of BIS hit the low end of the target range at $45. The next day, August 5, BIS hit the high end of the target range at $50.
IBB: On August 8, 2011, IBB September $100 puts hit a high of $14.40. That's a gain of $12.40 from my $2 May 10, 2011 buy recommendation.   Regarding the %Gain, I'll let you to do the math.

#4 SHORT CORN
(
CORN
) JULY $42-$45 PUTS GAIN ≥ 338% TO ≥ 141%
On June 22 and June 29, 2011, I recommended shorting Teucrium Corn (
CORN
) via July 2011 $42 to $45 puts on my site.
On July 1, 2011, the CORN put position was closed with gains ranging from 338% ($42 puts) and 141% ($45 puts). Both the CORN recommendation and the results were reported in my StockTalks here. See image below.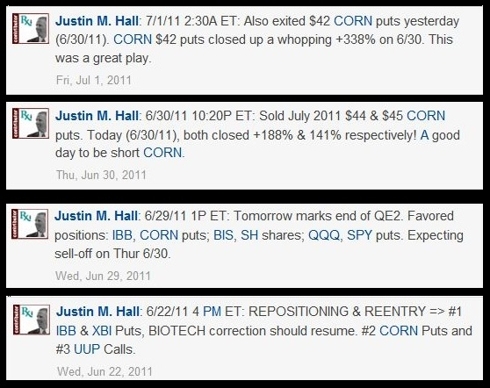 #5 LONG COFFEE
(NYSEARCA:
JO
) SHARES GAIN +17%
Just recently, I recommended buying shares of iPath Coffee (
JO
) for a quick trade on August 11, 2011. The trade was closed last Wednesday,
August 24, 2011
for a 17% gain. Not bad for 2 weeks work! 
The (
JO
) trade was also recorded in my StockTalks on
August 11, 2011
.
In the near future, I am planning to submit an article to the SA editors that accompanies the preliminary notes posted here. 
I hope you will stay tuned!