InvestAlert©

With 31.2 million shares traded in December, shares of Novelos Therapeutics (NVLT.OB) appear to be just a tad bit over-bought.
Monthly Chart: NVLT.OB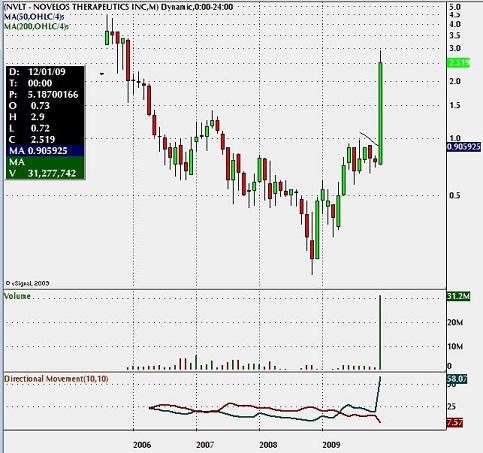 Since NVLT.OB is traded OTC, the company cannot offer options and thereby does not provide investors with a vehicle to hedge their long positions.
Statistically, Phase 3 trials are a coin flip.  Regarding cancer drugs, showing an improvement in overall survival has historically proven to be very difficult.
Despite the positive sentiment held by the CEO and an industry commentator or two, the odds of NOV-002's Phase 3 success and eventual regulatory approval are still relatively low.
Here, the problems with NVLT.OB are not necessarily the outstanding risks associated with NOV-002.  The problem, there's no way for investors to hedge against those risks, i.e. with put options. 
For all of these reasons, interested investors might consider a better alternative that poses less risk to their hard-earned money.
Disclosure: No position.