Stox2Watch©

After four very long months, shares of Spectrum Pharmaceuticals (NASDAQ:
SPPI
) are
finally
on the move up following a much needed upgrade from the folks at Morgan Joseph (MoJo), who actually spent some time visiting with the company.
As the company remains terribly undervalued, today's move will not likely be another one-day wonder.  This means, SPPI remains attractive at or above $5 and following today's advance.
I also view today's move as a precursor of more good things to come from SPPI.  In the coming days, SPPI will also provide an update on their supplemental new drug application (sNDA) for Fusilev. 
If Fusilev does obtain US regulatory approval even after the previous delay on October 8, 2009 (original PDUFA or FDA review date), it should not come as a surprise to investors.    As I have consistently held, I do not anticipate that the FDA will require the company to conduct an unnecessary and expensive non-inferiority trial to evaluate and compare Fusilev to generic leucovorin again especially since two other trials comparing the two drugs have already been completed - like a decade ago.
Unfortunately, Fusilev's future still remains unknown.
Stay tuned.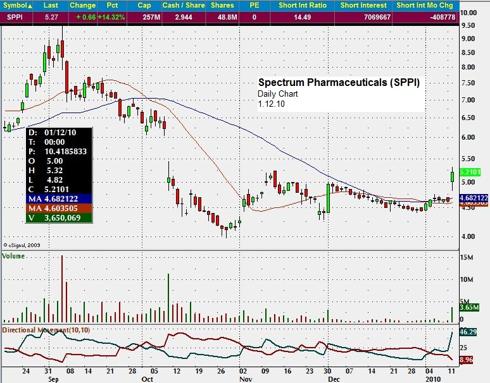 Chart and data source: eSignalDisclosure: Long SPPI.