HEADS UP  

Spectrum Pharmaceuticals (NASDAQ:SPPI)
SPPI will be reporting Q4 earnings in the coming weeks.  For more details on SPPi's revenue driver, Zevalin, please refer to this
November 22, 2009
article - following the Q3 2009 report.
Q4 Report
In their Q4 report, Zevalin sales should show improvement - about double the results achieved in Q3. 
Again, the key, this quarter like the last, is guidance.  I hope the company will oblige investors - again - this quarter and provide us with some sort of guidance on Zevalin sales.
SPPI is financially sound.  The company just recently acquired the rights to another promising late-stage cancer drug - Phase 3.
For these reasons and ten more, SPPI will NOT stay bound to its current, predictable trading range.
2.11.10: Others are now beginning to get it.  See 
Barron's.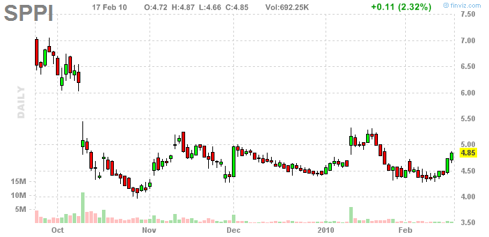 Disclosure: Long SPPI.