Why I Foresee Spectrum Pharma
Heading Higher in 2010 & Beyond 

Rx Investors

 

Track Record


 Click and download the PDF version
9.21.10

_________________________________________________________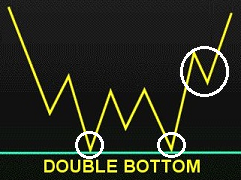 Spectrum Pharmaceuticals (NASDAQ:SPPI): 
My technical argument for SPPI is simple. Near term, the daily chart indicates SPPI has likely double-bottomed.  This means, shares will likely continue to advance through Q4 2010.
Since nothing runs in a straight line, I do anticipate a brief pullback sometime during October and possibly November.  Interestingly, the company is scheduled to provide their Q3 2010 report in early to mid November.  Should SPPI announce double-digit Zevalin sales or >$10 million for the quarter, investors might finally bid shares up to more appropriate levels.  While nothing is guaranteed, I do believe this scenario is possible. 

My confidence in SPPI, as it relates to stock performance, has been tempered this year.  That said, I remain confident that the company will continue to grow Zevalin sales over the next several quarters.  The drug works very well for most non-Hodgkin's lymphoma [NHL] patients.  From a patient's perspective, one Zevalin treatment beats the heck out of expensive cycles of Rituxan and chemotherapy administered over a period of years.  Just ask Betsy de Parry.

On that note, you might take a moment to review my most recent article on SPPI, which is now available at both Rx Investors and Seeking Alpha.

In the article, you will find brand new Zevalin data just published on August 12, 2010.  Click on other links in the article and you can download PDF versions of other Zevalin abstracts and articles from my site, Rx Investors.  I give you my word - it's safe to download anything and everything from my site.

Now, let's take a look at both the short and long-term double bottom patterns.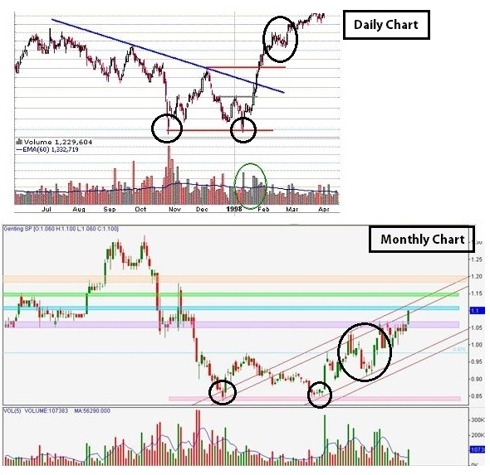 Pictured below are corresponding daily and monthly charts for SPPI as of the close on Monday, September 20, 2010.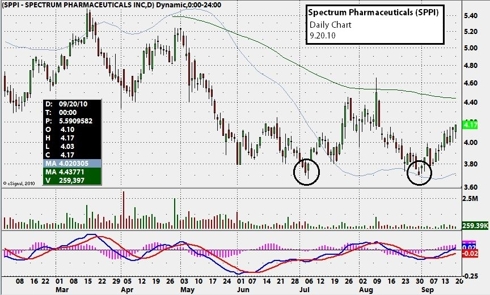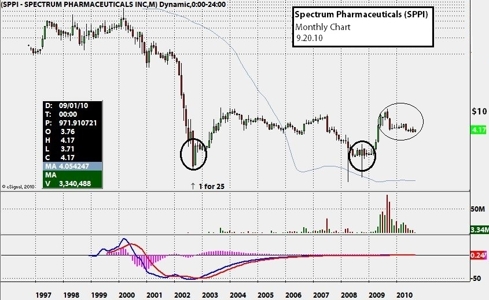 ===>  Recent Premium Articles from Rx Investors:

The annual subscription at Rx Investors is now $75
($6.25/month)
After reviewing my
track record
, you should find the annual fee very reasonable.
Disclosure:
Long SPPI.