Our model portfolio had a very healthy 3.7% gain in November and reached a new all time high. This is better than the 3.1% return for S&P 500 index. Our YTD return is 27%, beating the 7.2% return of S&P 500 index by almost 20% (Table 1).
We had two trades in the month. We exited the XIV position on October 31 before the presidential election and bought it back on November 10. This trade turned out to be approximately neutral for our portfolio performance. We avoided the pre election volatility but also missed the initial phase of the post election precipitous decline of VIX. After re-entry, our XIV position had returned ~10% through December 2. This round trip move yet again proved the validity of our trend following strategies. We did not predict (aka gamble). Instead, we reacted and stepped out the way when there was storm ahead and jumped right back in when the clouds were lifted.
There was no trade for our core dynamic allocation strategy because it is a longer term strategy and the moderate volatility around presidential election was not enough to trigger a sell signal. Nevertheless, the performance of this portfolio was affected by the outcome of the election. One of stunning phenomenons post Trump victory is the divergence of value and growth stocks. Value stocks outperformed growth stocks by almost 7% (for people in doubt, check out Amazon vs Bank of America), the widest margin in a decade (Figure 1). Our strategy, "unfortunately", holds ⅔ in RPG, a pure growth ETF and ⅓ in PRF, a pure value ETF and consequently was slightly affected by the divergence of value and growth stocks.
At the end of November, we are fully invested for both VIX and core dynamic allocation strategies.
Table 1. YTD monthly and cumulative returns of our model portfolio and S&P500 index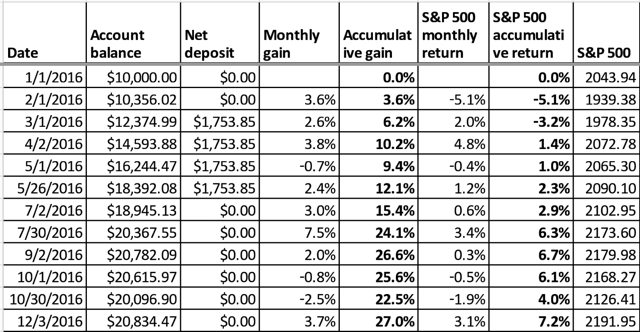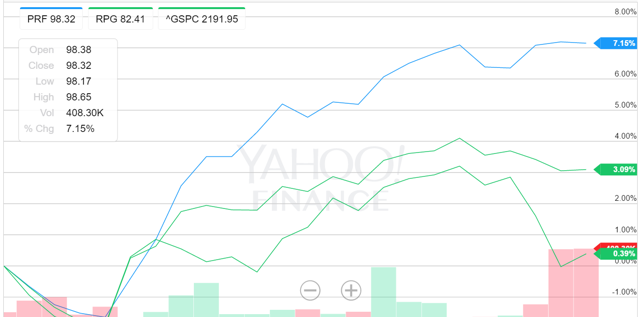 Figure 1. November returns of value ETF, PRF (PowerShares FTSE RAFI US 1000 ETF), value ETF, RPG (Guggenheim S&P 500 Pure Growth ETF) and S&P 500 index (source Yahoo Finance).
我们的投资组合在11月份获得了3.7%的增长。组合总值达到了新的历史新高。我们的月度回报比标准普尔500指数3.1%的回报要好。我们的年度回报率为27%,超过标准普尔500指数7.2%的回报率近20%(表1)。
我们在这个月有两个交易。我们在总统选举之前的10月31日卖出了XIV仓位,然后在11月10日又买回。这一交易对我们的投资组合业绩来说几乎是中性的。我们避免了选举前的波​​动性,但也错过了选举后VIX陡降的初始阶段。自从再次买回之后,我们的XIV仓位到12月2日已经涨了〜10%。这次交易再次证明了我们的趋势投资策略的有效性。我们没有预测(又名"赌博")美国大选结果。相反,我们根据趋势做出反应。当我们的模型显示有风暴时,我们出场避险;当风暴过去,雨过天晴,我们进场更进。
我们的核心动态分配策略本月没有交易,因为它是一个长期策略,总统选举导致的温和波动不足以触发卖出信号。然而,这一投资组合的表现还是受到了选举结果的影响。特朗普胜利后的一个意外的现象是价值和增长股票的分歧。价值股本月回报超过成长股近7%(对于有疑问的人,查阅亚马逊与美国银行),这是十年来最大的差异(图1)。我们的策略,"不幸"地持有三分之二的RPG,一个成长股ETF和三分之一的PRF,一个价值股ETF,因此受到价值和成长股票分歧的影响。
在11月底,我们的VIX和核心动态分配策略都在满仓状态。
Disclosure: I am/we are long XIV, RPG, PRF, SPXL.