Our model portfolio gained 3.5% in December and reached another record high. For the full year, our portfolio had a very comfortable 31.4% return, beating the 9.5% return of the S&P 500 index by 22%. As described previously, we use two investing strategies in our model portfolio: a long term dynamic allocation strategy that allocates assets across equity, bond and other assets base on trend and momentum; a mid to short term strategy trading VIX ETFs based on term structure of VIX futures. Both strategies performed very well for the year. The dynamic allocation returned 27% for the year and the VIX strategy returned more than 100%.
We did not have any trade for the month. We remain fully invested at the end of the month.
Table 1. YTD monthly and cumulative returns of our model portfolio and S&P500 index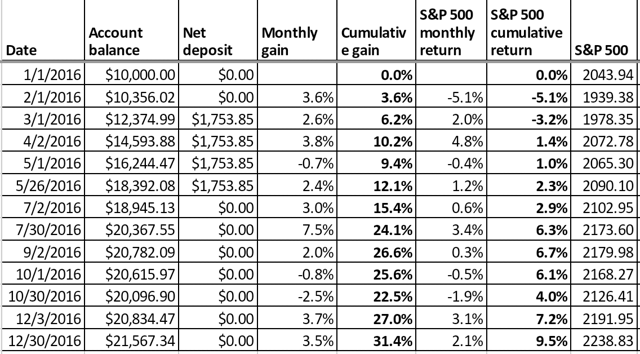 我们的投资组合在12月份增长了3.5%。组合的价值达到了创纪录的新高。2016全年,我们的投资组合获得了31.4%的回报。这个回报比标普500指数在2016年9.5%的回报高了22%。如前所述,我们在模型组合中使用两种投资策略:长期动态分配策略,根据趋势和动量分配资产于股票,债券和其他资产; 另一策略是基于VIX期货时间结构的中期至短期交易策略。这两个策略在2016年都取得了很好的回报。动态分配策略回报了27%。VIX策略的回报超过100%。
我们在这个月没有任何交易。我们在月底仍然处于满仓状态。
Disclosure: I am/we are long SPY, XIV, SPXL, RPG, PRF.