It has been four months since our last update of this blog. Summer trips and a very busy work schedule are some of the reasons for the delay. Now summer is over, we will restart our regular monthly update. The market has been in a slow upward trend from May to August with several brief but noticeable downward movements in between. S&P 500 index gained 3.9% from May 1 to September 1. Our dynamic allocation portfolio gained 4.9% in the period, slightly ahead of the S&P 500 index. YTD, our portfolio returned 16.8%, comfortably beating the 10.6% return of the S&P 500 index.
Table 1. Monthly and cumulative returns since inception (January 2016)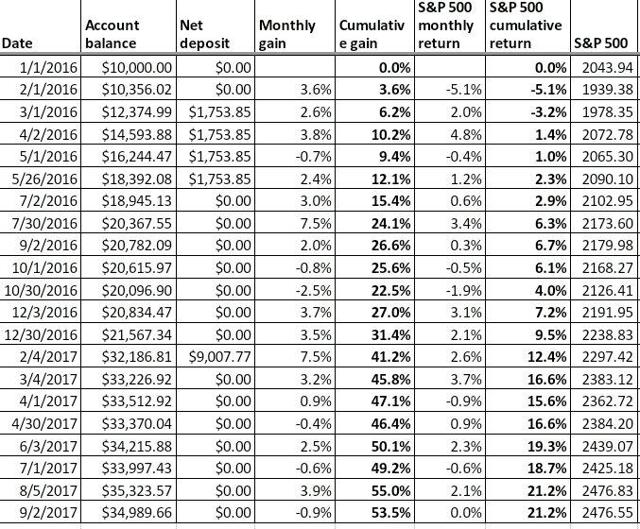 Figure 1. Dynamic allocation portfolio cumulative returns vs S&P 500 index since inception in January 2016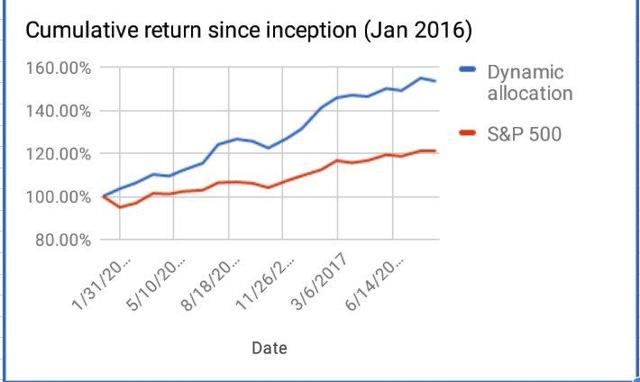 After strong gains from November 2016 to March this year, the market has been in a slow grinding up mode with fast but shallow "corrections". Apparently, market participants are getting nervous when the market became expensive after strong gains. A few political episodes, such as Trump's Russian problems, North Korea crisis have been used as excuses for running for cover and lock in the gains. We can see this pattern very clearly from the brief but sharp spikes of VIX index in the 6 month VIX chart below (Figure 2). These shallow drawdowns are not large enough to trigger sell signal for our long term trend following strategy. However, they did trigger sell signals for our short term VIX trading strategy. We sold our short VIX future position three times during the 4 month period. Each time we bought our position back at slightly higher price than our selling price. This is normal in this type of trend less environment but still very frustrating. The most profitable strategy in this market is apparently a mean reversion strategy, I.e. buy the shallow drawdowns and sell after recovery. We do have a short term mean reversion strategy in our other portfolio. It has been performing very well lately. In this portfolio, we will maintain course and focus on our trend following strategies. Fortunately,  we  kept the weight of the VIX trading strategy at less than 10% of portfolio due to historically high volatility of this strategy therefore limited our loss. Overall, we are still slightly ahead of the index from May to August due to the strong performance of our long term strategy.
Figure 2. Six month VIX chart


Going forward, we anticipate domestic and international political uncertainties will continue causing short term troubles for the market. However, the real and more important uncertainties are Trump's tax reform and Fed's monetary policy. The market is still factoring in significant decrease of corporate tax rate by Trump. This would provide strong boost to corporate profit if realized. The market is getting impatient and nervous as Trump kept focusing his attention on some almost silly issues and seemingly "wasting" his political capital. The Fed monetary policy seems to be less of a concern right now. The inflation is low and the market is anticipating at the most one interest rate increase by the Fed before year end. This Fed has rarely disappointed Wall Street. Nevertheless we will stay our course and keep being opportunistic. Enjoy the start of the Fall!
Disclosure: I am/we are long XIV, RPG, PRF, SPXL.