First, here's a summary of the biggest gainers and losers this past week in forex, in summary and detail format by currency.
Currency Strength Rankings Week of December13-17
CHF, USD, AUD, JPY EUR CAD, NZD, GBP
Details
USD
Up vs. all except down vs. the CHF
The USD is benefitting from both its safe haven status, stimulus from tax cuts, and relatively good data. For example, on Friday the Leading Indicators rose 1.1 percent due to a rise in the average workweek, a drop in jobless claims, as well as a pickup in consumer goods orders, pace of deliveries stock prices and interest rate spreads. In sum, the slow but steady recovery continues for the US, making the USD look that much better when compared to the troubled EU, at least for now.
EUR  
Down vs. all except up vs. CAD, NZD, GBP
Considering all the bad news out of the EU the EUR appears to be showing relative resilience as the ECB's bond buying is keeping a lid on potential panic for now.
JPY
Up vs. the EUR, CAD, NZD, GBP
Down vs. USD, CHF, AUD
Benefitting from its safe-haven status during a risk averse week, but pressured as US bond rates make the USD relatively more attractive than it has been, though the USDJPY pair seems to have strong resistance around 85.
GBP
The Pound was down vs. all.
Bearish fundamentals of its own include tepid data and continued elevated inflation data that suggests no the BoJ is stuck between
·

        
Inflationary data that means it needs to raise rates. Indeed, stronger retail data supports rising prices.
·

        
An austerity induced economic slowdown, indicated by a dour jobs report that needs continued loose monetary policy that risks further inflation. Anxiety over the EU and debt owed from Irish banks didn't help.
Other negatives include:
Technical resistance for the GBPUSD also suggests continued bearish bias.
The Moody's downgrade to Ireland caused the GBP to sell off hard given the UK's exposure to Ireland
UK banks have major exposure to Spain and Ireland. A Lloyd's Banking Group announcement Friday gave some disturbing details. See the summary table below to see how exposed the UK and other core regional economies really are to Ireland, Portugal, Greece, and most importantly, Spain.
CHF
Up vs. all. The CHF is the only safe haven currency that actually has strong economic fundamentals behind it that makes it the ideal safe haven in times of fear. Beware, however, that the EU is the Swiss's primary trading partner and this currency suffered when the Greek crisis hit full bloom.
CAD
Up vs. NZD, GBP
Down vs. USD, JPY, EUR, CHF, AUD
Suffering from risk aversion and slowdown on rate increases, though robust oil prices are a plus going forward.
NZD
Down vs. all except up vs. the GBP
Weighed by poor data that includes:
Retail sales drop 2.5% in October, the most in over 13 years
Upcoming Q3 GDP expected to show a 3rd quarterly GDP decline and confirm that the economy is contracting.
Consumer Confidence falls to 108.3, the lowest in five quarters
Business Confidence down to 29.5 from 33.2 in December
The dovish tone of recent central bank remarks
AUD
Up vs. EUR AUD GBP NZD CAD
Down vs. USD CHF
See below for why the AUD did well in an overall risk off week.
Why
Here's our take on why they ranked this way, in addition to what we noted above, and what were the big themes behind the moves.
There was a clear bias to the safety currencies, with the top 3 safety currencies finishing in the top 4 overall.
EU Sovereign Debt/Banking Crisis Dominates
Ongoing EU Crisis was the big concern last week. Related EU worries continue to pressure the risk currencies, especially the EUR., Failure to make any substantial progress at the EU summit this past week, along with rising PIIGS bond yields and a mix of credit downgrades and warnings of downgrades to Ireland, Belgium, and Spain fed these fears. As noted earlier this week, the warnings of downgrades for both Spain and Belgium bear special significance:
·

        
Spain's sovereign and banking debt load is simply too big for the EU/IMF to handle given their current funds committed to bailouts. Spain is widely regarded as the last stand of the EZ as we know it unless the bailout war chest is vastly expanded. Thus far the key funding nations have resisted that, but of course last spring when faced with the prospect of a EU and global collapse they have relented. The recognition that bailouts to Portugal and probably Spain has already dawned on the ECB Head Trichet. Not long ago he was opposed to bailouts, but now he's actively buying troubled debt from both troubled sovereign nations and their banks.
·

        
Belgium, though financially troubled for a while now, is widely viewed as a core EU member and thus any hint of fiscal trouble signals the EU crisis has spread to the core, a symbolically dangerous development.
Here's the best summary of which European economies are most exposed to PIIGS debt trouble.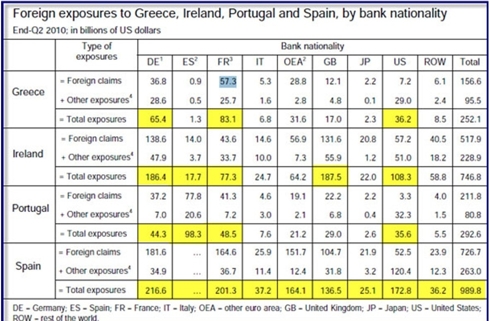 The key point: Spain is badly exposed to Ireland and Portugal, and the core economies of the EU, especially Germany, France, the UK, as well as others (never mind the US) are badly exposed to Spain.
Do you see now why Ireland and Portugal are big concern – they threaten Spain, which in turn threatens the whole EU banking system that holds their bonds.
Why CHF Strength If EU Worries?
While the CHF tends to suffer along with the EUR, the fact that the CHF is the only safe haven currency backed by a relatively healthy economy often makes it the safe-haven currency of choice, especially when the EU crisis is not at full boil. Remember too that the franc is a natural currency EUR hedge alternative to hard assets like gold.
Continued overall good data out of Australia, like the past week's job numbers, allowed the AUD to be among the strongest performers despite the overall risk aversion theme. Tied far more to China, which is still consuming Aussie mining products, the AUD can at times resist overall risk aversion, especially when that sentiment is primarily driven by EU rather than China concerns.
Why AUD Strength On A Risk Off Week?
Despite a clear risk off week the Aussie placed higher on:
A strong jobs report which seems to be the only thing justifying such better performance than its worse-ranking fellow commodity dollars
Continued growth prospects from China despite official tightening efforts
Ramifications
Failure of the EU summit to produce any concrete progress in the near term to calming markets, in addition to expected low volume trading, suggests more range bound trading and continuation of ongoing trends next week.
While next week's economic calendar has its share of market moving data, we expect quiet trade unless we get a huge surprise from some of the highlight data, or one of our wildcard situations like the EU or the ongoing tensions on the Korean Peninsula.
For details on the coming week's key economic calendar events and themes, and likely key market movers, visit
www.fxinsights.com
and look under the Weekly tab.
READ FXINSIGHTS BEFORE THE MARKET FX YOU - BADLY!
DISCLOSURE & DISCLAIMER: AUTHOR IS SHORT THE EUR, LONG THE CAD, AUD AND USD, LONG SELECTED EQUITIES HELD AS LONG TERM INCOME/GROWTH INVESTMENTS, SHORT THE OVERALL STOCK MARKET FOR HIS PERSONAL PORTFOLIO. THE ABOVE IS FOR INFORMATIONAL PURPOSES ONLY AND NOT TO BE CONSTRUED AS SPECIFIC TRADING ADVICE. RESPONSIBILITY FOR TRADE DECISIONS IS SOLELY WITH THE READER