NB: When analysis is missing here find it at http://worldmarketsguide.blogspot.com
SUMMARY
            --Stocks: Tuesday: Asia up, Europe, US down, Wednesday morning Asia closing lower, Europe opening higher
--FX: Tuesday lower US, Europe equities, bias to safety currencies [JPY, USD, CHF in order of safety appeal] in favor of risk currencies [AUD, NZD, CAD, EUR, GBP in order of risk appetite appeal], USD gains against most currencies though still near lows
--Main events today: GBP: MPC Meeting Minutes,  USD EIA Crude Oil Inventories, Fed Beige Book:, major earnings Wednesday: : MO (consumer), AMGN (biotech), AMR (airlines), EBAY (ecommerce), LLY(drugs), FIADF.pk (int'l autos), FNF (financial services), FCX (copper), GNZ (biotech), NVLS (chips), BA (aerospace), USB (financial)
--Big Theme: Consolidating risk appetite as latest US big name earnings and economic data prompt profit taking. Further gains in risk assets will depend on how mkt responds to earnings & if leaders can show increasing revenues and upbeat Q4 guidance, as markets are continue to shake off bad US employment and banking news. Thus far, many companies still failing to grow revenues, beating already conservative estimates on cost cutting.
STOCKS
US:  Down despite positive earnings surprises (AAPL 198.76, +8.90), (TXN 23.66, +0.14), (CAT 59.61, +1.76), (PFE 17.93, -0.05), and (UNH 25.96, +1.04). NB: TXN, CAT and PFE earnings and sales were DOWN from Q3 08, yet have much higher stock prices. Also PPI, core PPI, and housing starts were all below expectations, showing slight deflationary pressures, still weak house building.  
Asia: Down on Wednesday profit taking prompted by mixed earnings news and weak US home and producer price data.
Europe: Down Tuesday led by weaker financials on profit taking after mixed earnings news and weak US home and producer price data
ASIA- UP

N225I 0.98%

HS +0.83 %

SSEC +1.52%

FTSTI +0.13%

AORD +1.06 %

EUROPE - DOWN

FTSE -0.72%

DAX -0.70%

CAC -0.24 %

 

US- DOWN

S&P -0.62%

DJIA  -0.50%

NASDAQ -0.59%

 

 

TUESDAY MORNING

N225I -0.03%

HS -0.28 %

SSEC -0.45%

FTSTI -0.21%

AORD -0.14 %

FTSE +0.31 %

DAX  +0.26%

CAC  +0.13%

 

 

 
 
 
 
 
 
 
 
 
COMMODITIES: Overall down with stocks,  Dollar Index climbing 0.4% this session, the CRB Commodity Index retreated to a 0.5% loss
Oil: Oil futures prices in US trade Tuesday fell 0.7% to $79.09 per barrel. Oil prices falling for a second day Wednesday morning to below $79 as investors eyed a bigger-than-expected U.S. crude inventory increase and weak economic data. Many say pullbacks should be seen as buying opportunities as crude heads back to $100 a barrel, The persistent weakness in the U.S. dollar, global strength in equities, absence of overhead resistance, powerful momentum and mounting evidence of real economic recovery pointed to a bullish outlook for crude, though near term inventories remain high. Will $100/bbl Oil Kill the Recovery? (fx.360 synapsis). See full length version for details
Gold
: able to recover in US trade Wednesday to $1058.60 per ounce. Recovering further slightly in Wednesday morning trade.
CURRENCIES
: USD up slightly 0.4% as stocks pull back on mixed earnings and weak economic data.
USD: USD up slightly 0.4% Tuesday as stocks pull back on mixed earnings and weak economic data. EURUSD fell to a low of 1.4883 before recovering some ground, and spent the session in the range 1.4883-1.4994. Treasury Secretary Geithner warned that the recovery was still in its early stages He re-iterated his view that a strong USD is important to the US. The U.S. dollar down Wednesday morning after rebounding from 14-month lows against a basket of currencies in the previous session
EUR- EUR Official Talk Up USD  French presidential advisor Henri Guaino said that with EURUSD at 1.50, it is a 'disaster' for European industry and the economy. The Finnish finance minister said the Eurozone is very happy about US statements that a strong dollar is in the US' interests, but warned that a strong EUR is a worry for the EZ. We expect the ECB to maintain its current policy. Guaino also noted that the US was unfairly inflating away its public debt. German PPI and Eurozone were weaker than expected. See full version for more.
JPY - In Japan the BoJ's facility for purchasing Japanese corporate debt may be folded away soon. Given the relatively small size of the program, its retirement would be largely symbolic, but would nonetheless help to provide another tangible sign that the world economy is returning to some form of normality, boosting risk appetite. Yet even though the BoJ is clearly leaning towards ending these unconventional measures, officials from the newly elected DPJ have deep misgivings about this. See full version for more
GBP –   All eyes are now on the Bank of England's minutes of its last policy meeting, due for release later in the day. At the meeting held on Oct. 7-8, it held rates at a record low of 0.5 percent and kept its 175 billion pound ($287 billion) asset-buying programme in place, as expected. Sterling came under pressure on Tuesday after Bank of England Governor Mervyn King said that Britain is likely to return to positive growth in the second half of this year, but output will remain below its year-ago level for some
AUD/NZD : The Bank of Canada's move to keep rates steady at record lows led to some selling in other commodity-linked currencies, particularly the New Zealand dollar and to a lesser extent the Australian dollar. The kiwi, however, erased some of those losses after the central bank chief, Alan Bollard said a high currency was not necessarily an obstacle to raising the cash rate. Regarding the Aussie,  RBA minutes continued to reflect inclinations to raise rates soon.
CAD: Boc Says strong C$ could hurt economy, C$Falls 2% on BoC Dovishness: The statement emphasized the problems of a strong $C, and hinted that intervention to weaken the $C was still an option
CHF: The USDCHF has stayed in a tight range in recent days, up a bit Tueday, then on Wednesday morning back down to Tuesday's open around 1.0100
CONCLUSIONS: Stocks pull in a bit but within rising channel Stay w/ trend, but be ready for pullback  SEE DAILY FOR DETAILS ON TRADING OPPORTUNITIES IN GENERAL, IN CRUDE (still pulling back) GBP/USD breaking higher towards next resistance around 1.6700, USD/CAD continuing to bounce higher on dovish BoC comments yesterday
Trading Opportunities:  Near term favors higher yielding and commodity currencies, but that could change fast if equities pull back, no trend continues forever. Thus:    1. be prepared to play a pullback in risk assets and get ready to sell stock indexes, commodities, and risk currencies, buying USD, JPY. 2. Trade the near term horizontal trading ranges that should hold until major news causes a change in risk appetite. 3. Those continuing to take long positions in risk assets should consider tight sell stops, though gold and crude may be approaching new breakouts.   Crude oil breaches key $74 resistance, implying more upside unless stocks pull back on earnings disappointments. Always use sell stop orders.
Crude Oil
Near new highs at $80, up from $74 at the start of last week. OPEC officials have said before they are comfortable with up to $80/barrel, suggesting that playing the pullback is the higher probability play- beginning pullback Tuesday morning- watch it. ONCE IT BEGINS (NOT BEFORE).
FX Pair of the Day: GBP/USD
Made huge 10% + move, consolidating at upper BB, higher probability of some kind of pullback test (note on daily chart how the pair rarely stays long at the upper BB.  News today for both pairs, earnings is the big one, though, and the GBP isn't much of a risk appetite play. Now that the short squeeze that fueled the move up is done, is overbought per the BBs AND if stocks pull in could GBP could drop hard against USD.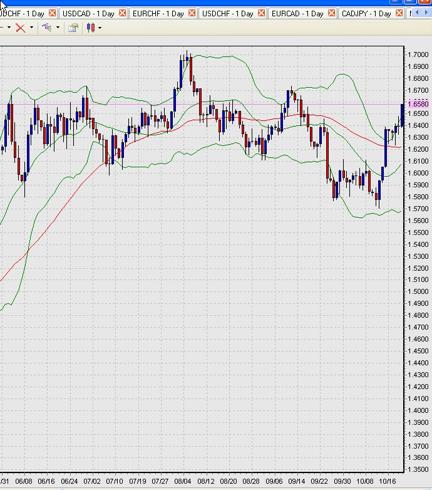 GBP/USD DAILY CHART OCT 21- NOTE: BREACHING TOP OF BB, FROM WHICH IT USUALLY RETREATS, AND AT UPPER END OF NEAR TERM TRADING RANGE
01 OCT 21
Also: USD/CAD: As predicted yesterday, a Boc dovish statement sparked a bounce up in the USDCAD. We are not convinced about this move up until it breaches our upper BB envelope around 1.0731.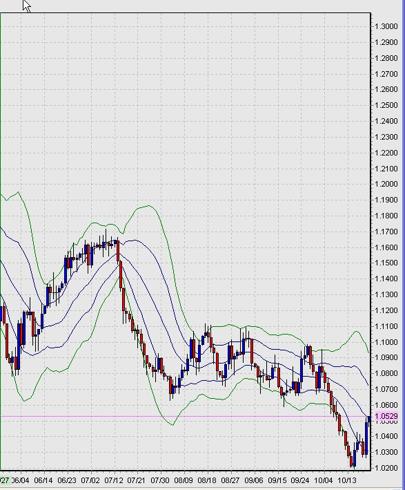 USDCAD DAILY CHART OCT 21
02 oct 21
OTHER HEADLINES
(Bloomberg)
King Steps Up Call to Tackle Banks After `Biggest Moral Hazard in History'
China's `Growth on Steroids' Risks Next Slowdown as Lending Binge Subsides
(Seekingalpha.com)
Jim Rogers on the Next 10 Years
The Greatest Depression Is Coming
 How to Play the Next Great Bull - Matt McCall
 Readers Pick the Top 20 5-Year Horizon Stocks
 Is Crude Oil Breaking Out?
DISCLOSURE AND DISCLAIMER: OPINIONS EXPRESSED ARE NOT NECESSARILY THOSE OF AVAFX, AUTHOR HAS POSITIONS IN ABOVE INSTRUMENTS.