Introduction
Cortex Business Solutions (TSXV: CBX) is an Albertan Enterprise Software-as-a-Service firm. The firm operates a trading partner network that allows firms to digitize their process of invoicing customers. Cortex has chosen to target the North American Oil & Gas industry as their vertical of choice.
The firm generates recurring revenue in two ways - the traditional monthly fees paid to access the platform in addition to a fee charged on a per invoice basis.
Cortex possesses a durable competitive advantage in the form of network effects and a great growth profile at a reasonable price. I am recommending Cortex Business Solutions as a Buy.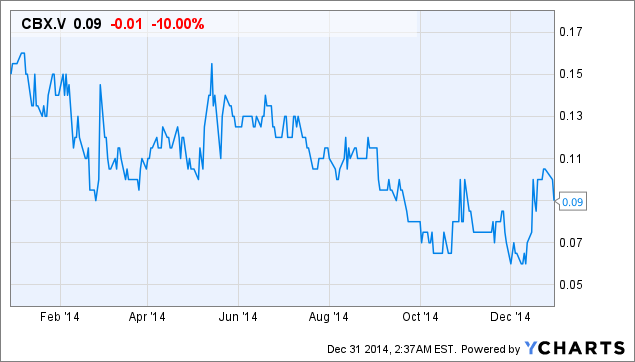 Investment Thesis
Strength of Network effects
The value of a trading partner network is based primarily on the number of transacting partners operating in a particular industry. A firm is much more likely to either join or remain a part of a given network if their key transacting partners are also utilizing the same platform. Due to the need for these transacting partners to be relevant, vertical specialization is critical to success.
The Cortex Trading Partner Network (CTPN) has a distinct competitive advantage over other competitors as it has already built the most relevant network available to those transacting in the Oil & Gas market. The other competing trading partner networks do not have the necessary scale in the vertical in order to drive customers away from Cortex - this has led to a 96% customer retention rate.
As the competitive advantage that Cortex possesses is limited to the North American energy market, this report will focus on that sector exclusively.
Viral Subscriber growth & Acquisition costs
The Cortex business model allows the number of firms transacting over the network to grow rapidly. The process of integrating an organization and their suppliers onto the network creates a relationship with hundreds of potential customers following a single sale. This effect generates viral growth as buying organizations add their suppliers onto the network, who then can become buyers themselves. This kind of growth keeps Cortex's customer acquisition costs low - increasing the NPV of adding a customer onto its network, in conjunction with growing the size of the network quickly.
Company Overview
Cortex Business Solutions is an enterprise Software-as-a-Service firm based in Alberta. Cortex's software platform, the Cortex Trading Partners Network (CTPN) allows firms to digitize their B2B transactions. By integrating the CTPN together with existing Enterprise-Resource-Planning (ERP) systems, firms are able to reduce the significant costs associated with manually processing invoices and other documents.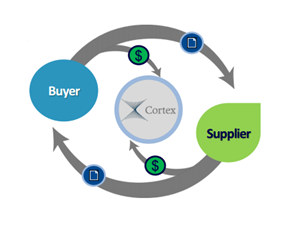 The firm offers two main solutions - the Procure-to-Pay (P2P) system, which involves using the software platform to efficiently deal with a firm's suppliers. This digitizes the entire process of ordering a product - from the purchase order (PO) to paying the invoice. The second element to their software solution is the Order-to-Cash (O2C) solution, which offers businesses the ability to completely digitize the process of handling a customer order.
The firm primarily concentrates its efforts on selling to customers within the Oil & Gas industry in Canada and the U.S. Cortex operates three sales offices: Toronto, Denver and Houston in addition to their head office in Calgary. Cortex's software is active in eight provinces as well as in 30 states.
Cortex's Value Proposition
The basis of my investment thesis depends on the value that the Cortex solution brings to its customers.
Cost Efficiency
The main benefit that the CTPN platform offers users stems from an overall increase in efficiency. The majority of the suppliers that Cortex integrates are using a manual system of invoice processing - usually paper/mail based (See Figure 1). This traditional method costs on average $14.21 and takes 12.4 days to process an invoice - these costs drop to $2.42/3.3 days (source: Ardent Partners Research Report: ePayables 2014) after switching to a digital solution. This increase in efficiency leads to significant benefits to both customers and vendors with respect to their working capital and cash management.
Cortex has reported in a customer case study that one of their users was able to cut their accounts payable department headcount from 80 to 23 as a result of implementing the Cortex solution.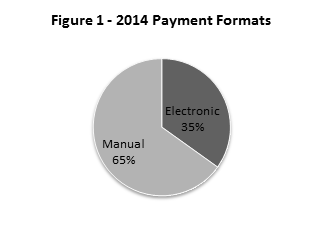 Increase in Visibility
Cortex's software allows firms to more effectively track and view invoices. The Cortex platform allows businesses to monitor the status of their invoices in real time - allowing them to observe the entire invoice payment process. Another benefit is the ability to easily view, track and analyze additional features of the transaction the firm is going through, such as early pay discounts. Although the benefits to this increase in visibility are harder to quantify, they certainly do provide real value to businesses.
Versatility of the Network
A significant benefit to the Cortex solution is its ability to integrate into any ERP system (SAP, Oracle & vertical specific offerings). This allows users to transact with each other regardless of the enterprise IT environment they are connecting with. As well, for suppliers unwilling to fully integrate the CTPN solution into their ERP system, Cortex offers a very simple to use scaled down web based solution that allows suppliers to begin sending invoices over the network in the same day (compared to a 2-3 week implementation for the integrated solution).
Cortex's Business Model
CBX's revenue model is split into 4 segments - Access & Usage, Integration fees, Set-up fees and Project management. Of these segments, only the Access & Usage stream can be classified as recurring revenue. This report will focus primarily on these recurring streams due to their and sustainability.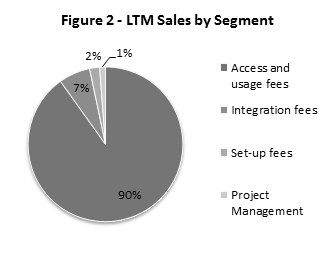 Access & Usage
This segment lumps together both of the recurring revenue streams that Cortex generates. The first is the more traditional monthly fee that suppliers pay to access the Cortex Trading Partner Network. The second is the more lucrative transaction based fee that is generated whenever a supplier initiates a transaction on the network and creates a "Billable Transaction".
The key driver for this segment is the number of active hubs on the network during the period. The number of buying organizations carrying out transactions on the network leads directly to the number of active suppliers on the network, which determines the number of billable transactions on the network.
Typical contracts for suppliers are usually 12 months. Although this does mean that Cortex is subjected to customer retention risk, it also indicates that Cortex will be able to step up the price of monthly access fees for some suppliers each year, which helps to drive growth in recurring revenue per supplier.
Integration Fees
This revenue line is based on the fees that Cortex charges in order to integrate the CTPN into the customer's existing ERP system. This is recognized over time on a percentage completed basis. This is a one-time revenue line item.
These revenues are primarily driven off of the growth in buying organizations being added to the network in a given period.
Set-up Fees
These fees are generated based on the initial set up of the customer and enabling them to access the network. Revenue is deferred and recognized over a one year period. This is a one-time revenue line item.
This segment is similarly based on the growth of the number of hubs on the network.
Project Management
This is a highly inconsistent stream of revenue for Cortex. It is primarily based on one-off projects for their customers - usually related to the initial integration of the Cortex solution. My analysis assumes that this revenue stream is non-existent going forward.
Management has provided the following extremely imprecise guidance on typical fees associated with the Cortex platform.

Future Potential Revenue Streams
Recently, Cortex has been adding additional functionality onto the Cortex network - such as an invoice factoring service by partnering with TCI Oilfield Factoring. This provides a further avenue to monetize the CTPN platform as well as drive customer retention with minimal investment. This report does not take any of these additional features into account when determining the value of Cortex due to their uncertainty, never the less, they do offer the potential for future value creation.
Growth Patterns
Due to the viral growth pattern and network effects in place, Cortex has the ability to grow its user base rapidly. The key value driver for Cortex will be its growth in billable transactions. This is driven by two fundamental factors - activity in the key verticals (oil production) and growth of active suppliers, which is driven in turn by growth in active buyers.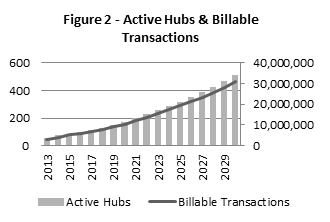 When a buying firm (hub) is integrated into the Cortex platform, they bring with them their key suppliers who go through a similar integration process to be added to the network. This provides a great opportunity for CBX to establish a relationship with these vendors; giving them a gateway to potentially upsell these firms to become a buying organisation themselves. This gives Cortex an advantage in growing their user base quickly within a particular industry, as well as keeping customer acquisition costs low.
Cortex has managed to add a significant number of large energy firms to the Cortex Trading Partner Network. These key customers have not only brought with them thousands of suppliers, they also serve as an indication to future customers of the strength of the Cortex solution.
Finning Inc., the largest Caterpillar dealer in North America, was recently integrated into the Cortex network. CBX estimates that over 4,000 of Finning's customers will start receiving invoices through the Cortex platform. These customers serve a wide range of industries besides Oil & Gas, such as construction and mining, giving Cortex a great opportunity to expand into auxiliary verticals.
This ability to rapidly grow the size of the network is a major driver of my sales forecast - as the main driver for this business is its ability to gain scale in the form of large buying organizations that are relevant to the supplier base, which generates growth in billable transactions.
Management
Cortex is led by a capable management team with extensive experience in the Oil & Gas industry.
The President/CEO, Art Smith, has over 20 years in the industry. Before joining Cortex, Smith spent over 13 years with TransCanada Corporation, serving most recently as the CIO & Vice president. Smith remains on excellent terms with TransCanada and continues to serve as a technical advisor to the Board. I believe Smith's background perfectly positions him to run an energy focused enterprise technology firm. Art Smith has been on CBX's board since 2007 and has been CEO since 2012. Smith owns an immaterial amount of the firm at 0.54%, however, I believe his choice to leave his post as CIO of a large energy firm to help create Cortex demonstrates a significant commitment to the firm.
In Cortex's latest equity raise (February 28, 2014) there was significant insider interest - with over 34.6m shares bought by management/the board at a price of $0.10, significantly above Cortex's current share price ($0.075).
The largest shareholder of Cortex is Scott Lamacraft, who acquired a 15% stake in the firm through the February equity raise. Lamacraft was then added to the board of directors. Lamacraft has worked with CBX extensively since its inception and understands the business at a deep level.
Lamacraft has a history of successfully advising Canadian small cap firms, particularly in the Oil & Gas space. Scott also sat on the board of Blue Gold Mining Inc. and helped lead it to its eventual sale to TrueGold Mining Inc. in 2013.
Lamacraft is best known for his role as the founder and CEO of Cormark Securities, a position that he has held since 2001. Cormark just happens to be the investment bank that CBX has used historically.
Despite the obvious conflict of interest present, I view this event as a positive for the firm. Lamacraft has extensive connections within the small cap Canadian energy sector which will likely prove useful to Cortex. I also believe that Lamacraft would only wish to be associated with a company that he was confident would be successful. This leads me to believe that Lamacraft has joined the Cortex team for reasons other than to generate advisory fees for Cormark.
Industry
The e-invoice market is primarily made up of firms that seek to serve specific industry verticals. This makes sense given the nature of the network effects that define a trading partner network. The overall size of the network does not necessarily add value - network effects only become relevant when the partners transacting over a given network are relevant. As a result of Cortex's current position as the dominant leader in the oil & gas e-invoicing market, the threat of outside competition in this space is minimal going forward.
Overall, the largest player in the industry is an American firm called Ariba. Ariba was acquired in 2012 by SAP for $4.3 billion at 8.62x Sales. Ariba offers by far the largest trading partner network with almost a million suppliers in total. Ariba has focused its attention across three main verticals: Pharmaceuticals, Financial services and manufacturing.
As mentioned in the thesis, network effects are the key driver behind the entire industry. Trading partner networks are really only as valuable as the number of relevant companies transacting on it. As a result, significant barriers to entry exist for a new competitor wishing to gain a presence in a specific vertical. Although building a rival software platform would be relatively easy for any new competitor wishing to enter the industry, I believe it would be extremely difficult to build up enough transacting firms to be able to steal meaningful market share from one of the more established industry focused networks. A number of these industry focused firms are listed below:

Oil & Gas Market
Cortex has made the decision to keep its main industry vertical to the Oil & Gas market, where they are currently the undisputed leader in North America. Management has reiterated their belief in growing the CTPN by focusing sales efforts on the energy sector, with any growth in auxiliary industries (Construction, Mining, Forestry, Utilities) a bonus. I believe that due to the network effects in place, Cortex will not have a difficult time achieving significant penetration in this vertical. Management has laid out their view of the TAM for the energy industry as follows: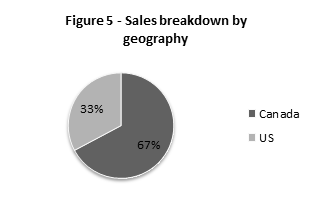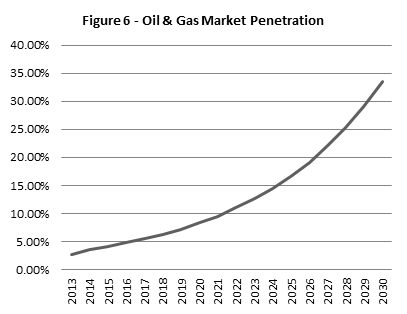 Basware Inc. & The Cortex Network
One of the closest comparables to CBX is the Finnish firm Basware. Basware operates a very similar trading network, however, they have concentrated their efforts on serving the automotive industry. Their network sports over 5,000 key auto parts firms that generate over 60m transactions a year. They are by far the most dominant network in this vertical.
I believe that Cortex will demonstrate similar growth patterns to Basware during their high growth phase of building the strength of their network within the automotive space. The majority of the key OEMs in the space had been integrated into the Basware network by early 2009, at which point Basware had a 22.28% 5 year sales CAGR.
| | |
| --- | --- |
| Vertical | Automotive |
| Market Cap | $821M |
| Last 5 yr sales CAGR | 7.46% |
| Network size | 5,000 Suppliers |
| Transactions | 60M/year |
In 2010, Basware entered into a partnership deal with Cortex to serve Apache Energy. Recognizing the strength of the Cortex network in this particular vertical, Basware partnered with Cortex in order to give Apache access to the much more relevant Cortex network, while still selling some of their auxiliary software solutions to Apache.
I believe this partnership agreement is a concrete example of the strength of the network effects that Cortex has achieved within its platform - a much larger competitor (Basware) has seen it more prudent to partner with Cortex on a key account rather than try to compete directly with Cortex.
In my opinion, this is a key factor when considering the risk of a very large enterprise IT firm (IBM, SAP, and Oracle) coming into this space and using their overwhelming size to develop a competing solution. Just about any IT firm could create a similar product, however, the value to customers is derived from the relevant firms on the network they can interact with. This should insulate Cortex from a significant amount of competitive forces.
Base Case Forecasts
Sales Forecast
Access & Usage

As previously mentioned, the recurring revenue portion of the business is primarily driven off of growth in active buyers on the network, as well as by the recurring revenue generated per billable transaction.
Buying Organizations
The number of active buyers was forecasted to grow at a CAGR of 9.03% over the discreet period. This compares to a historical growth rate of 43% for Cortex and a historical growth rate of 12.68% for Basware.
Cortex currently has 75 active buyers at the end of fiscal 2014, and has been forecasted to reach 326 by 2030. In terms of penetration into their target market, this brings Cortex's share to 15.75% up from the current 3.62%.
Suppliers per Buyers
Each buying organization added to the network tends to bring with them a large number of their supplier base. This number was estimated by looking at the historical ratio between active buyers and suppliers and held constant at 110 over the forecast period.
Billables per Supplier
The number of Billables per Supplier was determined by examining the average historic ratio between number of billable transactions over the network and the number of active suppliers. This ratio is kept constant throughout the model at 553.
Recurring Revenue per Billable
Recurring revenue per billable transaction was calculated by dividing the historic recurring revenue for a given period by the number of billable transactions for that period.
An average of these historic estimates was taken to arrive at an estimate of $2.18, which was then forecasted to grow at 3% going forward.
Recurring Revenue Calculation
Recurring revenue was calculated by multiplying the number of billable transactions by the recurring revenue per billable figure. This results in a compound growth rate in the discrete period of 12.4%, which compares to a historical CAGR of over 40%.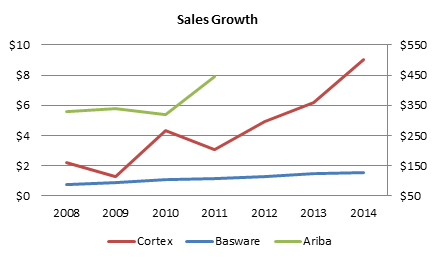 Integration and Set Up Fees
Both of these two revenue streams are driven primarily off of the number of new buying organizations being integrated onto the network.
As a result, these segments were forecasted to grow at the same rate as the number of buyers added to the network. Although this does seem like a relatively simplistic forecast method, the primary value of Cortex will come through the recurring revenue streams.

Salaries Spending
As this is the most significant operating expense going forward, I decided to base the salaries expense line item on a growth rate, rather than as a percentage of sales, to better reflect the underlying SaaS business. I chose to use Ariba's employee growth rate over their public existence as a proxy for the rate of growth Cortex will experience in their salaries expense. I believe Ariba is a relevant choice as a comparable as they are both a pure play cloud based trading partner network operator.

As a result, I have chosen to grow the salaries expense for Cortex at a rate of 3.5% over the discrete period of the model.
Margins
Due to the nature of Cortex's businesses, I believe the only relevant margin to consider is CBX's EBITDA margin. In addition, I believe that for a long time going forward observing CBX's EBITDA margin will not be indicative of the firm's operational value, as Cortex's growth opportunity pipeline gives them a valid reason to decide to forego "showing earnings" in order to pursue further value accretive growth.
EBITDA margins have been forecasted to grow from their current -66% to just over 24% at the end of the discrete period. This is a reflection of the operating leverage inherent in a SaaS business. Through Cortex's cloud based platform, they will be able to add additional firms onto the network at a very low cost, in addition to being able to scale their solution more cost effectively.
Capital Spending
CBX's capital spending is primarily related to the development of the Cortex Platform. Most recently the development costs have been a result of the transition from a hosted to a cloud based solution. This has been ongoing throughout the majority of 2013 and is expected to be completed by 2015.
Although Management has yet to give any solid outlook on future software development costs, they have noted that the next two years will continue to be substantial and in line with previous capital spending. However, spending is expected to drop off materially after the platform has been developed.
Capital spending has been forecasted to remain at average historic levels throughout the forecast period.
DCF Valuation
The base case is a reflection of what I view as the most likely scenario that will play out - Cortex continues to build the size of the trading partner network and the network maintains its position as the leader in the Oil & Gas vertical.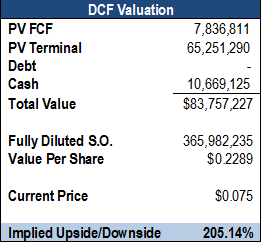 Valuing Cortex on a DCF basis yields an intrinsic value of $0.23/share, representing over 200% upside from current levels.
The calculations for Cortex's cost of capital are found below:
Equity Risk Premium
The standard ERP of 7% was used.
Cost of Equity
The cost of equity given by the capital asset pricing model of 7.29% has been deemed to be unrealistic for anything past the discrete period. As a result, I have increased the WACC used to discount the terminal period to 8.29% to reflect higher risk free rates going forward.
Risk Free Rate
The Government of Canada 10 year yield was used as the risk free rate.
Cost of Debt
CBX has currently not issued any debt and management has indicated no intention of doing so any time in the near future.
Tax Rate
A tax rate of 25% was assumed for Cortex.

Future Equity Raises
I believe it is extremely likely that Cortex will need to tap the equity capital markets again sometime in the relatively near future. An incremental equity raise will likely be a 0 NPV event for the firm and, as a result, has not been added to the model.
I believe Cortex will not find issue with raising another round of equity. On the latest conference call, management reiterated their belief that they had enough cash on hand to last them until they were past break-even. I believe hitting break-even will be a transformative step in the way investors think about Cortex and should likely invest further into Cortex when they decide to raise funds.
Comps Valuation
The majority of the closest comparables to Cortex are privately held, or subsidiaries of much larger firms. As a result, I have expanded the comparables set to include both the corporate parents of these subsidiaries and a number of small Canadian SaaS firms.

Based on the above comparables, it seems that Cortex is undervalued based on a Price-to-Sales metric. However, I do not believe this accurately reflects the real valuation of the industry as the majority of Cortex's truest competitors are privately held or operate as subsidiaries of large Technology firms (SAP & Open Text), which comparable analysis doesn't adequately account for.
Potential Takeover Candidate
I believe Cortex represents a likely takeover target. Although the technology platform itself is not worth much inherently, the value of the network of active users on the net is substantial.
In my opinion, Cortex would make a great bolt on acquisition for one of the larger established networks looking to gain a foothold in the North American Energy market.
In my view, Ariba (the SAP operated network) would be the most likely acquirer. SAP has recently made an aggressive push to get their ERP software into the energy industry; I believe expanding Ariba's network into that vertical would help SAP gain a stronger foothold in the sector and allow them to cross sell.
If Cortex was to get bought out at the same multiple as Ariba (8.62x sales) it would be valued at $0.19/share - a 123.53% return at current prices.
Conclusion
In my opinion, Cortex has been mispriced by the market for a number of reasons.
Size - Cortex's market capitalization of $27.1M is small enough to be overlooked my most investors
Earnings - Cortex's lack of positive earnings historically causes it to be over looked
Industry - I believe there is a stigma associated with investing in early stage SaaS firms, causing them to be mispriced
I believe that as a result of Cortex's considerable competitive advantage, in addition to its compelling valuation, Cortex is an attractive investment opportunity at current price levels.
Disclosure: The author has no positions in any stocks mentioned, and no plans to initiate any positions within the next 72 hours.