On May 5th, 2014 the EUR/USD put in a short term top at 1.39934. This high pivot on the EUR/USD chart came as the European Central Bank (ECB) announced that they would keep their key interest rate unchanged. At that time, many traders and investors were expecting the ECB boss Mario Draghi to begin to lower interest rates. Well, we all know that he did not lower interest rates, but Mario Draghi did make a statement promising that he will lower rates in June. While the ECB boss is known for jawboning the markets in the past he will likely have to act in June or start to lose credibility.
Today, the EUR/USD has been very volatile by trading as low as 1.3648 and then bouncing higher to above 1.37. Where is the EUR/USD currency ultimately headed? Should the Euro currency trade and close below the 1.3694 level on a weekly chart then the Euro will be headed down to the 1.339 level. It is important to understand, until that support level is broken on a weekly chart basis the Euro currency could actually bounce slightly higher in the near term. The reason for a potential near term bounce is two fold. First, the U.S. Dollar Index is likely to decline in the near term, and any dip in the U.S. Dollar Index will naturally push the Euro currency higher. Please understand, the U.S. Dollar Index represents the U.S. Dollar against a basket of six leading currencies including the Euro. Second, the Euro is actually short term oversold at this time, and the February 27th, 2014 pivot low is actually near term support. That support level was tested earlier today and that support level has held up nicely so far.
As long as central banks keep talking on a daily basis traders should expect the Euro currency to be very volatile. The key to seeing a major breakdown in the EUR/USD is to wait for a weekly chart close below 1.3694. A weekly close below that important level should signal a sharp decline down to the 1.339 level where there will be major weekly chart support for the Euro. Some ways that traders can follow the U.S. Dollar Index is to track the PowerShares DB US Dollar Index Bullish (NYSEARCA:UUP). The Euro currency can be followed by tracking the Guggenheim CurrencyShares Euro Trust (NYSEARCA:FXE).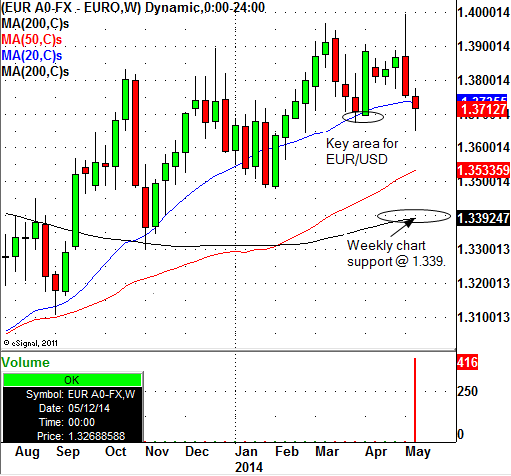 Nick Santiago
InTheMoneyStocks.com