Yesterday, news came out that Google Inc (NASDAQ:GOOGL) has a reserve of 20 billion which can be used for takeovers in the technology sector. The most valuable thing these days on the internet is user data and compiling personal information. As we all know by now, when it comes to user data, Facebook Inc (NASDAQ:FB) and Google Inc (NASDAQ:GOOGL) are some of the biggest data miners in the world. Now with those reserves, we can be sure Google will go shopping for more data.
One candidate that looks ripe on the charts for a Google takeover is InterCloud Systems Inc (NASDAQ:ICLD). The price of ICLD dropped from $19.00, to a low of $3.00 in just a couple of weeks. Considering the inherent value of data these days, and the sale price of this stock, companies like GOOGL and AAPL could view this as an ideal takeover moment.
Analyzing the daily chart of InterCloud Systems Inc (NASDAQ:ICLD), we have a bullish chart pattern that is forming right on the 20 day moving average. This bullish formation on the stock tells traders like myself that not only is the share price poised to pop, but there may be some takeover news on the horizon. Remember, stock charts tell of future moves before they happen, the news often lags the charts. Therefore, if you want to tell the future, you must learn to read the charts. Certainly nothing is correct 100% of the time, but when you read the charts properly you can find yourself high winning probability trades, without all the media hype and news noise that only makes traders lose. However, being that InterCloud is a small cap, and trades on the lighter side of volume, it does carry more risk. Therefore, if you wanted to play this bullish pattern, use a small position. The upside potential will be at least $2.00/share to a target of $6.50.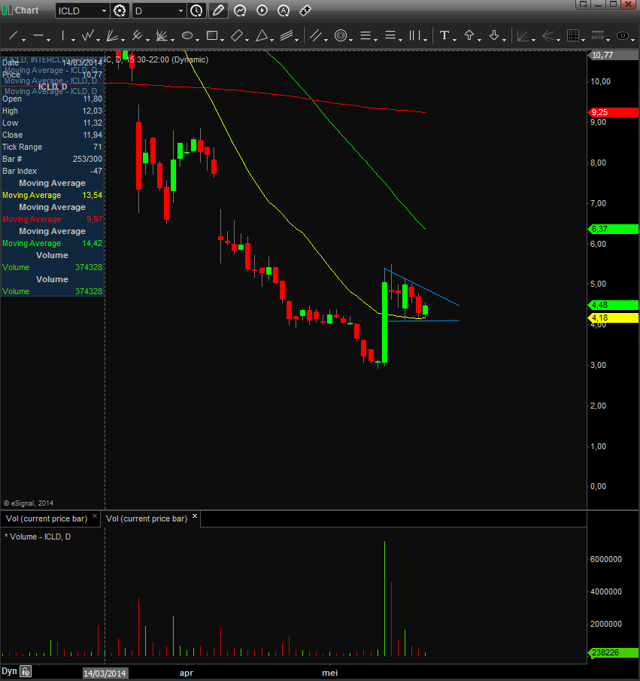 Kristof De Block
Elite Round Table
InTheMoneyStocks.com