One of the most popular stocks among investors, Apple Inc. (NASDAQ:AAPL), has once again been hyped up, only to leave many holding the empty bag. The media hype surrounding talks of new highs in the price of Apple Inc. (NASDAQ:AAPL), has caused many to chase the stock, hoping to get a bite out of the move higher. Let's call this the "Luis Suárez Strategy." Going "Suárez" on a stock, buying into the hype, eating up the news and allowing that to dictate what trades you take is always a bad move.
Some of the hype surrounding Apple Inc. (NASDAQ:AAPL) included the prospect of getting in ahead of the stock split; which certainly seemed attractive to the average investor. However, if you utilized technical analysis, you would have dismissed this hype and shorted AAPL like we advised our members right after the split. Considering the technicals of AAPL, it was clear that there was nothing to "Suárez" at that time, instead it was a clear short.
If you are not clear on the AAPL split and why that occurred, the rational for this is very simple. A high priced equity such as Apple Inc. (NASDAQ:AAPL) turns away many retail investors as they feel that they cannot buy many shares, which decreases the general public's involvement in the equity. To seem "cheaper" and more attractive to retail investors is one big reason why companies do splits. But in the end, the stock does not get "cheaper" and you will only be holding more paper of the same equity, instead of more gains.
No sooner after the split, Apple Inc. (NASDAQ:AAPL) started to fall, even as the markets pushed higher. At that time, the institutions were able to feed their shares right into the people that do not understand the dynamics of the stock market - those who follow the "Suárez Strategy" and were looking to take a bite out of the stock based on the hype behind it and nothing more.
Now, Apple Inc. (NASDAQ:AAPL) has been pulling back from a key resistance area around the $95.00 level. The equity has more room to fall and should not be bought at current levels. Note the chart below...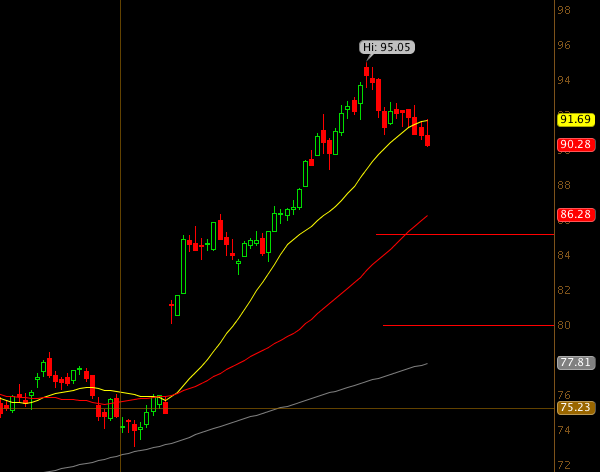 If you want to take a "Suarez," or bite out of Apple Inc. (NASDAQ:AAPL) at the best level, watch $85.21 as it should give you an opportunity for earning a quick gain. The next and major level to watch will be the $80.00 area, depending on how Apple Inc. (NASDAQ:AAPL) gets there. These levels will both present the smart trader and investor with an opportunity to trade AAPL at the right time. However, you must always consider other technical factors once the stock reaches those levels to confirm that the odds of winning remain in your favor.
Kiliam Lopez
InTheMoneyStocks,.com