It was just two weeks ago when the SPDR S&P 500 ETF Trust (NYSEARCA:SPY) made a new all time high of $199.06. Since that time, the market has begun to roll over and that milestone seems like a distant memory for the bulls. The volume has definitely picked up and the selling is starting to make people nervous. So is this the big correction we have been waiting for? Or is this just another buy the dip opportunity for traders and investors?
Well, it might be a bit early to tell if this is the long overdue correction, as the SPDR S&P 500 ETF Trust (NYSEARCA:SPY) is only down a little over 3%. However, a few key leading sectors are starting to under perform, such as the Transports, Energy and Semiconductors. These sectors have been some of the pillars of strength for the markets during this historical rise. Now, I do not want to take away from their importance in terms of dictating market direction, but I will look to the charts and I see something much more powerful.
If you look at the chart below, you will see that I have drawn an up sloping trendline for the SPDR S&P 500 ETF Trust (NYSEARCA:SPY). As you can see this line has acted as amazing support, and basically been the best time to go long equity markets. So if that wasn't reason enough for you to think this line was important, then consider this. When the S&P 500 broke out above its 2007 high of 1576.09, the retest of the breakout found support at this very trendline, and has had a steady rise since. If we are in the midst of a correction then you MUST have this line on your chart because there is a proprietary technique that tells me that a break of the line could turn very ugly, and massive selling could ensue. There is even a chance that these markets head all the way back to the 1576 area on the S&P 500. So while you will hear a bunch crap on the financial media outlets about where this market will go, I say just look to that trendline for the all you need to know!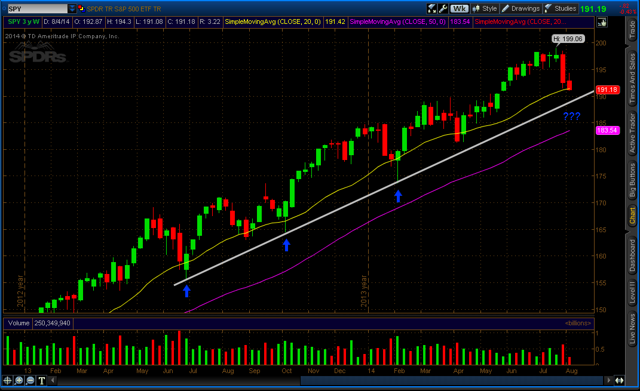 Parm Mann
InTheMoneyStocks.com