Last year has been the most prosperous in terms of US stock market for the last fifteen years. However, this news wasn't so exciting for the rest of America's citizens. The stocks rose to almost 26 percent and the Dow Jones Industrial Average managed to end the year at 16,576.66 which was the most successful yearly performance for the past decade. Besides, the Standard and Poor's 500-stock index ended up with around 30% gain with is the best result for over sixteen years. The Wall Street Journal announced the stocks reached their best returns since year 1995.
So why the news didn't make American's happy? These days are pretty profitable bringing highest records with the Dow Jones and the Standard and Poor's 500. This makes the owners of stock funds wealthier than a year ago. A certain part of the stocks has been driven by signs of flexibility on the economy's part. In any case, it is a better thing for the stocks to be growing than to be dropping.
What makes the matter worse is that not all Americans possess stocks. In fact, the research of Dow Jones shows that the percentage of the stock owners has dropped low by 15 percent. So nowadays, 52% of Americans use stocks as a source of funding. In addition, the poll has found that the investing in the stock market has fallen among middle-income citizens. The reason for this unfortunate change is the growing unemployment rate affecting the stock's buying from last year's 60% down to the current 52%.
On the graphic representation, you can see the average wages for workers contracted to corporate profits and stock prices. Since the culmination point in March 2009, you'll see how some line is lagging behind.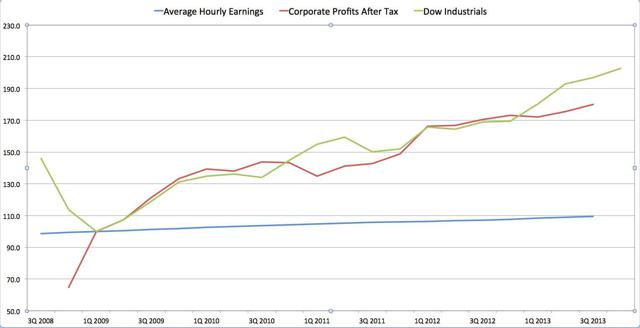 The line turns out to be the hourly wages of the corporate workers. Scarcely have they risen since 2009, the year when the Dow Jones grew up by 153%. Just a few steps before inflation, the hourly earnings for nonsupervisory workers boosted only by 2%. This actually leads to many Americans believe that the economy is getting worse these days. Yet the majority of Wall Street analytics and statisticians claim that the stock market will regain its momentum in the nearest future.
About the author:
Janet Smith, stocks analyst for Baron's magazine, U.S. edition. Senior copywriter and editor of business news. She is involved as a CEO at www.Essaywanted.com project helping students with their research work in business and company analysis sphere.
Disclosure: I/we have no positions in any stocks mentioned, and no plans to initiate any positions within the next 72 hours.
Additional disclosure: GOOG