Recommendation: BUY
Price target: $2.57 (based on DCF valuation)
Current price (2014-12-20): $1.99
Originally posted on my blog: http://www.henrycao.ca
Company Description
Hammond Manufacturing Company Limited (TSX:HMM.A) is an Ontario-based company that designs, manufactures, and sells electrical and electronic components. The firm offers electrical enclosures, including industrial, corrosion resistant, operator interface, and commercial enclosures, wireway and trough products, climate control products, data communication infrastructure, and general accessories. Hammond Manufacturing sells its products to OEMs directly and through a network of agents and distributors.

Investment Summary
Hammond Manufacturing is micro-cap stock that has been punished by the market due to its poor historical ROE and illiquidity. Its family-run governance structure also results in further market discount. However, Hammond Manufacturing's strong balance sheet, stable EBITDA margin, and consistent return makes this an attractive net-net play. The firm will also continue to enjoy the depressed Canadian dollar and US's housing recovery. The illiquidity nature of this micro-cap stock and the lack of analyst coverage make the possibility of mispricing more likely.
Analysis
1. Consistent Return: Hammond Manufacturing has had positive, consistent and upward trending growth rate for the past decade with negative growth rate in only two of the past 11 years. The EBITDA margin is also very stable, averaging 6.6% with standard deviation of 1.3%.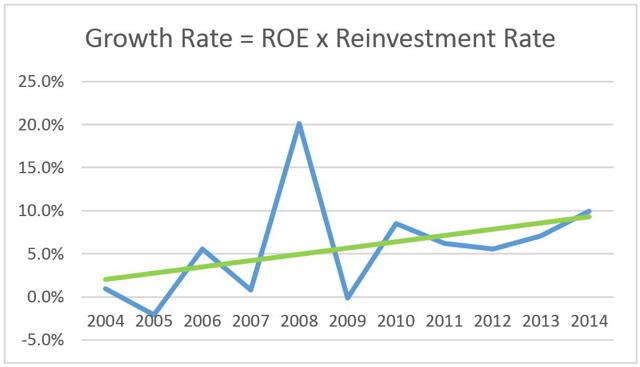 2. Strong Balance Sheet (net-net): As of December 20, 2014, the firm has $22.6 million in market capitalization. However, it currently has a net asset (total assets minus total liabilities) of $36.35 million which is 61% over the market capitalization. Since majority of the assets are in Accounts Receivable and Inventory, a deeper look is required to ensure the quality of assets. As indicated in the following operating performance ratios, while A/R turnover decreased slightly in 2014, inventory turnover stays at a healthy 2.6 which is consistent with the historical number.

3. Incentive alignment: The CEO Robert Frederick Hammond has 37.8% of interest in the business which is an indication that management's incentive is likely aligned with the shareholders.
4. Return of capital: Hammond Manufacturing started issuing dividend of $0.02 per share since 2010. I see this as a positive sign that the firm is returning capital to shareholders.
6. Product and geographic diversification & synergy: Hammond Manufacturing produces electrical enclosures, small enclosures, racks & rack cabinets, outlet strips and transformers. Most products are non-branded and are sold either directly to consumers via retail outlet or to industrial firms used in production of other goods. Within each of its five main category, there are hundreds of SKUS. Its wide product offering provides diversification to the term as well as synergy since it can supply the same customer with multiple goods.
The firm is well diversified in North America with 50% of its revenue coming from US and 41% coming from Canada. As a business being in operation for over 97 years, it has wide network of distribution channels. For example, in Ontario alone, the firm has over 200 retail distribution locations.
Conversation with the CEO
I called the firm on December 2, 2014 and spoke with the CEO, Robert Frederick Hammond, to discuss the firm's core operation and future profitability. Below is the summary of the discussion:
• The CEO emphasizes long-term growth; quarter-to-quarter performance not a good metric.
• The nominal "special dividend" that were paid between 2010-now (about 11% payout ratio) may or may not continue/increase.
• I referred to the company's historical mediocre ROE of 5.6% in the past 10 years and its recent upward trend. The CEO downplayed the importance of ROE. He believes EBITDA is a better reflection of the business.
• The CEO mentioned that one important factor affecting the business is the CAD-USD exchange rate since much of the products are sold in the US.
To reflect the conversation, my valuation model lower the historical revenue growth rate by 2% to reflect the recent higher (but unsustainable) growth as a result of the depressed Canadian currency.
Valuation
Relative Valuation
Relative valuation is based on 30 comparable firms in US and Canada that are in the electrical components and equipment business with $10m-$300m in market capitalization.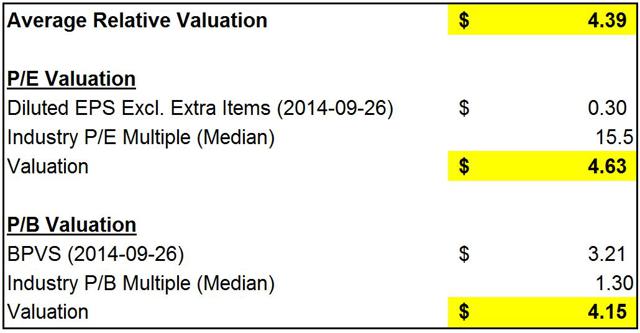 DCF Valuation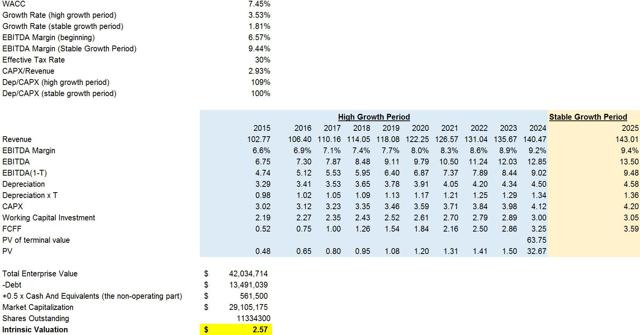 Investment Risks
1. Poor Corporate Governance: Hammond Manufacturing is essentially family owned with the founder holding class B shares which has 4 votes per share. There is the possibility that insiders will take advantage of minority shareholders. So far, in the recent 5 years, the company has delivered value for shareholders by doubling its share price. It is also important to point that two of the five board members are internals (and both have the same last name. The CEO is the Chairman of the board.
2. Contingent Environmental Cost: Land contamination allegation has being brought to the firm on 2013-06-19. The exact amount is highly uncertain and unknown, but it is estimated to be north of $2 million if the firm is not able to defend itself in court.
3. Increasing interest rate: Majority of the firm's current debt are very low but variable (revolving credit). If the interest rate increase, the company will be directly impacted with higher interest expense.
4. Liquidity Risk: Due to the micro-cap nature of the stock, the stock has low liquidity. For value investor this will likely not be a big issue since value investing is not trading. By holding the stock for longer period, we can obtain the liquidity premium.
5. ROE < Cost of Equity: In the Excel sheet attached, I calculated Hammond Manufacturing's ROE as 8.68%, using bottom-up beta approach but the firm only generated 5.7% ROE in the past 10 years. In other words, the firm is destroying value by investing in projects earning ROE less than its cost of equity and this is likely to be a major reason why the company is trading well below its book value.
However, I believe the market is over-punishing Hammond Manufacturing. First, although the firm's historical ROE is lower than its cost of equity, it has had an upward momentum for the past 3 years, with the latest ROE figure at 9.9% (see Exhibit #4: Intrinsic Valuation Inputs). Second, the company has been paying out dividend since 2010 which mitigate the risk of taking on project with ROE below cost of equity. Third, the global business environment has improved significantly since the financial crisis with a recovering housing sector. This will likely lead to greater demand in the United States for Hammond Manufacturing's industrial products which will boost its revenue growth rate.
Disclosure: The author has no positions in any stocks mentioned, and no plans to initiate any positions within the next 72 hours.
Additional disclosure: Disclosure: I have long position in Hammond Manufacturing as of 2014-12-25.