Recommendation: HOLD
Price target: $2.92 (based on sum-of-parts valuation)
Current price (2014-12-21): $3.28
Originally posted on my blog: www.henrycao.ca
Company Description
Canexus Corporation (TSX:CUS) is a Calgary, Canada based company producing and selling sodium chlorate and chlor-alkali products. Typical customers include pulp and paper and water treatment industries in North and South America. The firm also provides hydrocarbon transloading services (NATO) to the oil and gas industry from its terminal at Bruderheim, Alberta.

Investment Summary
Canexus has four segments (NA Sodium Chlorate, NA Chlor Alkali, SA chemicals, NATO), with NATO being the short term catalyst. While the market responded negatively to Canexus' poor Q3 2014 performance, the impact was reasonably tame.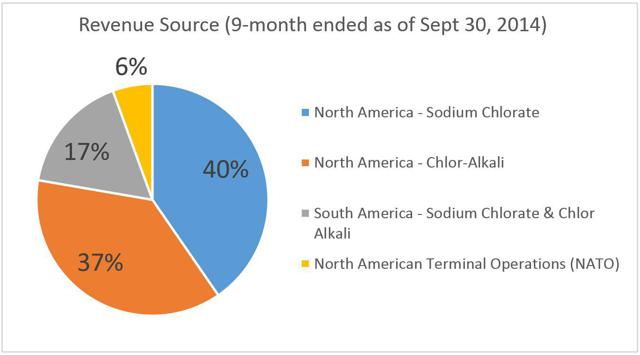 The valuation of Canexus is highly dependent on the sale of NATO. On December 4, 2014 Canexus made a news release confirming the disposition process for NATO. The CEO mentioned "Notwithstanding the recent turmoil in the energy markets, we continue to see solid interest in our NATO crude-by-rail facility at Bruderheim from a number of North American parties." Management also indicated that there is significant interest in the NATO assets from a number of parties. Analyst estimates of NATO ranges from $300m to $600m. My valuation of NATO will be based on the assumption that the current oil price has little to no impact on the sales of NATO as crude-by-rail facility is generally viewed as a long-term asset. However, further deterioration in energy price will have moderate impact on NATO sales.
Canexus's core business continues to generate solid and consistent profit. In the NA Sodium Chlorate market, Canexus is one of the top three producers with over 80% in market share. Canexus also has strong competitive cost advantage due to its geographic location that allows it to take advantage of low electricity and transportation costs. Also, the weakening Canadian dollar will continue to benefit the chemical business as a significant amount of production is sold to the US.
Valuation
I am using a sum-of-parts valuation method with the sodium chlorate and chlor-alkali business valued with DCF and NATO valued using precedent transaction.
Valuation: Sodium Chlorate and Chlor-Alkali (NYSE:DCF)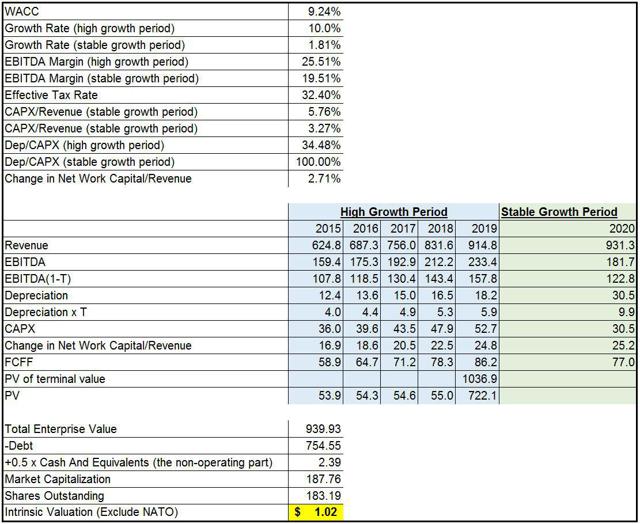 Valuation: NATO (precedent transaction)
Valuation of NATO is challenging as there is no publicly traded pure-play crude-by-rail company. Thus, I decided to use the present transaction method. Reviewing recent-year M&A, the only applicable transaction is the acquisition of Predator Midstream by Secure Energy Services in August of 2014.
Precedent Multiple = Total Consideration / Expected EBITDA = $107m/$18.5m = 5.78xApplying a 5.78x precedent multiple to the estimated 2016 NATO EBITDA of $60m (when it is at full capacity), I come up with a value of $347m or $1.89 per share for NATO.
Combining the DCF valuation of the sodium chlorate and chlor-alkali business and the precedent transaction of the NATO sale, the valuation comes to $1.02 + $1.89 = $2.92 per share.
Sensitivity Analysis (NATO)
The value of Canexus share is highly dependent on the sell value of NATO.

Investment Risks
1. High debt: The company has twice the D/E as its comps, suggesting relatively greater solvency risk. Its debt grow substantially from $78.5m in 2009 to $544.2m in 2014. Potential NATO buyers understand Canexus's need to pay down its debt and may offer sub-optimal price.
2.Declinging oil price: If oil price experience drastic decline, sales proceed of NATO will likely be affected.